New York TV Talk Shows Get Nominated For 2019 Emmy Awards
A list of the "Best Variety Talk Show" Emmy nominees that film in NYC including show backgrounds, host profiles, and ticket information.
---
The 2019 Primetime Emmy Awards recently released their list of award nominations for their upcoming event taking place on September 22, 2019 at The Microsoft Theater in Downtown Los Angeles, California. Many of the most popular television shows of the year received numerous nominations with HBO's Game of Thrones and Amazon's The Marvelous Mrs Maisel leading the pack. The highly anticipated final season of HBO's fantasy series Game of Thrones dominated the drama nominations with 32 total nominations in categories like "Best Drama" and "Best Lead Actor in a Drama Series". On the comedic side of the awards, Amazon's Marvelous Mrs Maisel picked up a respectable 20 nominations in categories like "Best Comedy Series" and "Best Supporting Actress in a Comedy Series". However, drama and comedy TV shows were not the only shows to receive nominations, as categories like "Best Competition Program" and "Best Variety Sketch Series" allow television programming of all genres a chance at the global spotlight. One of the most hotly anticipated awards of the night falls in the "Best Variety Talk Show" category as these shows are a staple of late night television and allow fans to join the live studio audiences to watch the show being taped or aired. Below is a list compiling all of the talk shows nominated in this category that film in New York with show information including show backgrounds, host profiles, and ticket information to help fans decide which show deserves the award.
71st Primetime Emmy "Best Variety Talk Show" Nominations
The Daily Show with Trevor Noah: Nominated for 1 Emmy Award
The Daily Show with Trevor Noah is a late night satirical news program that airs Mondays through Thursdays on Comedy Central. The show takes the perspective of a fake news program, often discussing recent news and political figures through satirical and self-referential humor. The Daily Show is hosted by Trevor Noah, a South African comedian and political commentator, who has helped maintain the shows popularity and politically-satirical focus since the departure of longtime host Jon Stewart in 2015. Noah's quick wit, international upbringing and relative youth gives him a fresh perspective amongst his political TV competitors, who are generally older white Americans.
Ticket Information: Tickets to The Daily Show with Trevor Noah
Full Frontal with Samantha Bee: Nominated for 2 Emmy Awards
Full Frontal with Samantha Bee is a weekly late night politically-based comedy program that airs Wednesday nights on TBS. The show consists of commentary on news headlines, fields pieces, and "grab-bag" segments that have a greater focus on shining a spotlight on injustice around the world rather than highlighting hypocrisy within the American government. Full Frontal is hosted by Samantha Bee, who made a name for herself in the ecosystem politically-satirical TV by being the longest tenured correspondent on The Daily Show. Though she was not considered for Jon Stewart's replacement at the time of his retirement, she went on to host Full Frontal and supply television audiences with the much-needed female voice in politics that television had been lacking.
Ticket Information: Tickets to Full Frontal with Samantha Bee
Last Week Tonight with John Oliver: Nominated for 3 Emmy Awards
Last Week Tonight with John Oliver is a weekly news-oriented late night show that airs Sunday nights on HBO. While other politically satirical shows often tackle a multitude of different topics over the course of one episode, Last Week Tonight opts to use its half hour run time for an in-depth analysis on a single topic of political importance, such as tobacco or debt buyers. Outside of Oliver's deep dive segments the show shares a similar format to that of The Daily Show, such as its set design and political nature, which is reasonable as John Oliver was a long time correspondent and fill-in host for Jon Stewart. Through his program, Oliver keeps his viewers informed on fundamentally complex issues around the world, while retaining full creative freedom to lambaste corporations that threaten modern society.
Ticket Information: Tickets to Last Week Tonight with John Oliver
The Late Show with Stephen Colbert: Nominated for 3 Emmy Awards
The Late Show with Stephen Colbert is a late night talk show that airs Monday through Friday on CBS and is the only Emmy nominated New York TV show on Broadcast television. The show follows a traditional format but with an added emphasis on politics and The White House. After being gifted the reins of The Late Show by CBS and David Letterman, Colbert fused the Late Show format with his own brand of political humor that he honed through previous shows such as The Daily Show and The Colbert Report. David Letterman's early retirement from the show followed his disclosure of his dalliances with show interns prior to the Perve Purge of 2017. Colbert's show features many hallmarks of conventional late night talk shows such as celebrity guest interviews, funny skits, games, and the traditional opening monologue. However, Colbert often uses his monologue as an opportunity to crack jokes at the expense of controversial American politicians, the most prominent of which being President Donald Trump, of whom Colbert has a particular disdain.
Ticket Information: Tickets to The Late Show with Stephen Colbert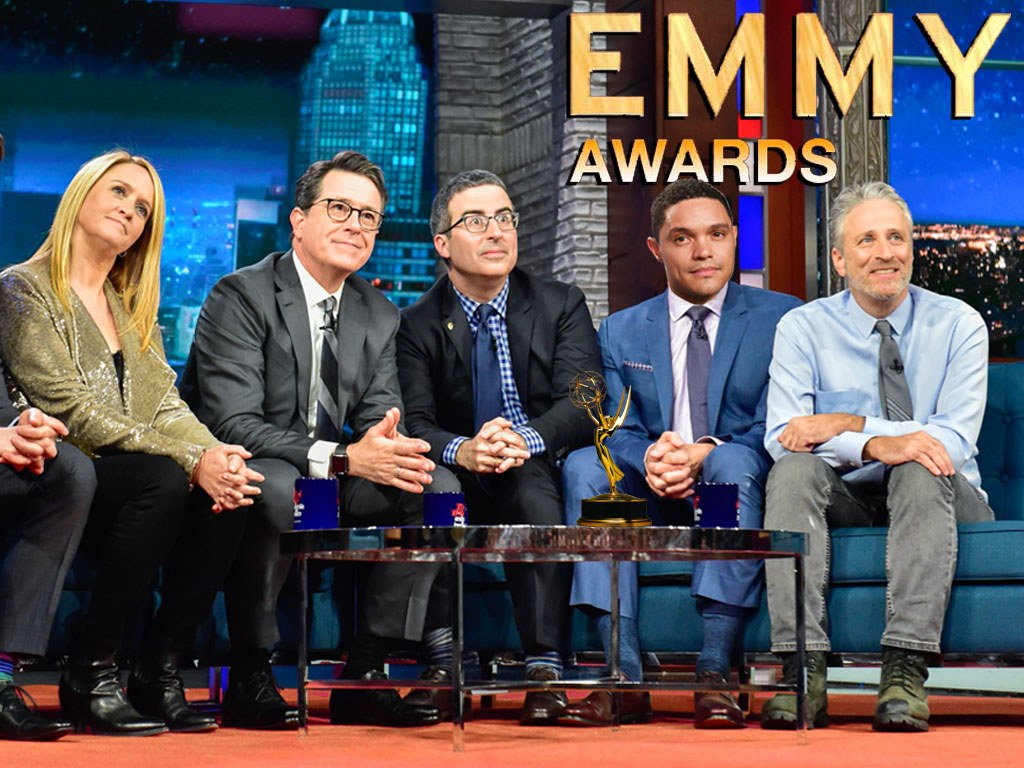 The Emmy Awards Adjust to the Changing Television Landscape
From the 2019 Emmy nomination list it is clear to see that the television industry is changing drastically. For example, all of the New York shows listed above in the "Best Variety Talk Show" category fall into the genre of political satire and are all connected back to the Jon Stewart era of The Daily Show. This is likely due to The Daily Show's widespread impact on the television community as well as this current era of political interest and awareness. Now more people feel the urge to be connected to the political world and framing the news in a comedic way makes the often difficult subject somewhat easier to digest.

Of the six shows to receive nominations in the "Best Variety talk Show" category, the remaining two that we have not discussed include ABC's Jimmy Kimmel Live and CBS's The Late Late Show with James Cordon. Both of these late night talk shows tape in California and follow a more traditional talk show approach. Several years ago, this Emmy category was filled with mostly traditional talk shows such as The Tonight Show with Jimmy Fallon, The Late Show with David Letterman, and even Comedians in Cars Getting Coffee. Nowadays the category is filled with political comedy shows, showing a distinct shift in the general television audiences viewing habits and where the future of television and streaming lies.