"The View" Launches 18th Season with New Co-Hosts
The View will premiere its 18th season on September 15, 2014 with Whoopi Goldberg being joined by new co-hosts Rosie O'Donnell, Rosie Perez, and Nicolle Wallace. Barbara Walters will not be appearing onscreen for the first time this season.
---
For the First Time, Barbara Walters Will Not Host
On September 15, 2014, the 18
th
season of "The View" will premiere on ABC. The talk show has been on the air since 1997, when it was first conceived by Barbara Walters and Bill Geddie. Over the course of these years, many different hosts have come and gone, but the departure marked by this season is unprecedented. First of all, at the end of last season, Barbara Walters stepped down as co-host after seventeen years, and also Bill Geddie stepped down as executive producer. Though Walters has stayed on as co-executive producer now with Bill Wolff, she has retired from regular onscreen appearances. Furthermore, an additional two of the co-hosts – Sherri Shepherd and Jenny McCarthy – were asked to step down as well. Therefore, the only incumbent host this season is Whoopi Goldberg, and she is joined by Rosie O'Donnell, Rosie Perez, and Nicolle Wallace.
Rosie O'Donnell Steps Up to the Mantle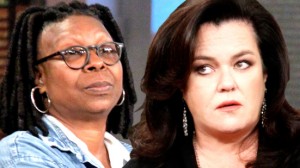 At the end of last season, there was a lot of speculation that "The View" was taking on too many changes. Many fans were vocally upset about the firing of hosts Shepherd and McCarthy, not to mention Walters' departure. However, it appears that ABC has gotten all of its ducks in a row, with a new batch of exciting co-hosts. In July, it was announced that Rosie O'Donnell would be joining Whoopi Goldberg for the upcoming season. After earning two Emmy's for her own talk show "The Rosie O'Donnell Show" that ran from 1996 to 2002, O'Donnell served as co-host on "The View" for just one season, from 2006-7. In 2007, she had already decided not to renew her contract when she got into a very controversial argument with that season's co-host Elisabeth Hasselbeck about the Iraq War. That episode went viral, and it became clear that O'Donnell's controversial opinions boosted ratings for "The View," though she pledged never to return to the show. Following that stint, O'Donnell had her own talk show "The Rosie Show" on Oprah Winfrey's OWN network in 2011, but that was a quick flop. Nevertheless, O'Donnell's stature as a beloved household name remains uncontested.
The New "View"
In 2014, O'Donnell reappeared as a guest host on the view on two occasions: once in February, and then again in the group farewell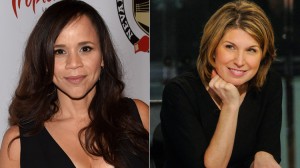 episode to Barbara Walters. Now returning as full-time co-host, Rosie has pledged to make the show smarter. She will ensure they first present an objective view of the conversation topic, so the discussion can evolve beyond the givens. Not only is "The View" getting a serious makeover for the launch of this season, but O'Donnell herself has undergone significant personal changes prior to coming on board. She underwent weight loss surgery in 2013, and recently appeared on the cover of "Variety" flaunting her new slimmer figure. Before being given the position, O'Donnell had to do a chemistry test with Whoopi Goldberg, to both of their surprise; of course they passed. The same test was required for the ladies competing for the final two co-host slots, and the winners were Rosie Perez and Nicolle Wallace. Perez is an actress and choreographer who has been nominated for an Academy Award, and who will also be appearing on Broadway this spring in Larry David's
Fish in the Dark
. Wallace is a Republican PR vet and political commentator, who held the position of White House communications director under President George W. Bush. These two women are sure to balance out the dynamic in exciting ways.
"The View" Basics
"The View" airs live from New York City at 11:00am on weekdays. It is aired at 10:00am in the Central time zone, and is tape-delayed for other time zones. Furthermore, the show airs internationally in various countries. In addition to new co-hosts, the 18
th
season also marks a new location for filming: the ABC Broadcast Center on West 67
th
Street which formerly housed the now cancelled show "Katie." The format of the show involves the generally female co-hosts discussing current events and news, including politics, celebrity gossip, and social issues. Starting in the 15
th
season, Barbara Walters would take off each week on Friday when a male guest host would come on; this was called "Guy Day" Friday. Still, the show is heavily geared towards expressing the female viewpoint, but from women with a range of backgrounds.