"Live with Kelly and Michael" Faces Major Upheaval
Michael Strahan is leaving Live with Kelly and Michael for Good Morning America full time. Kelly Ripa was blindsided with the news and took an unscheduled leave of absence.
---
Michael Strahan Leaving "Live" for "Good Morning America"
On April 19, 2016, it was announced that Michael Strahan would be leaving his post at ABC's
Live! with Kelly and Michael
in order to take on a full-time position at the same network's morning show
Good Morning America
. Kelly Ripa and Michael Strahan have been co-hosts of
Live! with Kelly and Michael
since 2012, when Strahan took over for longtime host Regis Philbin. Preceding this incarnation of
Live!
, Regis and Kelly co-hosted
Live with Regis and Kelly
from 2001 to 2011, followed by a brief stint in 2011 to 2012 of just
Live! with Kelly
. Michael Strahan is a former NFL player who led a 15-year career with the New York Giants, prior to retiring in 2007 after winning the Super Bowl in his final season. Since then, he has been building a successful media career. In addition to
Live! with Kelly and Michael
since 2012, Strahan has been moonlighting at Fox as a football analyst for
Fox NFL Sunday
since 2008. Furthermore, it was also just announced that Strahan will be hosting a new show on ABC called
$100,000 Pyramid
starting summer 2016, which is a new incarnation of a game show that has appeared in various versions since 1973. In addition, for the past two years, Strahan has been serving as a contributor to ABC's
Good Morning America
twice a week. As of this upcoming September, Strahan will shift to be at
GMA
full-time, leaving his post at
Live!
Kelly Ripa Given No Advance Warning about Strahan's Departure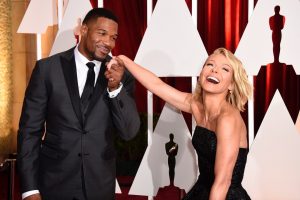 Of all the people who should have been notified well in advance about Strahan's career move, Kelly Ripa, who is his co-host on
Live!
, should have been on the top of the list. However, the negotiations were kept secret even from her; she was reportedly told of this big news only shortly before it was announced in the press. As of now, her last appearance on
Live!
was Tuesday, April 19, 2016, the same day the news was released. While she had already been scheduled for a pre-existing vacation on Friday, April 22, 2016 and Monday, April 25, 2016, she took Wednesday and Thursday off without notice, presumably in order to process this news. In her absence, Strahan has co-hosted the show with Ana Gasteyer on Wednesday, Erin Andrews on Thursday and Friday, and Shay Mitchell is slated for Monday. Strahan was able to get off as an innocent in light of Ripa's very noticeable absence, explaining to his audience that he would be at the same network; it's not like he's going very far. He also graciously thanked Kelly for all that she taught him. On Thursday, Erin Andrews coyly teased, "So what else has been going on here?" and Strahan replied "Too soon!" It was easy enough for them to laugh as if nothing was wrong, but meanwhile Ripa was alone at her apartment questioning the entire status of her career. This was a slap in the face to Kelly, who was blindsided by the whole event, and only told last minute at a meeting by
Live
producer Michael Gelman and WABC general manager Dave Davis. Fortunately, Ripa was able to take her pre-planned vacation this weekend to Turks and Caicos with her husband Mark Consuelos and their children to celebrate their 20
th
wedding anniversary.
Strahan's Salary Will Likely Double in His New Position
People Magazine reported that Strahan is currently earning in the realm of $10-$12 million per year in his position on
Live! with Kelly and Michael
, but that in his new job at
Good Morning America
, he will be making more than $20 million. This almost doubled salary is testament to how valuable ABC considers Strahan to be to their network. The
Live
franchise has been a major component of morning television in New York since 1983, when it began as
The Morning Show
hosted by Regis Philbin and Cyndy Garvey, followed by
Live with Regis and Kathie Lee
from 1988 to 2000, before Kelly Ripa became involved in 2001. Still, when Strahan joined in 2012, ratings reportedly increased in all key demographics by 87%, and Strahan was credited with bringing the show to a whole new level. Nevertheless, ABC must have determined that Strahan's magnetism was more needed at
Good Morning America
, whose ratings have been falling behind its competitor at NBC,
Today
, especially in the coveted 25-to-54 age demographic. While
GMA
may pick up with Strahan on board, the future is uncertain for
Live
. While
Live
has recently been renewed until 2020, ABC handled has thus far handled this transition very poorly, damaging brands all over the place.
Live
may even be cancelled if the
GMA
juggernaut is extended to a fourth hour,
vis-a-vis
the format used by NBC's
Today
. In any case, Ripa will be back on Tuesday, April 26, 2016, and she and Michael will remain co-hosts through the summer until September 2016.