Colbert to Host Live Election Night Special on Premium Cable Channel
Stephen Colbert will host an election special on Showtime.
---
Stephen Colbert's political presence will return on the most anticipated night of 2016. The beloved comedian will host a live comedy special for Showtime on election night: November 8, 2016. Colbert will broadcast the live special at the Ed Sullivan Theater in New York City, where
Late Show
is generally taped. It is expected to air at 10 p.m. for one hour, but depending on the night's developments, the cameras may keep rolling. The CEO of Showtime, David Nevins, made the announcement on the Television Critics Association Summer Press tour in August 2016. In the fall of 2015, Colbert moved from hosting
The Colbert Report
on Comedy Central to the
Late Show with Stephen Colbert
on CBS. This transition made the comedian leave behind much of his political commentary. Nevins implied that there is interest on both sides. "Stephen wants to do it, I want to do it, the studio wants to do it. The thought is, to do a live special, Colbert unfettered," said Nevins.
Colbert attempts to increase dismal ratings through election coverage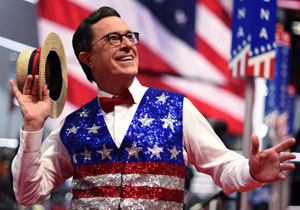 Since the debut of
Late Show with Stephen Colbert
in September 2015, the comedian has had a hard time with both poor critical reviews and a diminishing audience.
Late Show
averaged only 2.02 million viewers between June 6 and June 10 in 2016. This places the show in third place, behind
Jimmy Kimmel Live,
which had 2.58 million viewers.
Late Show
hired a new producer in an attempt to increase ratings. Despite his dropping numbers, however, Colbert proves to be the best candidate for this election special. His political standpoint makes him a great alternative to other entertainers. David Nevins referred to him as "the obvious choice" for hosting this event. The comedian broadcast live on
Late Show
during July's Republican and Democratic conventions. Colbert's live coverage during the presidential conventions earned the biggest buzz for the show since September. The coverage also generated the show's most viral YouTube clips to date. Jon Stewart taking over the host desk earned more than 14 million YouTube views. Laura Benanti's appearance as Melania Trump defending herself against her plagiarized speech, attracted 8 million views. Presidential nominees Hillary Clinton and Donald Trump have both been guests on Colbert's show. Independently of Showtime, CBS recently announced that Colbert will broadcast a live rendition of
Late Show
following the presidential debates between Hillary Clinton and Donald Trump on September 26, 2016 and October 19, 2016. They will also air a live show after the vice presidential debate between Tim Kaine and Mike Pence on October 4, 2016. Ultimately, the three live CBS shows and the one Showtime election night special are opportunities for Colbert to improve his dismal ratings and possibly attract viewers to the Showtime cable channel backwater.
ShowTime's new docu-series The Circus: Inside the Greatest Political Show on Earth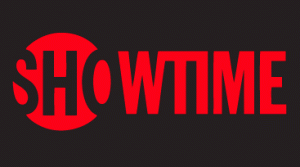 The election special is an interesting idea but, why Showtime? The premium cable channel is a wholly-owned subsidiary of CBS Corporation. It has gained political leverage with its new series
The Circus: Inside the Greatest Political Show on Earth
. Presidential elections always attract mass media coverage, but the 2016 election has defined the term "media circus." The documentary follows the 2016 American Presidential Election Campaign, providing a behind-the-scenes glimpse on what the public rarely sees. David Nevins admitted that the new series has had a greater impact than expected. He implied that the idea of an election special originated from the series' success. Nevins later commented, "It is daunting to be another cable channel taking a shot at the presidential election, which is going to be covered by so many outlets, but I really felt like we had the opportunity to do something different than the way everyone else is covering it."
Who will be watching?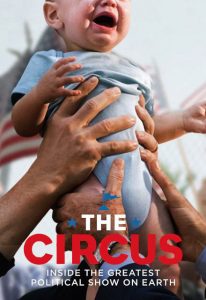 With such an important event unfolding, will anyone be watching the Showtime election special? The cable channel promises a hysterically funny Stephen Colbert. Showtime commented that the special will give viewers an alternative to the conventional news coverage. Nevins commented on an interview with Variety, "People don't just want to watch CNN and Fox News. We want them to watch Showtime on election night." Stephen Colbert's election special on Showtime will run with no commercial breaks or bad language restrictions (the de-facto standard for that channel). This is good news for fans of Colbert, as they will be able to see the comedian commenting on the political election in an unfiltered manner. It is unclear what the format of the show will be, but one segment of the show will include Colbert delivering results state by state. Certainly, a little Colbert comedy could be a great distraction during such a tense presidential election.