"The View" Fires Co-Hosts Sherri Shepherd and Jenny McCarthy
ABC s daytime talk show The View has fired two of its four co-hosts: Sherri Shepherd and Jenny McCarthy, leaving Whoopi Goldberg as the sole remaining co-host after Barbara Walters departure from the show over a month ago.
---
Whoopi Goldberg Remains As Sole Co-Host For Now
When Barbara Walters retired from her onscreen position on ABC's
The View
on May 16, 2014, questions were circulating about who would replace her among the four co-hosts. Just over one month later, two more co-hosts have left the show, but this time not of their own choice. Sherri Shepherd and Jenny McCarthy will be leaving the daytime talk show at the end of Season 17, which runs through the first complete week in August. Whereas Shepherd has been on the show for seven seasons, McCarthy is a newer addition, having joined this past September upon the departure of Joy Behar and Elisabeth Hasslebeck. At this point, the only remaining co-host of
The View
is Whoopi Goldberg. As
The View
has always been defined by its four powerful female co-hosts, this puts the entire show's existence into question.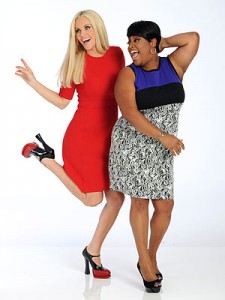 Mixed Justifications By ABC For The Firings According to a TMZ exclusive story, ABC network executives had a meeting last Thursday afternoon, during which it was decided that Shepherd and McCarthy would not be returning to the show. The reason for these firings is not quite clear. As for Shepherd, some sources believe that the beginning of the end was when she disagreed with Barbara Walters for supporting Woody Allen in light of his daughter Dylan Farrow's accusations of sexual assault. According to People Magazine, however, the decision was made following a failure by Shepherd and her representatives to reach an agreement on a new deal with ABC. As for McCarthy, TMZ claims that
The View
has been in turmoil ever since she joined the show, and many fans comments expressed gratitude for the announcement of her departure, proving she was not a very popular member of the team. The official report, according to People Magazine, is that McCarthy is being let go due to a decision to take the show in a new creative direction.
Shepherd and McCarthy Told The World Through Their Twitter Feeds
On Thursday, Shepherd made her own public announcement via twitter, stating that the number 7 is God's number, and therefore she is leaving the show after 7 seasons. She also expressed gratitude to everyone for their support, and in particular to Barbara Walters for pushing her beyond her comfort zone. McCarthy followed up with her own tweet, saying that if Sherri goes, then she goes too, including the hashtag "sisters." TMZ also reported that Bill Geddie, the show's co-executive producer along with Barbara Walters, will be leaving the show. (Walters has remained on as executive producer even after concluding her onscreen responsibilities.)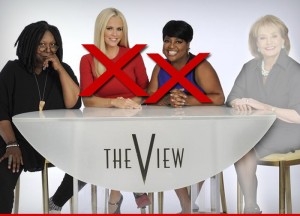 Future Co-Hosts Are Still Uncertain
The future of
The View
is presently uncertain. It is very possible that the show will not be able to withstand this many departures at once, but as of now there are still plans to continue with Season 18 in mid-September. With only Whoopi remaining in a present co-host position, rumors are circulating about who the replacements will be to join her. TMZ reported that Rosie O'Donnell might very well be returning to the show, and that producers are also interested in Laila Ali. Other names in the mix are Ross Matthews and Jesse Palmer. In any case, ABC executives are still presenting an appearance of confidence regarding the future direction of the show, and more information about its new creative direction should surface soon.