"The Nightly Show with Larry Wilmore" Premieres on Comedy Central
The Nightly Show with Larry Wilmore premiered on Monday night, January 19, 2015. He is off to a great start, but time will tell if he is a staple of the talk show masthead.
---
"Daily Show" Spin-Off Replaces "Colbert Report"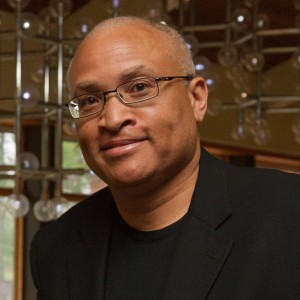 On January 19, 2015,
The Nightly Show with Larry Wilmore
premiered on Comedy Central. Larry Wilmore has led a long and successful career in television comedy, and most recently received acclaim for his recurring role on
The Daily Show
as the "Senior Black Correspondent" since 2006. He published a political humor book called
I'd Rather We Got Casinos: And Other Black Thoughts
in 2009. Earlier in his career, he served as a producer and writer on shows including
Sister, Sister
,
The Fresh Prince of Bel Air
, and
The Jamie Foxx Show
. He co-created Eddie Murphy's show
The PJs
and served as executive producer for the duration of its run. He collaborated with Whoopi Goldberg on her show
Whoopi
, which he created and produced. He was also a consulting producer on
The Office
from 2005 to 2007, and once made a cameo on that show as a "diversity consultant." Needless to say, Larry Wilmore is a tried and true comedian, show runner, and spokesman of the black community, and
The Nightly Show with Larry Wilmore
will solidify his position as television royalty.
Critical Praise for the Premiere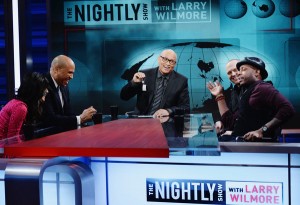 Top industry press such as
The New York Times
,
Variety
, and
Entertainment Weekly
all praised
The Nightly Show with Larry Wilmore
. Alessandra Stanley in
The New York Times
confidently declared that everyone will want to know what Larry Wilmore has to say in his next show of the nightly series. She was pleased that unlike other talk show hosts, he is not white, male, and insecure about that fact. Rather, she was relieved how he can address racial topics head-on without feeling the need to be politically correct. He even made a daring joke about the Eric Garner case and unapologetically asked the audience if it was too soon. Brian Lowry in
Variety
was less bowled over, but acknowledged that the show demonstrated great potential. However, he said, it would be premature to give the show an unqualified rave, because it only revealed a small part of what it will ultimately offer. Jeff Jensen in
Entertainment Weekly
also gave it a restrained rave, saying that he will keep watching as long as the show can remain consistent. In reference to the show he replaced,
The Colbert Report
, Jensen calls this much more conventional. This 30-minute add-on to
The Daily Show
is also produced by Jon Stewart, and fills the slot the Stephen Colbert vacated to replaced David Letterman.
A Wide Range of Subjects
In the premiere episode, Wilmore touched on a range of topics. He discussed
Selma
and its Oscar snubs, as well as the protestors at Ferguson. He mentioned that he would never hesitate to bring up race, and he seemed both proud and mischievous about that. He said he would address Bill Cosby's sexual scandal the following evening. His guests included Senator Cory Booker, and his panelists featured Shenaz Treasury and Bill Burr. Jensen in
Entertainment Weekly
criticized these guests and panelists for being on the bland side, expressing his wish that Wilmore learn to take over the microphone more and smoothly intercept the long running talk of his less interesting guests. In any case, the show is, as its name implies, nightly, and thus there will be many more opportunities in which to determine whether Wilmore is living up to his timeslot.