Stephen Colbert Gets Letterman Slot, Jon Stewart Ponders Future
Jon Stewart's contract at the Daily Show is up at the end of this year. As he did not get Letterman's slot, it is unclear where he will go next.
---
Jon Stewart's Contract is Up at the End of the Year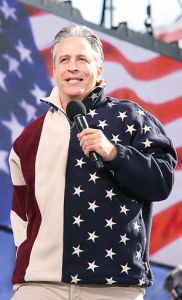 Jon Stewart has hosted
The Daily Show
on Comedy Central since 1999. This half-hour long late night satirical television show premiered in 1996 under the helm of Craig Kilborn, but it quickly became Stewart's domain, and he has steered the ship ever since. It is a self-described fake news program, covering politics and the national media. The second longest running show on the network,
The Daily Show
has won 18 Primetime Emmy Awards. In a recent interview in
The Hollywood Reporter
, Stewart remarked that, like with anything if you do it long enough, there are aspects that come to feel like a grind. With Stephen Colbert recently promoted to the slot held by David Letterman in the CBS program
The Late Show
, it is clear that the talk show royalty is undergoing a transition. With Stewart's contract up at the end of the year, he is pondering a transition as well. After all, Stewart was one of the major contenders to host
The Late Show
, and with Colbert securely in that role for years to come, he is looking to other avenues for his creative and professional outlets.
Jon Stewart's Film Directorial Career
In June 2013, Stewart took a twelve week hiatus from hosting
The Daily Show
in order to direct a feature film called
Rosewater
. The film,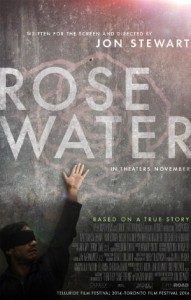 which premiered at the Telluride Film Festival and was shopped around to distributors at the Toronto Film Festival this past September, is a drama about a journalist who ended up imprisoned in Iran for four months. The shoot took place in Amman, Jordan, and difficulties were encountered such as an overlap with the Muslim holiday of Ramadan, as well as the given long days and rigorous work schedule facing any feature film, as opposed to cable television. Stewart has inevitably faced a great deal of criticism for taking on such a controversial topic, and yet he has also encountered a lot of appreciation from his fans, who are happy to see him branch out into other realms of entertainment. In this light, it will be interesting to watch how Stewart's career unfolds in upcoming years. Will he allow his contract to expire without renewing? Will he continue on this new track of directing feature films?
Comedy Central's "The Daily Show"
Whether it happens at the end of this year or not, it is unclear who will eventually take over Stewart's throne on
The Daily Show
. Still, other changes are happening at the network. They just added two new writers: Hasan Minhaj and Trevor Noah. Minjah will replace the seat recently vacated by Michael Che as correspondent, and Noah will be a contributing writer starting this December. Like always, the show is staying fresh with new comedic voices, while Stewart sits comfortably in the pilot's seat. Interestingly, the captivated audience of Daily Show fans often considers the show their primary news source, despite the fact that Stewart goes out of his way to make the show satirical. In spite of this, Stewart does have real news underneath the layers of satire. He co-authored several books including the 2004 bestselling
America (The Book): A Citizen's Guide to Democracy Inaction
, which also dug its teeth into real issues underneath the jokes. In any case, Stewart is undeniably a pop culture icon in and of himself, independent of his role on
The Daily Show
, as proven when he hosted the Academy Awards in 2006 and 2008.