Perv Purge Continues with Matt Lauer Firing from the "Today Show"
Matt Lauer, at NBC's Today Show gets ousted for sexual misconduct with employees, as part of the the Perv Purge 2017 that appears to have no end.
---
Long-time Today Show anchor Matt Lauer is out. NBC has cut him loose for stunning allegations of inappropriate sexual behavior. Lauer is just the latest big name in entertainment and politics to be taken down in a sexual scandal in the Perv Purge of 2017 that has been gripping the nation for the last two months. For Lauer, his downfall began Monday night, when a female co-worker took her accusations to management at NBC News. Matt Lauer was ousted before Wednesdays broadcast and since then more reports of inappropriate behavior have been published from other women in the NBC workplace. Lauer was fired for inappropriate sexual behavior and NBC brass says it started when Lauer and a subordinate were stationed at the Sochi Olympics in 2014. The New York Times reports that two more women have also come forward to NBC to report sexual misconduct by Lauer. The New York Post is reporting that the reason Lauer was fired so quickly is because NBC had evidence that Lauer was sexting employees, including an intern. The staff at the Today show expressed their shock and disbelief at the allegations, but as more news breaks, it may become clear that his sexual behavior at work was a well known secret and in many ways staff and management at NBC News were complicit, with examples of past employees who complained about Lauer, who were dissuaded from filing a formal complaint, but who now feel able to go public as part of the Perv Purge.
Matt Lauer Sexual Misconduct Activities - NBC News Management Team Complicit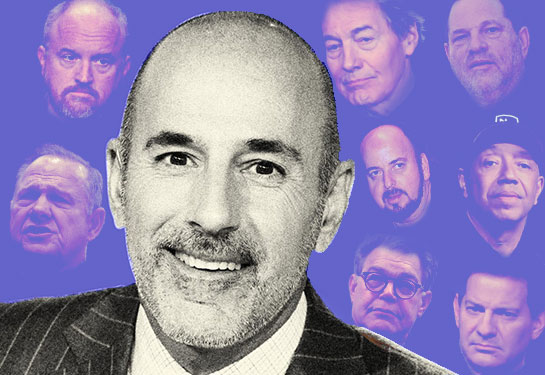 The stunning and sudden news topped the Today show broadcast on Wednesday morning that NBC fired long time Today Show anchor Matt Lauer. NBC News President and Chairman, Andy Lack said "On Monday night, we received a detailed compliant from an NBC News work colleague about inappropriate sexual behavior in the workplace by Matt Lauer..." Lack stated that "this was the first formal complaint against Lauer in his more than 20 year career with the network, but there was reason to believe that it was not an isolated incident". Page Six reports that an employee went to HR on Monday night and met with them for three hours and told them all the details of their story and after a quick investigation was launched (where NBC execs just asked Lauer about the claims) Lauer admitted to the claims and then Lauer was fired just 24 hours later. There has been a number of women who have accused Lauer in the past, but these women were terrified to go on the record, recognizing the code of silence that exists at NBC and a common complaint from women everywhere during the Perv Purge.
Variety
reports that a number of unnamed women are accusing Lauer, and in one case of him, of exposing himself to a fellow employee while he was in his NBC office at 30 Rockefeller Plaza. TMZ is reporting that Lauer made lewd comments to Katie Couric years ago, when they worked together on the Today Show, but that is not the reason why she left the network. It has also come to light that Lauer had the NBC engineers install a 'bang" button under his office desk that he can hit that locks his office door from the inside, which sounds about as creepy as it can get. This lock was designed so that Lauer would not be caught in any lewd act with coworkers or other women at the NBC headquarters. He had also asked that his office be at the end of a hallway, away from the rest of his peers, to avoid detection.
Today Show Fans Shocked During Perv Purge
At the Today Show studio on Wednesday, fans of the show were stunned and the timing with the Christmas tree lighting could not have been any worse. The firing has taken all the wind of the Holiday season at NBC and more sordid revelations are expected. Lauer's downfall is the most recent case of the Perv Purge 2017 rocking the media, Hollywood and Washington. Even the countdown to light the Christmas tree this year was off by a couple of seconds but still looked better than the somber faces of Lauer's co-hosts trying to muscle through the show without their leader.
SNL Plans To Ignore Worst Day in NBC News History
This weeks SNL show, which is shot in the same building at NBC at 30 Rockefeller Plaza, is expected to mostly ignore the sexual allegations and firing of Lauer and continue with its "Get Trump" agenda. The writers at SNL had decided to go with a with a small jab at Lauer on Weekend Update that pokes fun at him and his door button, with him locking himself out of his office. Lorne Michaels has long established that his show is a bastion of Liberalism and will not allow the darling of network to be discredited, despite the incendiary sexual misconduct accusations.