Jon Stewart Hosts Final Episode of "The Daily Show"
Jon Stewart bid adieu to late night television with his final episode hosting The Daily Show on Thursday, August 6, 2015. Many guests appeared to pay homage. Trevor Noah will succeed him in September.
---
Last Week Countdown to Finale Episode on Thursday, August 6th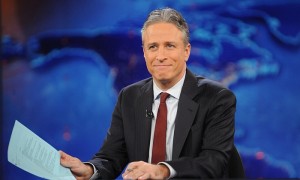 On January 11, 1999, Jon Stewart became the host of
The Daily Show
on Comedy Central. At the time, he took over the position from Craig Kilborn, who had been the show's inaugural host since it first aired on July 22, 1996. Jon Stewart's tenure has far outlasted his predecessor's, as he wraps up his 16-year stint as host this week. The show will continue on in his legacy, as Trevor Noah has been tapped to begin hosting the new era on September 28, 2015. The final episode ever of Jon Stewart hosting
The Daily Show
took place last night on Thursday, August 6, 2015 at 11:00pm. The show ran 52 minutes, which is 22 minutes longer than the usual half-hour format. Furthermore, Comedy Central played a
Daily Show
marathon all day on August 6th leading up to the final episode. The week leading up to the final show featured some of Stewart's most favored comedians as guests, including Amy Schumer, Denis Leary, and Louis C.K. In the remarkable number of seasons that Stewart has held this position, he has interviewed guests ranging from Barack Obama to Philip Seymour Hoffman to Kurt Vonnegut to George Clooney. As for the final episode, the guests were not revealed ahead of time, but were instead a surprise for viewers tuning in.
A Slam Dunk Final Show Paying Tribute to Top Talents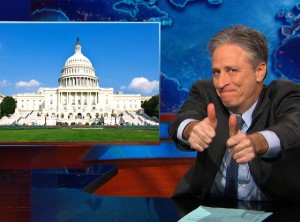 The finale was indeed a huge surprise, with a slew of heavy hitting talents from comedy to politics stopping in to pay tribute to Jon Stewart. Bruce Springsteen and the E-Street band bid adieu with a musical performance, singing two songs: "Land of Hope and Dreams" and "Born to Run." Many individuals who were formerly correspondents on
The Daily Show
made appearances, including Stephen Colbert, Steve Carell, Larry Wilmore, Rob Corddry, and Rob Riggle. Other comedians came through as well, such as Kristen Schaal, John Hodgman, Lewis Black, Mo Rocca, and Samantha Bee. In particular, Larry Wilmore made the joke that he stopped by because he had nothing else to do; his show,
The Nightly Show
, was moved to make way for Jon Stewart's extended finale. A video was also made with the collaboration of many politicians including Hillary Clinton, Rahm Emanuel, Chuck Schumer, Chris Christie, and John McCain, some of them more gracious than others (McCain called Stewart a "jackass," all in good fun of course). Darth Vadar even popped in, proclaiming that he was compared to Dick Cheney in an unfair moment.
An Outpouring of Gratitude for Stewart's Impact on Comedy
On Monday evening, kicking off the final week, Amy Schumer was the guest of honor. This 34 year-old comedian has recently shot to fame with her Comedy Central show
Inside Amy Schumer
and more recently her feature film
Trainwreck
presently in theaters. In fact, Schumer reportedly turned down the opportunity to succeed Stewart in the hosting position of
The Daily Show
. Their interview began on a somber note, discussing a shooting that took place at a recent screening of
Trainwreck
. However, the conversation then became lighter, as Schumer discussed the havoc she and her friends (including Jennifer Lawrence) wreaked in a recent weekend in the Hamptons. On Wednesday evening, the penultimate episode and the last before the special finale, Louis C.K. was the guest of honor. He told Stewart that he was thrilled to be his "last dude," and thanked him on behalf of comedy. Louis C.K. disclosed that watching Stewart perform standup long ago at the Comedy Cellar in New York was one of the reasons he decided to go into the comedy profession. Just last week, Stewart returned to that same venue to try his hand again at standup for the first time in many years. In a show of mutual love and respect, he told Louis that he was likewise inspired by him in deciding to return to the standup mic. Overall, it is clear the Jon Stewart will be sorely missed by the comedy community and far beyond. The next phase of his career is as yet unknown, but it will surely be interesting to watch.