Jimmy Fallon Heads West for the Super Bowl
Jimmy Fallon takes his The Tonight Show to Phoenix to the Orpheum Theatre for a post-Super Bowl showing with special stars. He then heads to Los Angeles for a week long stay.
---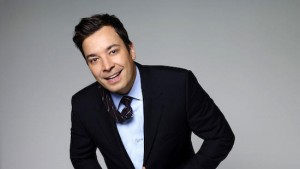 First Stop Phoenix for a Post Super Bowl "Tonight Show" Jimmy Fallon is bringing his
Tonight Show
westward for the first week in February. Tonight, after the Super Bowl XLIX telecast where the Seattle Seahawks battle the New England Patriots,
The Tonight Show Starring Jimmy Fallon
will be broadcasting from Phoenix's Orpheum Theatre. Tickets were released for a free giveaway at 9:30am on Wednesday, January 14, 2015, and a reportedly 42,000 people signed on for the opportunity. All tickets were gone by 9:34am. Since Fallon commenced his role in succession to Jay Leon, he has been the bona fide king of late night, maintaining high ratings and a beloved status among celebrities and fans alike. He is sure to attract a lot of stars on his show tonight, as they are all in town for the big event. It has been announced that his guests will include Will Ferrell, Kevin Hart, and Ariana Grande. The latter will perform her recent single "One Last Time," giving her first live television performance of the song.
Second Stop Los Angeles for a Week-Long Stay
After the post-game show, Fallon will head to Los Angeles for the week from February 2 through 5, 2015, where the show will tape from Universal Studios Hollywood. This marks the first time
The Tonight Show
will be hosted from Los Angeles since the show moved from Burbank to New York City for Fallon's takeover. The show's origins date back to 1954 when the debut took place in New York City, but since 1972 it has been filmed primarily in Los Angeles County, except for a brief stint in Chicago in 1957. Still, Fallon and his team chose to take a little vacation from the cold winter in New York City, taking advantage of the Super Bowl timing in order to visit some friends out West. The guests appearing in the L.A. week include Vin Diesel, Carl Reiner, Gwen Stefani, Michael Keaton, Will Smith, Rosamund Pike, Ellen DeGeneres, and Jack White. This is a great opportunity for Fallon to invite some exciting guests who may not live in New York or who are hard to pin down to appear on the show when they are visiting the East coast.
The Super Bowl Special
Following Super Bowl XLIX, NBC will air one episode of
The Blacklist
, after which the local late news will air, followed by the live airing of
The Tonight Show with Jimmy Fallon
. Most of the show's secrets are undisclosed, but it is revealed that a famous lip sync battle will take place between Jimmy Fallon, Kevin Hart, and Will Ferrell. Furthemore, Ariana Grande will make her live TV debut with her new single from her second album, performing with the house band The Roots. The show is also sure to include some hilarious games such as the "box of lies" shtick, as well as a number of jokes about football. The evening will feature some other stars as well: for the Super Bowl's pre-game festivities, Idina Menzel will sing the national anthem, and John Legend will sing "America the Beautiful." Furthermore, the Super Bowl halftime show will feature performances by Katy Perry and Lenny Kravitz.