Does "The View" Create Controversy in an Attempt to Stay Relevant?
"The View" TV Show has created many controversies in an attempt to stay relevant and now often specializes in outrage marketing
---
The View has seen more than its fair share of controversy since its television debut over 22 years ago. Unlike other current-event based programming, which attempt to present information in a non-offensive and nonpartisan fashion, The View is so steeped in perpetual controversy that it has become apparent that the show's producers may be inciting conflicts in an attempt to stay relevant in their competitive mid-morning slot. The producers on the show appear to encourage the hosts to make outlandish statements and act in bizarre ways in order to inflate the TV show's viewership through outrage marketing. Many of the shenanigans on the show often involve the main host Whoopi Goldberg. Some of her more outrageous incidents include defending convicted rapist Bill Cosby, farting live on-air, appearing high and berating anyone with an opinion different to her own. This is particularly evident during interviews with Republican leaning guests, as seen in her interview with Bill O'Reilly when she stormed off stage in disgust without properly concluding the discussion. The other hosts on the show are less prolific with their shenanigans, but certainly have their fair share of shock-value incidents. Sherri Shepherd may have famously quipped that the earth was flat but in in 2015, Kelly Osbourne made a "toilet comment" in reference to Donald Trump's attempts to forcibly remove all Latino immigrants from the United States. Osbourne stated "if we kick out the Latinos, who will clean our toilets?" Rosie O'Donnell, a fellow co-host of The View, claimed she thought Woody Allen was innocent of child abuse charges, despite the fact that the person accusing him was his own daughter, Dylan Farrow. Joy Behar has also had a good deal of outbursts on the show, the most famous being the on-air arguments she has had with her co-star Meghan McCain (The daughter of the late senator John McCain). During a live debate on an April 2019 show, the hosts were discussing the resignation of Kirstjen Nielsen (Former United States Secretary of Homeland Security). The argument got so heated that fellow co-star Whoopi Goldberg had to step in to stop physical attacks from happening on the show between the co-hosts. Many of these incidents are immature, unfunny, and often provided without meaningful evidence to support said claim, leading many to view the day-time talk show as nothing more than a substanceless program struggling to stay relevant through gossip, controversy and drama.
Howard Stern Tactics Reign Supreme at The View
It appears that the current show producers Candi Carter, Brian Teta and Hilary Estey McLoughlin have taken some tactics straight out of Howard Stern's playbook and tried to remain relevant by encouraging outrageous incidents. Previous producers like Barbara Walters, Bill Geddie and Bill Wolff never went down this track, but times were quite different then. The problem with the "outrageous" strategy is only Howard Stern can really get away with it due to his comedic framing, whereas these ladies often look ignorant when they have to later apologize and redact their statements. Only Joy Behar has any experience in comedy and she rarely utilizes it on this show. The producers like to encourage an adversarial panel, so all the other hosts can gang up and yell at each other when they do not have a guest to fill the antagonistic role. Rosie O Donnell, who was a View host from 2006-2007 and then again in 2014-2015, was a great sounding board because she would often disagree with the other panelists, causing bickering between the hosts. The show producers heavily encouraged this combative display as the toxic mess that would ensue resulted in much better audience ratings for the show.
New Hosts Must Come With Specific Set of Credentials
It is clear to see that the show producers will create problems for the hosts to deal with live on air, often leading to an extremely hostile environment. During Barbara Walters reign on the show, as senior host and executive producer, discussions were much more balanced. However, now the show is less like the Barbara Walters View and more like The Jerry Springer View. Women with any journalistic integrity often avoid hosting The View, causing the producers to seek out celebrities that like to be outrageous to be the new hosts, in order to continue this legacy of litany. A charge often levelled at the show is that these far left liberals love free speech, but only as long as it is from a far left liberal viewpoint. The show is now seen as largely formulaic. As soon as there is a dissenting voice, it gives the panel an opportunity to go from a hissy fit to a screaming match in five minutes flat. They then cut to a commercial break, a tactic used to keep viewers tuned in for the payoff after the break, though this patience is never rewarded. It often appears that the dispute was settled during the break, but we all know that the second the cameras are off, no one is talking.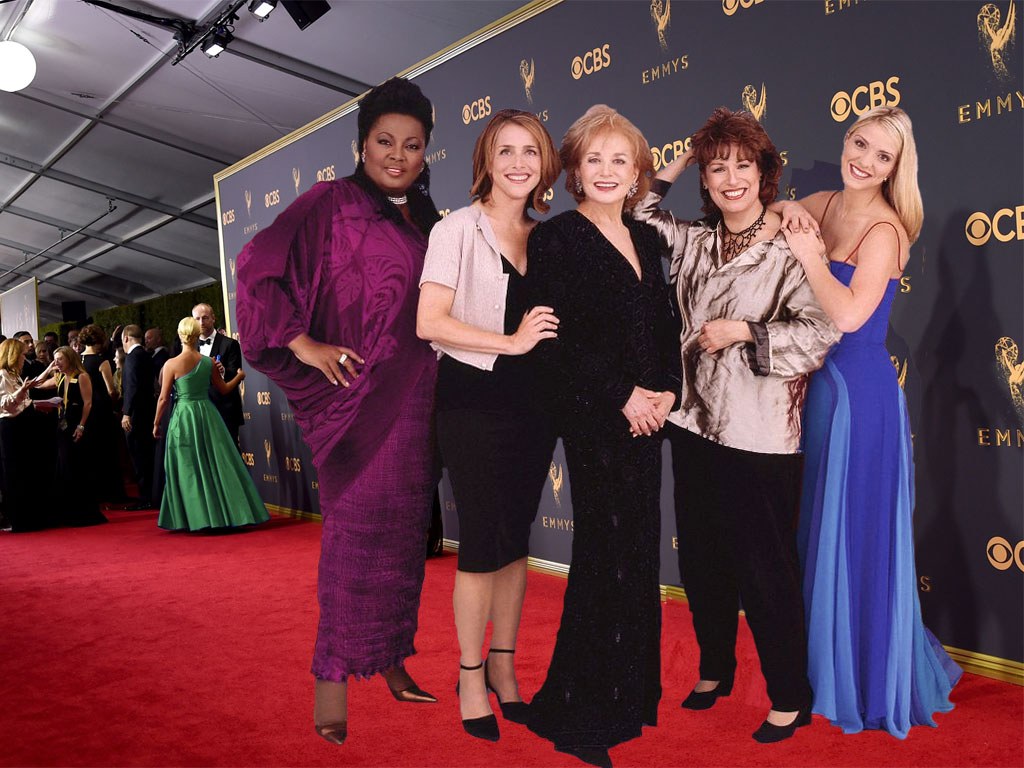 Does The Controversy Keep The Ratings Up?
Ever since the show's debut back in 1997, ratings have constantly fluctuated. However, the 2017-18 season ratings appear to have hit a high note with an average of 2.9 million viewers per show. The last time the show experienced this degree of success was back in the 2012-13 season when Barbara Walters was both starring on, and co-producing the show. The media has also credited this increase in viewership to the birth of the Trump era. The polarizing political climate has sparked many heated discussions between Joy Behar and Meghan McCain. Others have actually attributed the rise in ratings simply to the presence of McCain alone. The producers may well liken their creation to the spectacle of a car wreck, though it is horrifying, no one can look away. Although, this strategy is not going to win them any awards or praise from the industry, they may well be relegated in history to the low road that is often travelled by the Kardashians or Jerry Springer.
How Far Will The View Hosts Go To Get Ratings
Obviously the hosts on The View have done some fairly outlandish stuff, but how far would they go to appease producers and get high ratings? Has the show now become so heavily scripted, just like most reality shows are? While it is true that the hosts have never gone as far as to say that Hitler was a good guy or that aliens exist, their current rhetoric is not far off this mark and it might just be a matter of time before they actually go there.
Where Will It All End?
There is a price to pay for regularly producing this kind of content for daytime television. The show may be building up to a reaction explosion of sorts. Perhaps one of the guests who happens to get berated by the panel is going to seek some sort of retribution. It could even be one of the Republican-leaning guests that decides to get vengeance on the show staff for being belittled in public. If there was such a retribution, Brian Teta and the other show producers would likely plead that they had no idea that something like this could happen, despite the fact that they have been instigating the situation for many years, all to produce better ratings. In this scenario, once the show is cancelled, critics may then compare The View's demise to the 1995 Jenny Jones incident in which Scott Amedure was famously murdered by another show guest. Jenny Jones and her show producers set up a revelation that was designed to embarrass Jonathan Schmitz, a male colleague of Amedure. There are a lot of crazy people out there and The View is attracting the wrong sort of crazy. The View would be better off giving us Mork, but they continue to give us Manson.