'America's Got Talent' Faces Tough Time Filling Seats In NYC
America's Got Talent is having trouble filling seats during "Judgement Week" even though the show is usually sold out at this time.
---
For the May 2014 taping of season 9 of the NBC behemoth TV show,
America's Got Talent
(AGT), Mariah Carey's hubby, Nick Cannon and the various judges Howard Stern, Howie Mandel, Heidi Klum and Mel B are certainly a big draw for audiences to see the show in NYC, but producers have created confusion in the choice of varied tape dates and locations for the taping's, leading to a shortage of audience members. For what's billed as "Judgment Week ", normally the AGT show would be sold out, but right now there are many empty seats to be had over the next few days and many "priority seating" options are left empty, which is quite rare. The timings of the taping's are also pretty awful with two taping's a day at 9 AM and 2:15 PM maintaining a rigorous and demanding taping schedule. Many New Yorker's just aren't getting up for this. It is expected that in order to keep the morning audience there for the afternoon that they will feed them lunch as a bribe, a classic Hollywood trick. The latest taping location is at Pier 92/94 on the West Side Highway, which is normally a trade show and special event venue that houses the Westminster dog show and various other corporate trade shows. It's weird to see AGT relegated to such a meager environment, especially given the high quality of the previous taping locations . Pier 92/94 bills itself in the "heart of midtown", but in reality it is located on the outskirts of Midtown Manhattan at 55th Street and the West Side Highway, with no subway and little public transportation going there, that doesn't help audience members who want to see the show, and have to battle rush-hour traffic to get there. No doubt the celebrities on the show, will be able to use Howard Stern's "Ronnie Mund" AKA " Ronnie the limo driver" to take them out there, in the quiet comfort of his customized Audi A8 complete with a working AC petcock.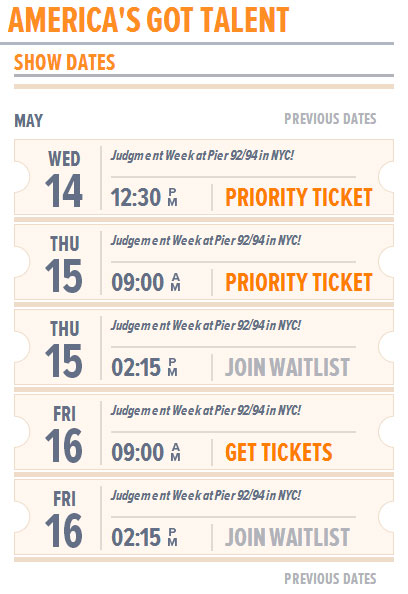 It's widely know that the reason AGT is shot in NYC is due to Howard Stern's demanding schedule with
The Howard Stern Show
at Sirius XM radio so it remains to be seen if this format of moving around NYC in search of shooting locations will work over time or Howard will get bored and move onto new TV projects. It seems like just only a few moments ago the show was stationed in the theater at Madison Square Garden and before that it was at the Performing Arts Center (NJPAC) in Newark NJ. It is not clear where the live shows will be taped in the summer of 2014, but given the constant go-around NYC, it could be pretty much anywhere in the tri-state area. What also doesn't help is that the show isn't on our TV screens right now, so there is little interest in the public minds - out of sight, out of mind. All the footage from these current shows is recorded and then edited down to the bare minimum, so the feel of this kind of show is labored and somewhat less compelling than a "Live" show, where it seems like anything could happen. Audiences in Hollywood would often be paid to attend these kinds of shows, but the New York ones have to be run more cheaply as the cost of shooting these shows in NYC is about double the Californian rate. The taped show also take a lot longer to shoot, often two and a half hours, with re-shoots and lighting adjustments galore, which makes the audience restless and often bored. So bored in fact that they don't come back, especially given the amount of boos that Nick Cannon received recently at Madison Square Garden, when he came to see the NY Knicks play. His AGT TV producers thought it would be a great idea to shoot an AGT promo at the game and for him to appear on the MSG Jumbotron and then do a trick shot (Throwing the ball behind his head, while someone else throws a ball into the basket) His appearance on the Jumbotron was met with loud crowd boos and then his failed trick shot added to the crowd torment and they started getting mean. After a 2nd, but successful, attempt Nick Cannon finally sat down and then left the stadium just ten minutes later as he appears to have little interest in the Knicks. New Yorker's generally do not like Nick Cannon and clearly Knicks fans positively dislike him, and now he knows it if he didn't know already. NBC's AGT producers are well known producers of "fakeality" TV Shows and are to expected to still use the negative footage recorded at MSG, remove the loud boos, overdub the audio and edit out the fans rude hand gestures and make it appear that Mr Cannon was in fact the darling of The Garden. We look forward to see the live shows of AGT come back to NYC in July and it will be interesting to see if the public interest in seeing this show returns, but given the current nomadic spin on shooting locations, the show could end up in Danbury, Connecticut. The home of all the other NBC universal shows. If only Howard Stern would agree to the move. For your information, the official address of this shooting location at Pier 92/94 is 711 12th Avenue, New York, NY 10019.