Trevor Noah Debuts As New Host of "The Daily Show"
Trevor Noah took over the position of host of The Daily Show from Jon Stewart with his first episode premiering on Monday September 28, 2015.
---
South African Comedian Fairly Successful in Continuing Jon Stewart's Legacy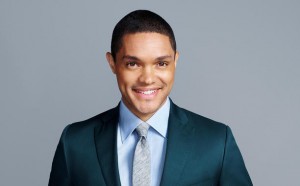 On Monday night, September 28, 2015, Trevor Noah premiered his first episode as host of
The Daily Show
on Comedy Central. Taking over from universally beloved Jon Stewart, who had held the position for over 15 years, Trevor Noah had gigantic shoes to fill. There has been much anticipation over whether Noah would succeed as Stewart's successor, and this cannot be completely discerned from the first episode. Still, his debut was largely positive, and most reviewers have high hopes for what is to come. Since Stewart's last show on August 6, 2015, the month and a half hiatus has allowed fans far and wide to speculate on the merits of the network's choice of Noah as the following host. Stewart established a very specific tone for
The Daily Show
, which Trevor Noah is adept at continuing. Still, credit is not completely due to Noah alone, as the machine of
The Daily Show
writers has remained largely intact, which is very skilled at digesting the daily news from around the world and coming up with comedic commentary to distill into the show's segments. As an example of the machine's ability to function independent of the host in the seat, when Jon Stewart took off time to direct a feature film,
Rosewater
, John Oliver took over and was able to continue unscathed. It was only when Oliver debuted his own HBO show
Last Week Tonight
that his own voice became distinct and separate from
The Daily Show
tone.
Reverence, No Fear of Racial Comedy, and Bafflement with America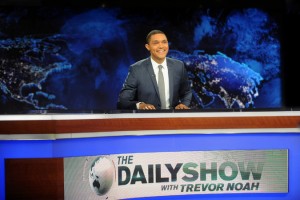 Though Trevor Noah largely continued Jon Stewart's format and political material, there were some distinct differences. First of all, Noah was reverent towards Stewart as his predecessor. In the opening, he paid tribute to his mentor with almost too much sincerity for a comedy show, but then lightened the move with a very funny joke: he said that it's like Jon Stewart was the father of late night television, and now there's a new stepfather. "And he's black, which is not ideal." This joke went over very well, and also shows that Trevor Noah, as a South African born man and one of only two non-white late night hosts (the other being Larry Wilmore, formerly of
The Daily Show
staff), he is not afraid to address the topic of race in a comedic way. This was often a criticism of Stewart's tenure, that he shied away from addressing racial topics head-on. However, as a black man, Noah can do so with less controversy. Another unique aspect of Noah's demographic is his international background; he was born in South Africa. This makes him one of only two late night hosts who was not born in the United States, the other being the previously mentioned John Oliver, now with his own show
Last Week Tonight
, who is also formerly of
The Daily Show
staff. This will allow Noah to bring a global awareness to the American television watching public that is not often seen. One joke he made was that when he was a little boy in South Africa, there were two things he never expected: one was to have an indoor toilet, and the other was to be a host of
The Daily Show
, and that he is now very comfortable with one of them. This also received a giant laugh.
His Legacy Remains to be Seen
With just one show under his belt, it remains to be seen exactly what type of
Daily Show
host Trevor Noah will turn out to be. In his interview with the actor Kevin Hart, Hart did most of the talking and Noah mostly laughed good naturedly. Still, he has plenty of time to come out of his shell. He made some jokes that might have caused Jon Stewart to cringe, such as a pun about AIDS and aides, and also a not very sensitive reference to Whitney Houston and drug use. Still, to be a successful host, he must not just give America what it wants, but also give us what we don't know we need.