Megyn Kelly's Interview with Alex Jones Garners Controversy
Megyn Kelly is under fire for her interview with Alex Jones, which included his radical views on the Sandy Hook shootings and the attacks on 9/11.
---

Megyn Kelly Slammed for Alex Jones Airtime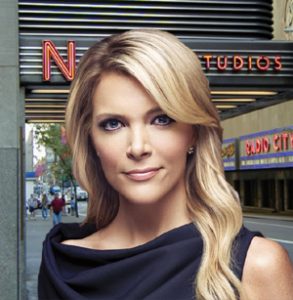 Megyn Kelly (formerly from
The Kelly File
) has moved from Fox to NBC, where she now has two new TV shows,
The Megyn Kelly TV Show
and
Sunday Night with Megyn Kelly,
a news magazine format in the style of
60 Minutes
. It is with
Sunday Night with Megyn Kelly
that Megyn Kelly is now under fire for her newest episode interviewing paleoconservative firebrand Alex Jones that is set to air Sunday, June 18, 2017. Kelly is only three shows into her season and she is already feeling the heat from the traditionally liberal network. Her first episode in the season was an exclusive interview with Russian President Vladimir Putin, where she tried to avoid softball questions. Her second show was run-of-the-mill with
Dancing With the Stars
host Erin Andrews as her subject, but it is with her third show that she is now facing the most heat, with Alex Jones, an extreme conservative, who is part showman, part "truther" and who denies that many world events happened as the media portrays them, including the 9/11 attacks and the Sandy Hook murders.
Jones Discusses Controversial Views
Alex Jones is no stranger to controversy, as he is known for his radical conspiracy theories that he perpetuates on his show
The Alex Jones Show
and his website
InfoWars
. In previews for the interview, Jones claims that 9/11 is a complete inside job, and discusses his views on Sandy Hook. Jones noted that he has been on both sides of the Sandy Hook debate, claiming it was fake in some instances, and real in other instances. The radio host also revealed that he staunchly believes that somebody began creating animal-human hybrids thirty years ago.
Megyn Kelly Criticized for Giving Jones Platform
Megyn Kelly has been criticized for giving Jones a platform to discuss his conspiracy theories. Originally slated to be the host for the Sandy Hook Promise Foundation gala, Kelly was dropped immediately after the Alex Jones preview surfaced. Critics claimed that the interview legitimizes Jones's views. Kelly defended the choice to interview Jones, calling his views "disgusting", but asserting that her interview sought to shed light on his controversial stances. Some claim that Kelly's decision was a ploy for viewership ratings, as ratings plummeted after the hotly criticized premiere interview with Putin, free-falling from 6 million viewers to just 3.6 million for the second episode. Critics argued that Kelly's softball questions to Putin destroyed her integrity as a hard-hitting journalist, causing her ratings to plunge.
Jones Blames Selective Editing In Episode Three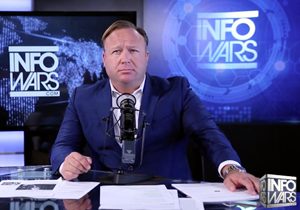 Alex Jones has claimed that NBC's selective editing has cast him in a bad light in the interview, and that he does not truly believe that Sandy Hook was a hoax. However, in 2014, Jones said the following about Sandy Hook: "But it took me about a year with Sandy Hook to come to grips with the fact that the whole thing was fake. I mean, even I couldn't believe it. I knew they jumped on it, used the crisis, hyped it up. But then I did deep research -- and my gosh, it just pretty much didn't happen. Unbelievable." This has not been the first time that NBC has been criticized for selective editing. NBC has had to issue multiple apologies related to selective editing, such as in 2014, when NBC apologized for selective editing related to the Trayvon Martin shooting.
Provocateur or Genuine Conspiracy Theorist?
Though his statements on Sandy Hook and 9/11 during Megyn Kelly's interview were outrageous, they were not the only incomprehensible beliefs held by Jones. In a podcast on May 21, 2013, Jones said he believes in the government's ability to create and steer tornadoes to act as a "weather weapon". In multiple instances, Jones has discussed his view that the government creates homosexuality, and went on a tirade this October, claiming that Barack Obama and Hillary Clinton are literal demons from hell bent on destroying the world because flies land on them. Some may argue that Jones is a normal guy who does not subscribe to all this insanity, but the question then becomes: does that matter? Despite whatever the opinions of Jones may actually be, his immense following buys into his radical ideologies. His two million subscribers and millions of unique visitors per month, adding up to well over a billion views on "The Alex Jones Channel", are influenced by his conspiracy theories. One of his fans is President Trump, who praised Jones, saying to him during an interview on his radio show: "I will not let you down. You'll be very, very impressed, I hope, and I think we'll be speaking a lot".
Ads pulled, sends NBC in a scramble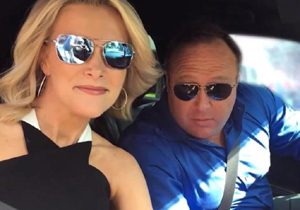 Numerous advertisers have pulled advertising from Kelly's interview in anticipation of backlash and to voice disapproval. This comes as bad news for NBC, as they struggle to build the newborn
Sunday Night with Megyn Kelly
brand before the show goes on hiatus for
Sunday Night Football.
MSNBC offered her a slot during the
Sunday Night Football
period, which Kelly declined. The Alex Jones controversy could damage Megyn Kelly's reputation with NBC, but it may also boost ratings and increase her brand awareness all while putting NBC in a bit of a conundrum. We expect to see Kelly being disappointed that her interview requests for Hitler, Stalin and Mussolini have fallen on deaf ears, but there is still some hope for Kim Jong Un.