Several Prominent Hosts Left Out of Today Show's 25 Year Retrospective
NBC's Today Show Celebrates 25 Years at Studio 1A and Leaves Out Matt Lauer, Ann Curry, and Tamron Hall From The Retrospective, Sparking Online Controversy
---
On Thursday June 20th 2019, NBC's long-running morning show, Today, celebrated its 25 years of broadcasting from Studio 1A in New York's Rockefeller Plaza. To honor the studio's legacy and impact on the program, the staff of The Today Show compiled a video montage, sharing the studios history, highlighting groundbreaking news stories, and shining a spotlight on the many hosts that have occupied the studio for the past quarter-century. Nearly all of the previous hosts were featured in the retrospective video that included Hoda Kotb, Al Rocker and Katie Couric. However, the exclusion of several previous Today personalities sparked an online Controversy, that NBC was forced to defend.
Matt Lauer
The most notable host to be excluded from Today's anniversary montage was Matt Lauer. As many may recall, Lauer was famously fired from his role as co-host of The Today Show back in late 2017 for multiple accusations of sexual misconduct and harassment. These allegations included making lewd comments towards female co-workers, exposing himself to female employees while in his secluded office, and gifting sex toys to colleagues with explicit notes of how he would use said toy on the gift recipient. Evidence was later released that Lauer had a secret button installed in his office that would lock his door, allowing him to initiate sexual contact with employees without the fear of anyone walking in and disturbing his activities or grooming. Though Lauer continues to deny these accusations to this day, the testimonies and sheer amount of accusations were enough for NBC to pull the plug on the former host's career and he now languishes in his paltry 19 bedroom mansion in the Hamptons.
Despite Lauer's tainted reputation leading to his forced departure from the program, some felt that his exclusion from Today's anniversary montage was unwarranted. This man helped build the morning show into the industry titan that it is today and he holds the record for the longest tenure as host in the show's history, at just short of 21 years. In comparison, Katie Couric holds the record for the second longest tenure as host and was on the program for only 15 years. While many still agree that Lauer's sexual acts were pretty disgusting and his punishment was less than he deserved, his impact on the program was too great to be erased from the shows history, but erase him they did. NBC management were clearly culpable in Lauer's many sexual encounters and removing him from the history books will not divert the criticism away from Noah Oppenheim, Andrew Lack, Deborah Turness and ultimately the executive vice president of Comcast and chief executive officer of NBCUniversal Stephen B. Burke.
The NBC video editing room was working overtime to remove Lauer from every clip that they used on the montage, as Lauer had featured on nearly every Today Show since it was first recorded at Studio 1A - and that was a lot of footage. Some have chimed in that even Megyn Kelly was not treated this badly by NBC, but it epitomizes the strategy of NBC management to distance themselves from Lauer's perversion and the part he played in the Perv Purge of 2017.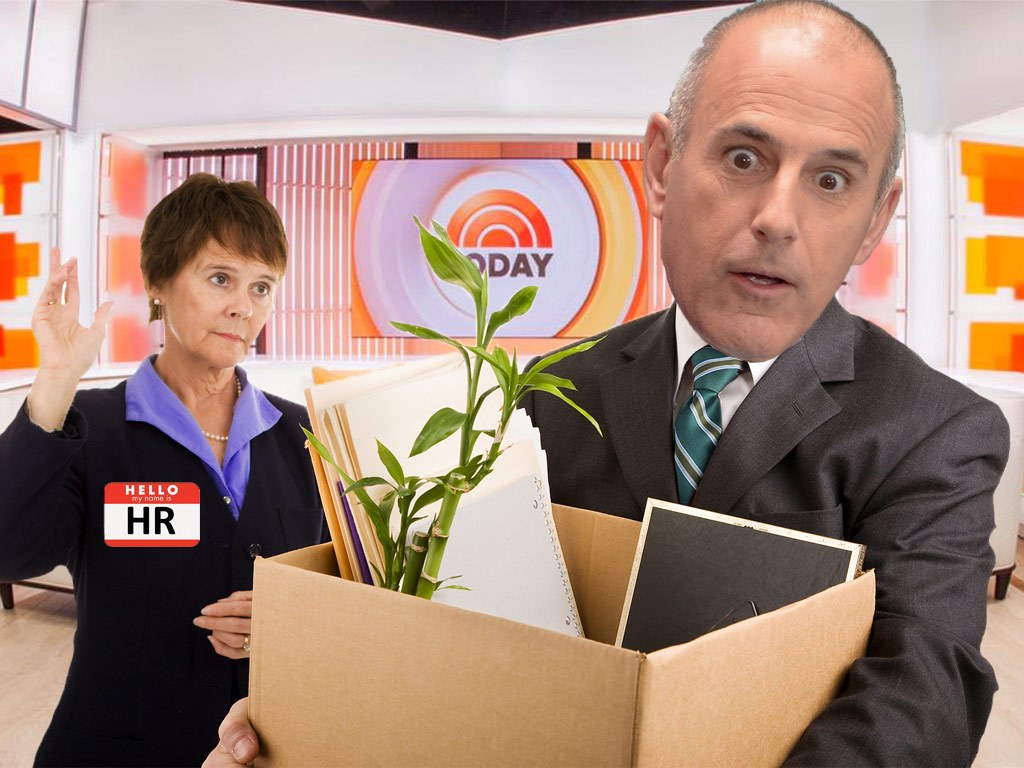 Ann Curry
Another prominent member of the Today Show that was left out of the anniversary was Ann Curry. In 2012, Curry was forced out of her role as co-anchor of Today, and while the reason for her firing is still largely unknown, it is heavily speculated that it is due to a tense undercover feud between Curry and Matt Lauer. Curry has even come out in recent years and disclosed that she reported Lauer's inappropriate behavior to NBC execs in 2012, after one of his victims sought her help. Curry would go on to add that an investigation into Lauer's actions was never started following her testimony, and her firing occurred later that year. This led fans of the show to speculate that Lauer played a role in her firing to cover-up his sexual misconduct. Many felt as if Curry was dealt a bad hand and did not deserve the treatment she received on the show, making her exclusion from the anniversary video all the more devastating. Although it is rumored that Ann Curry was often difficult to work with during her time on the Today Show, this may have actually played a role in her exclusion from the montage. all these years later.
Tamron Hall
Yet another famous cast member of the Today Show, Tamron Hall, was omitted from the show's anniversary celebration. Hall co-hosted the popular third hour of the Today Show but left the program back in early 2017. Despite releasing a joint statement with NBC stating her departure was due to her expiring contract with the network, some fans believed Hall may have left the show as a statement of disapproval for conservative Fox News anchor and new host of the third hour, Megyn Kelly. While this is all pure conjecture and we may never know the exact reason she was not included in the montage, the popular opinion is that the original rivalry between Hall, Kelly and NBC management was total broadcast TV poison that cast a pall for many years to come.