Seth Meyers Inherits Late Night From Jimmy Fallon In New York
Jimmy Fallon names his Late Night successor as SNL friend Seth Meyers after his promotions to the Tonight Show
---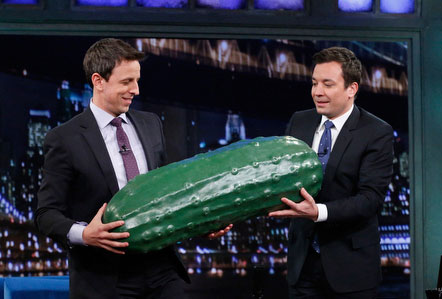 Jimmy Fallon has passed his late night show over to Seth Meyers from
SNL
fame. Jimmy has owned
Late Night
for the last five years after Conan O'Brien was booted because of terrible ratings. Subsequently, the NBC executives reinstalled Jay Leno back in
The Tonight Show
slot. Conan could have taken his
Late Show
slot back, but chose to go on to host his own show on TBS a year later (and was $12 million richer from the non-compete contract he had with NBC.) With Jimmy Fallon now graduating to Jay Leno's slot on
The Tonight Show
, there leaves a void to be filled on
Late Night
and Seth Meyers (from NBC's
SNL
) gets the pickle passed to him. The new show with Meyers will still be in the after-midnight 12:35am TV show time slot - a slot that is very hard to garner TV audience, especially with so much TV and non-TV competition out there. Seth Meyers "new" version of the show will have a new format and will include some skits lifted straight from SNL, some on-the-street clips, as well as the standard format of the opening monologue and a bunch of interesting guests to boot. It's good that the NBC show is recorded at 5PM EST as Meyers is only a year younger than Fallon at the ripe old age of 40.
Late Night
has a history of burning out the host, who often doesn't feel any pressure to attract a big audience, but can often feel that their show is going nowhere fast, leading to motivational issues for them and their staff. Graduating to a better time slot is almost unheard of: Conan underlined that, but Fallon managed to buck the trend, showing that it is possible. The "Passing Of the Pickle" is a tradition created by David Letterman, who departed
Light Night
many years ago where the staff on the show bestowed a giant plastic pickle upon the fresh faced new host, Conan O' Brien. Jimmy Fallon, too, received the pickle from Conan O'Brien, but the tradition goes way back: a number of TV hosts over the years have exchanged the pickle including Jack Paar and Ed Sullivan, who received real pickles from Katz's deli. The pickle is a metaphor for being passed a lame duck time slot. Jimmy Fallon vacates the
Late Night
on February 6, 2014 to get ready for
The Tonight Show
debut and Seth Meyers starts the new show
Late Night
on February 24, 2014. No indication yet of what NBC executives expect to see in terms of success or failure, but with their history they may even forget that he is on their channel. With Seth Meyers experience on
SNL
and on the daytime yakker show
Live with Kelly
, this should stand him in better than his competition for this slot that reportedly included Alec Baldwin, George Lopez,W. Kamau Bell, Whitney Cummings, Gordon Elliot and Maury Povich, all veterans of the TV circuit.