Saturday Night Live Season Opens with Guest Hillary Clinton
SNL debuts its 41st season this Saturday night October 3, 2015 hosted by Miley Cyrus and featuring special guest Hillary Clinton the Democratic presidential candidate.
---
Miley Cyrus Hosts Hilarious Season Premiere Episode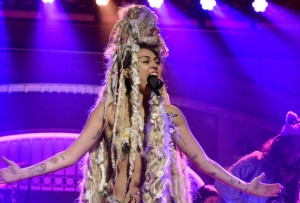 On Saturday night, October 3, 2015, the forty-first season of
Saturday Night Live
debuted on NBC. This comedy sketch series has been running since its premiere in October 1975, originally created by Lorne Michaels and Dick Ebersol. Lorne Michaels still runs the show today, having only taken a brief hiatus from 1980 to 1985. The season is directed by Don Roy King, as it has been since 2006. In the debut episode, the host and musical guest was Miley Cyrus, the 22 year-old Disney teen idol turned avant garde, irreverent pop star. Miley was hilarious in her comedic performances, introducing the show with her husky confident voice. She also performed three musical numbers, all slow paced and accentuated by extravagant costumes. For instance, for one number she wore a gigantic blond wig of dread locks, and her mic stand was also dressed in the same hair. In another number, she played the grand piano which was dressed in as outrageous an outfit as she was. She opened the show making a self-congratulatory remark about her short-term memory problems due to drug use, fulfilling her own reputation as a wild child. However, overall she came off as ebullient and exceedingly happy, fitting right in among the comedic experts in the scenes, and performing her songs with gusto.
A Political Emphasis with Guest Appearance by Hillary Clinton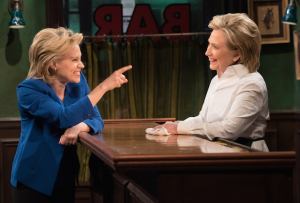 The show opened with an SNL performer playing Donald Trump, and another playing his wife Melania. They poked fun at many of Trump's ridiculous behaviors, including his attitude towards women, his stance on immigration, and his success in the polls due to extreme statements. However, the main political guest of the evening was certainly Hillary Clinton. SNL took no pains to hide the fact that they support the candidate and believe she has an exceedingly good chance of winning the presidency. On the other hand, they made fun of all the Republican candidates through a spoof commercial on a pharmaceutical drug that gives the Republicans a dose of reality, allowing them to realize they were crazy to think they could ever be president. In Hillary's cameo, the camera begins solely on her doppleganger, SNL regular Kate McKinnon who has been playing Hillary for a long time. Previously, Amy Poehler portrayed Hillary in a more sympathetic way. Nevertheless, the interaction between McKinnon and Clinton was more than congenial; it rang of true friendship and mutual appreciation. In the scene, McKinnon plays Clinton at a bar ready for a stiff drink. When the bartender turns around, she is none other than Hillary Clinton herself. The material barely entered controversial territory, as Clinton's media team must have had approval over the script. Rather, the scene succeeded in portraying Clinton as very human and with a great sense of humor, at a time when her public image needs it.
Ratings at a High; Future Episodes Hosted by Amy Schumer and Tracy Morgan
For the first episode of the forty-first season, ratings were up by 13% from the premiere episode of the fortieth season one year ago, which featured Chris Pratt and Ariana Grande. This is the highest rating for an episode of SNL since last January. As for the show's key demographic, adults aged 18 to 49, the ratings were just slightly down from last year's premiere. Next week's episode will be hosted by Amy Schumer, who is having an amazing year between her feature film
Trainwreck
and her successful Comedy Central show
Inside Amy Schumer
. The week after that will be hosted by Tracy Morgan, formerly of the television show
30 Rock
. These comedians are sure to draw further ratings boosts, as the show makes efforts to maintain their audience through a more attractive timeslot, a more racially diverse cast, and a continually hilarious way of keeping their finger on the pulse of current and political events.