Ryan Seacrest Announced as New "Live" Co-Host
Ryan Seacrest is Kelly Ripa's new co-host on ABC's "Live with Kelly and Ryan," taking over from Michael Strahan's vacant seat on the daily morning talk show.
---
Kelly Ripa Joined by New Co-Host for "Live With Kelly and Ryan"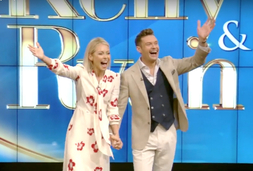 The ABC morning talk show now known as "Live With Kelly & Ryan" has been on the air with an evolving series of hosts since 1983, when it premiered at "The Morning Show," co-hosted by Regis Philbin and Cyndy Garvey. In 1988, Regis stayed on with a new co-host Kathie Lee Gifford until 2000, and after trying out a series of other co-hosts, the network finally found Kelly Ripa, who joined Regis Philbin in 2001 for what then became known as "Live! with Regis & Kelly." That duo was credited with bringing new life to the show, especially with a younger demographic, and the partnership lasted until 2011, when Philbin finally departed after 28 years on the show. After a year with a rotating series of trial co-hosts, the network finally settled on the former New York Giants player Michael Strahan, thereby birthing "Live! with Kelly and Michael." That pair lasted from 2012 to 2016, when Strahan exited to join the hosting team of
Good Morning America
, along with Robin Roberts, George Stephanopoulos, and Lara Spencer. And so, Kelly found herself alone again, hosting "Live! with Kelly" for the past year. Finally, after much anticipation, the new permanent co-host has been announced: Ryan Seacrest.
Ratings Boost Upon Announcement of Ryan Seacrest's New Job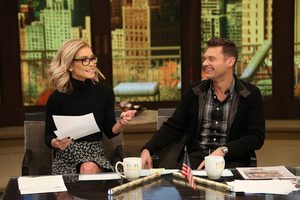 The announcement of the new pairing was made yesterday, Monday, May 1, 2017. On that day, the ratings for "Live" spiked to their highest levels since the show following the Oscars in February. Overall, the show drew a 3.1 household rating for yesterday's episode, and in the key demographic of women aged 25 to 54, the Nielsen rating was 1.3. This made the show the number one talk show with regards to ratings yesterday, even beating out "Ellen" and "Dr. Phil." Ryan Seacrest brings a new flavor to the morning talk show. Best known for hosting
American Idol
for the past 15 seasons, Seacrest first came to fame as a radio host. His good looks were thus concealed from his fans in his early broadcasting career. He still hosts a daily morning radio show for Los Angeles' KIIS-FM station, "On Air with Ryan Seacrest," in addition to hosting the weekly "American Top 40" show. Annually, he also hosts the New Year's Eve special "Dick Clark's New Year's Rockin' Eve" on ABC, a position he has held since 2005. His first appearance on "Live" actually took place back in 2003, but this permanent co-host position brings his fame to new heights.
Seacrest's Radio Show Now to Take Place in ABC Studios Building
For the new "Live" gig, Seacrest will re-locate from his home in Los Angeles to his new post in New York. Fortunately, with today's technologies, he can still host his Los Angeles radio show from New York. He will also stay on as Executive Producer of "The Kardashians." In order to accommodate his busy schedule, ABC plans to build Seacrest a new radio studio at WABC-TV in New York, the same building where "Live" is filmed. This will also allow for some organic cross-pollination between the television and radio programs. For instance, the guests each day on "Live" could hop upstairs (or downstairs, as it may turn out) to be interviewed for "On Air with Ryan Seacrest" as well. The radio program, which is broadcast by iHeartRadio airing from 6am to 10am Pacific time, overlaps with the first hour of "Live," which runs from 9-10am Eastern time (the equivalent of 6-7am Pacific time). This will mean that from now on, at least the first hour of "On Air with Ryan Seacrest" will be pre-taped, rather than live. Still, this is particularly convenient for the prospect of guest sharing between the two programs, as the shows will be filmed back-to-back. In any case, this is the beginning of a new era for "Live," and Kelly Ripa certainly seemed excited to have such a charming co-host as Ryan Seacrest positioned permanently beside her, at least for the time being.