"Maya and Marty" Show Debuts on NBC TV
Maya and Marty in Manhattan is a new variety series that will debut on NBC on May 31, executive produced by Lorne Michaels and co-starring Kenan Thompson.
---
Variety Show Starring Maya Rudolph and Martin Short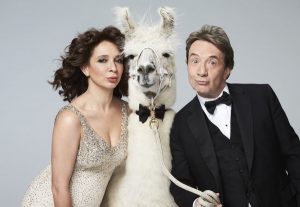 On May 31, 2016 at 10pm EST, a new variety show debuted on NBC.
Maya and Marty
stars Maya Rudolph and Martin Short in a new comedy show that features an array of musical numbers, celebrity guests, comedy sketches, and demonstrations of their improvisational mastery. The show is a modern take on
The Carol Burnett Show
, which aired on CBS from 1967 to 1978. That popular variety show aired for 12 seasons, earned a total of 25 Primetime Emmy Awards, and is consistently ranked on major publications' lists of the greatest shows of all time. Maya and Marty's new rendition has been gestating for a long time at NBC. In May 2014, a trial run for the series aired starring just Maya Rudolph, entitled
The Maya Rudolph Show
. Both Maya and Marty rose to prominence on
Saturday Night Live
. Maya debuted on
SNL
in 2000, and performed as a regular member of that show for more than a decade. Martin Short was on the
SNL
cast for many years as well, for six seasons over the course of 1984 to 2015.
A Duo of Very Talented Film and TV Stars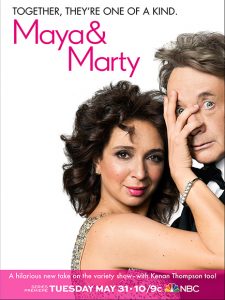 In addition to their performances on
Saturday Night Live
, Maya Rudolph and Martin Short are both very accomplished comedians and actors. As for her film credits, Maya may be best known for the 2011 film
Bridesmaids
, and she also starred in
Idiocracy
(2006),
Away We Go
(2009),
Sisters
(2015), and the
Grown Ups
franchise in 2010 and 2013. She was also on the NBC sitcom
Up All Night
in the role of Ava Alexander from 2011 to 2013. Meanwhile, Martin Short is considered one of the greatest comedic actors of his generation. His many film credits include
Father of the Bride
(1991),
Father of the Bride Part II
(1995),
Mars Attacks!
(1996),
Three Amigos
(1986),
Jungle 2 Jungle
(1997),
Pure Luck
(1991), and
Three Fugitives
(1989). This is also not the first time he has hosted his own show; he led
The Martin Short Show
in 1994, a sketch comedy series entitled
The Show Formerly Known as the Martin Short Show
in 1995, and then that was followed by a talk show again entitled
The Martin Short Show
from 1999 to 2000. He is also an accomplished theatre actor, having won a Tony Award for Best Actor in a Leading Performance in a Musical for
Little Me
in 1999. More recently, he appeared on Broadway in the 2015 production of
It's Only a Play
.
"Together, They're One of a Kind"
The catchphrase for the new NBC show is "Together, they're one of a kind." This is testament to these two wild comedic personalities, and how they will come together to create a whole that may be even greater than the sum of its extraordinary parts.
Maya and Marty in Manhattan
is executive produced by
Saturday Night Live
creator Lorne Michaels. This past winter, Maya and Marty separately appeared in a performance tribute to Lorne Michaels at Lincoln Center's Alice Tully Hall as part of the American Songbook recognition of Michaels' long history of promoting music on
SNL
. Both Maya and Marty have a strong musical background. Before entering the world of film and television, Maya was a back-up singer for The Rentals, and she is also well known for her comedic musical spoofs of such figures as Beyoncé. Martin Short has appeared in many musicals including
Little Me
,
The Producers
, and Neil Simon's
The Goodbye Girl
. The only major additional cast member who has been announced thus far is
SNL
's Kenan Thompson, who will spend the summer break from
SNL
appearing on this new variety series.
Maya and Marty Critical Reviews
Taped on a Thursday, edited over the weekend and then aired on Tuesday night, the first episode of
Maya and Marty
aired at 10:00 EST (9:00 pm PST) on Tuesday, May 31, 2016, with a strong lead in from the 11th season premiere of
America's Got Talent
, which is now hosted by Simon Cowell. Insiders will remember that Cowell was embarrassed last year when internal, confidential emails by Sony executives, leaked in the company's hacking scandal ( allegedly perpetrated by North Korea), revealed that Cowell was angling to replace Stern last year on AGT, even before Stern had expressed any thoughts of leaving the talent competition. Although
Maya and Marty
had a huge stack of celebrities and many SNL alums were in attendance (Tom Hanks, Keenan Thompson, Steve Martin and Miley Cyrus all made appearances) the show stumbled onto the screen and never made up for the lost momentum. NBC used the California based 1iota to provide the studio audience and they were true-to-form in providing their usual over-hyped audience of morons, who would laugh at pretty much anything, rather than using the in-house NBC audience department that are more selective in their audience choices. The skits felt like they were the cast-offs from the Tuesday AM SNL pitch table, but most were not even as good as the ones that actually make it into the SNL rehearsal and are cut for time, for the live show. The big celebrities did their very best to right this doomed ship, but if the show continues to be so poorly crafted it may end up being cancelled before it even makes it to a fourth airing, much like Ryan Seacrest's
Knock Knock Live,
which, on paper, looked like a winner - but ultimately put Seacrest out-of-work. NBC is in a tough spot. Less and less people are watching TV, millennials do not even own a television. This kind of programming is not going to change that, but execs at NBC keep trying the same old, tired strategies - either to keep their jobs or keep their talent happy, or probably both. It seems that the one change the show could do is replace 1iota's and their laughing idiots with just a laugh-track, or even just dead air - real comedians need real feedback to make the show, and today's viewers demand reality more than ever. If the show is truly that bad, let it die and rise from the ashes the same way the original SNL show did with the "not ready for primetime players" - that then went on to astronomical success. The critics have not been particularly kind to the show either. Yahoo TV called the show "Curiously Awful". Variety said the skits were a "sweet release of death" and USA Today stated that the show "makes everything old feel even older." Fortunately the show's success is not based on critical reviews, but on ratings,
Maya and Marty
turned AGT's lead in of 11.55 million eyeballs, into just 6.37 million - not far off the estimated number of 5.5 million that a ShamWow infomercial would get in the same time slot. Lorne Michaels should probably stick to what he knows best.