Jordan Klepper TV Show "Opposition" Finally Launches
Comedy Central has been looking for a new star for a while and Jordan Klepper with his new show, Opposition, may have been their last great white hope. The show follows in the format of The Colbert Report but is bringing in dismal ratings and may get cut if they do not turn it around
---
Comedy Central has been looking for a new star for a while, and Jordan Klepper's new show,
The Opposition with Jordan Klepper,
may be their last great white hope.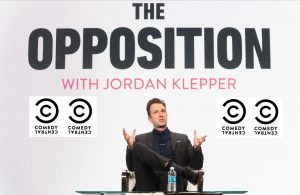 Jordan Klepper made his first appearance on Comedy Central as a correspondent on Jon Stewart's
The Daily Show
in 2014, and he has been waiting in the wings ever since to fill the gap left by the departures of all of the Comedy Central stars including Jon Stewart, Stephen Colbert, and Larry Wilmore. Stewart left Comedy Central as he just got bored with his job, Colbert got promoted to Letterman's old
Late Show
gig at CBS, and Wilmore's show failed to get any wind in its sails. Klepper aimed to carve his own legacy at the upstart cable network owned by Viacom Global Entertainment Group, but he may not have Comedy Central at his back. The format of Klepper's new show appears to be a bit of a sell-out, as he plays a parody of an ultra-conservative commentator, who comedically chimes in on current news events. If this doesn't sound original to you, then you are right, as it was already beautifully done by Stephen Colbert on
The Colbert Report
for 9 years. Audiences agree that no one could, or should even try, to do it better than the master. Even Klepper knows this, but he seems to lack the guts to stand up to the Comedy Central execs and make the show his own - not surprisingly, dismal ratings have ensued, now far lower than the very worst ratings achieved by Larry Wilmore's
The Nightly Show
. This indicates that the show is on life support.
Times must be hard over at Comedy Central, as the show's production is shot out of NEP studios, which is the location where TV shows usually go to die. Set in the dark underbelly of the Hotel Pennsylvania. the TV studio is the least favored shooting location for any New York TV show, given its location in a tourist hotel that has seen better days - those days may have been over thirty years ago. Peeling wallpaper and the smell of stale urine is no place for an up-and-coming show, unless CC execs are setting the show up to fail. The Comedy Central marketing team is trying to put on a brave face on this pig, with upbeat promos that feature blurbs like: "In a TV news landscape where it's impossible to know whom to trust, one man rises above the partisan hackery of the mainstream media to bring you the only truth that matters: his." But the truth is, this show has a tired format, and Klepper had an opportunity to do something good, and failed. Klepper's show wasn't always like this. The show has changed format many times since its original inception, but its latest incarnation is designed to cash in on the bandwagon of other late night shows all going political. By political, we mean anti-Trump, which seems to be all the rage for ratings recently. After the audience bonanza of anti-Trump tirades are over, and the viewers are bored with this current version of the genre, all the late night shows will have a problem keeping their audiences, as they haven't been exercising their funny bones recently; they have just let Trump do it for them. That will be their ultimate demise to irrelevance.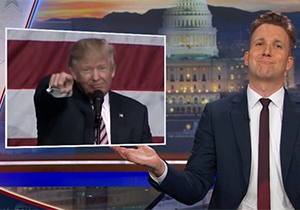 Understandably, Jordan Klepper's new show is desperate to get in a studio audience, and they have made the very rare move to use two different studio audience companies at the same time, aiming to get people to sit in the audience. The two companies are Showclix and Onset Productions; the latter is actually paying audience members $50 each to come to the set to watch the show. It is a very sad day in TV production when it has come to this, which indicates the level of desperation that this show now has. Jordan Klepper is undoubtedly a funny guy, but it remains to be seen if this is the right vehicle for his talent. Comedy Central has made so many mistakes in the past, and worse still, it doesn't seem to learn from them. Fire the staff at Comedy Central, and let Jordan Klepper do what he really wants to do, and this show may have a chance to become something noteworthy. Otherwise, it will soon be cancelled by CC execs who don't know a thoroughbred from a donkey, and who would feed both of them carrots. Klepper's
The
Opposition is broadcast Monday through Thursday at 11:30 EST / 10:30 CST on Comedy Central, and we were not invited to the season opener.