Jordan Klepper Set For His Own Show on Comedy Central
Comedy Central looks to give Daily Show correspondent, Jordan Klepper, his own show. Following the footsteps of Stephen Colbert and John Oliver, both of whom started out as contributors to the Daily Show.
---
Comedy Central Promoting Relatively Unknown Correspondent, Jordan Klepper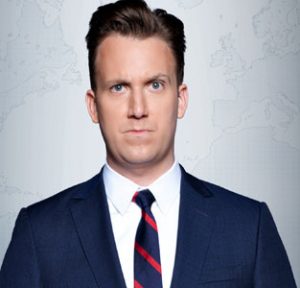 Comedy Central is continuing their tradition of promoting within, with news that Jordan Klepper is set to star in his own show,
The Jordan Klepper Show
, in March 2017. Klepper, who has gained notoriety from the
Daily Show
, first began while Jon Stewart was still host, giving him rare status as one of the few faces to work on the
Daily Show
in both the Jon Stewart Era and Trevor Noah era (or as some would say, the post John Stewart Era). While Trevor Noah has had a little success when it comes to filling the shoes of a beloved host who has departed (in contrast to the cancellation of Larry Wilmore's show, which failed to fill the void left by Stephen Colbert's departure from the network) there has still been a drop-off in ratings. Despite that, Klepper has been a consistent bright spot for the show, appearing in some of its most highly praised segments. A "Jordan Klepper" YouTube search will immediately return a collection of
Daily Show
segments (and seemingly ONLY
Daily Show
segments) where Klepper shines. Klepper's act involves feigning naivete and utilizing overtly subtle sarcasm, this allows Klepper to coax interviewees into letting their guard down and talk themselves into a hole, or, as he like to put it, "give them the rope". This was Klepper's modus operandi as a correspondent and the
Daily Show
writers seemed quite content with running that well dry during the 2016 election cycle. While Klepper has been a fan favorite on the
Daily Show
, his star shines significantly less than that of previous contributors-turned-stars that included Stephen Colbert and John Oliver. Both of whom, had a combined 16 years of contribution to
The Daily Show
before venturing off on their own projects. Klepper in contrast has only been working with the
Daily Show
since 2014 and Comedy Central has seen the writing on the wall.
Stand-in Host Turned to Lead-Man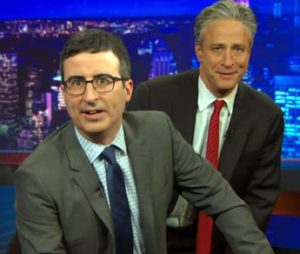 On the
Daily Show
, Klepper was given the opportunity to break from his character and demonstrate his broader array of talents, when called to stand-in for a sick Trevor Noah in October 2016. Klepper's performance was well received by critics and also evidenced by the support doled by Comedy Central in announcing his upcoming project. Klepper would be the most recent, but certainly not the first,
Daily Show
contributor to arise from the obscurity of a supporting role into one more prominent. Stephen Colbert, who originally started on the
Daily Show
in 1997, filled in for Jon Stewart, and ultimately landed his own Comedy Central Show,
The Colbert Report
(Although Colbert left the network when offered the chance to be the replacement for David Letterman on the
The Late Show
). John Oliver, who like Colbert, also began as a correspondent but had the unique opportunity of filling in as the host for the
Daily Show
for an extended period of two months (in which Stewart took a hiatus to work on his film project, Rosewater). Unbeknownst to Comedy Central and Oliver himself, Oliver's interim status as host would catapult him into the running for his own project as a lead-man. Shortly after Oliver's stint as a stand-in for the
Daily Show
, interest in him piqued and the comic began to field offers for a lead role. After being rumored as a potential replacement for the CBS program,
The Late Late Show with Craig Ferguson
, and his own potential show on Comedy Central, Oliver chose to accept an offer from HBO, citing creative autonomy, where he was not beholden to interviews with celebrities promoting themselves and free from the pressure of ratings and the potential conflict of dealing with commercial sponsors. The HBO subscription model allows for Oliver to get away with more provocative content and allots more comedic freedom as he routinely drops f-bombs and other profanities during his shows, which on Comedy Central would be muffled by the ever-obnoxious censorship beeps.
Comedy Central Not Friendly To Artists Taking their Intellectual Property To Other Networks

Comedy Central ensures that even if their talent departs, their talent's "act" does not. When Colbert departed from Comedy Central to host the
Late Show,
it was announced that he would not be utilizing the very essence that made
The Colbert Report
. The faux-conservative persona Colbert took on was the staple of the show. Colbert said that his new show would give him the opportunity to break from the character and allow him to interact with guests as his true self, but some believe it was Comedy Central's firm grip on its creative property that played a part. Although, Bill Maher's political talk-show
Politically Incorrect,
which aired on Comedy Central from 1993-1997 (and subsequently on ABC from 1997-2002) was able to transition to another network virtually unaltered. While
Politically Incorrect
was taken off the air in 2002, it still survives vicariously through
Real Time with Bill Maher,
on HBO, where the show is essentially the same, just with a different name.
Comedy Central Trying to Shed Incubator Status
It seems as if Comedy Central has learned their lesson from their mishandling of previous rising stars and decided to proactively propel Klepper's route to prominence, as opposed to reacting when it is potentially too late. Although Klepper does not yet have the cache that Colbert and Oliver did when they departed from their original programs. Comedy Central also looks to shake the perception of its "comedy incubator" status where, at least with regards to the late night talent, they contribute to developing their own in-house talent, but fail to capitalize on their growth. Details surrounding the show are still enigmatic, although, Klepper has said it could be a late night talk show but may not have the nightly structure of the
Daily Show
, Some wonder if it'll be akin to Oliver's
Last Week Tonight
, where the show airs just once a week. While it seems that the format may still be up in the air, substantively, Klepper has acknowledged that he wants the show to focus on social, cultural and political issues. It is clear that Comedy Central is looking to revive their glory days when their late-night talk show block was headlined by Stewart and Colbert. Only time will tell if Klepper can continue the tradition of
Daily Show
alums who have gone on to have success in other projects, on other networks.