Jimmy Fallon's "The Tonight Show" Premieres On NBC To Great Fanfare
Jimmy Fallon charms the nation during his first episode as the new host of The Tonight Show on February 17, 2014
---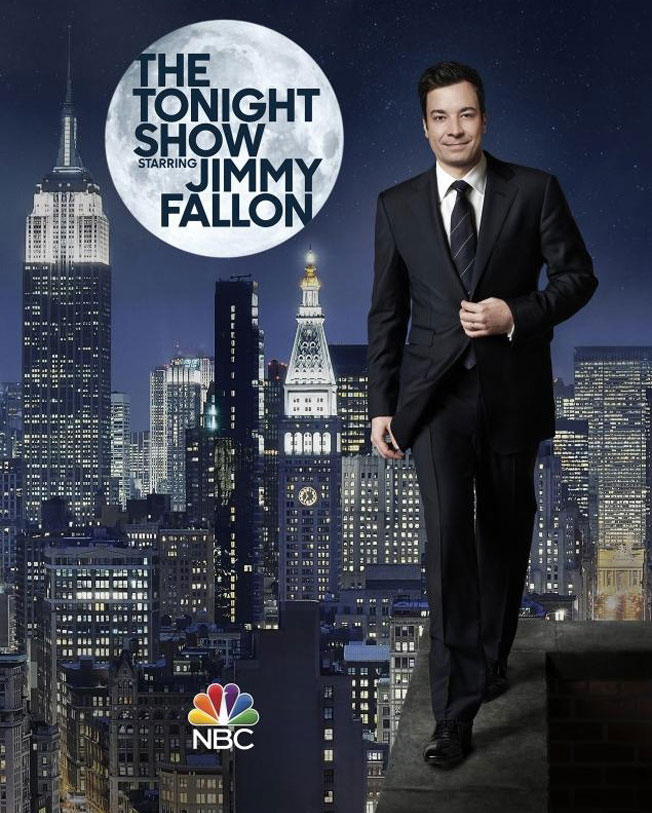 It would have been hard for him to disappoint us. On February 17th, 2014 Jimmy Fallon delighted audiences with an altogether successful inauguration as the new host of NBC's
The Tonight Show
. Stepping into the shoes worn by Jay Leno for 22 of the past 23 years, Fallon may not have struck a perfect balance between nervousness and humility in his first night on the job, yet he won us over with his coy charm and genuine gratitude for the opportunity to star in America's longest running entertainment program. With Fallon's initiation, the show has returned from Los Angeles to New York City, its original home from 1954 to 1972. This has allowed Fallon to remain nearby his hometown of Saugerties in upstate New York – which made it relatively convenient for his parents Jim and Gloria Fallon, who sat proudly in the studio audience, to attend the premiere. In Fallon's opening monologue, he introduced himself as a 39 year-old man who lives in New York City with his beautiful wife Nancy and six month-old daughter Winnie, who is the best thing to have ever happened to him. All in all, he succeeded in presenting himself as a loveable family man to whom the American public can't help but relate.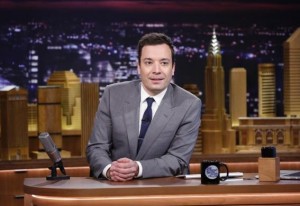 In one of the show's more memorable bits, Fallon remarks that a buddy of his bet him $100 he would never host
The Tonight Show
. Immediately, out walks an impressive procession of Hollywood stars and media icons, handing him $100: Robert DeNiro, Tina Fey, Joe Namath, Rudy Giuliani, Mariah Carey, Tracy Morgan, Joan Rivers, Kim Kardashian, Seth Rogen, Lindsay Lohan, Sarah Jessica Parker, Mike Tyson, Lady Gaga, and finally, Stephen Colbert – who opted to spill 10,000 pennies over Fallon, including in his shirt. In addition to being a major crowd pleaser, this episode served to contextualize Fallon as not only a nice young man, but one who must be really, incredibly cool to have so many famous friends show up for the occasion. This also helped ground the new
The Tonight Show
amongst the particularly New York A-list. Other celebrity appearances included Will Smith, who danced beside Fallon to demonstrate the 'Evolution of Hip-Hop Dancing,' and U2, who played two songs in front of the New York skyline atop Rockefeller Center, harking back to the Beatles' final concert on the rooftop of London's Apple building in 1969. Fallon's premiere earned the third highest-ever ratings for
The Tonight Show
, with 11.3 million viewers tuning in. The second highest was in May 2009 when Jay Leno stepped down as host for Conan O'Brien's famously short-lived run, before Leno returned to the position one year later. The highest was this past February 6th, when Leno retired for apparently the final time (14.6 million people watched). Fallon's debut likely benefited from its post-Winter Olympics placement, though that pushed it a half hour later than its regular 11:35pm timeslot. In comparison to Fallon's final episode of
Late Night
, which he hosted for 5 years, his
The Tonight Show
ratings were higher by 71 percent with an additional 6.6 million viewers.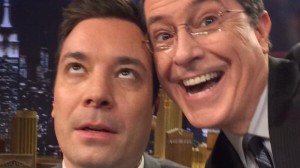 These statistics do not necessarily include all the viewers of segments on YouTube, Hulu, or NBC's own website. One of Fallon's best qualities is his ability to create share-worthy clips that are hilarious out of context, often which make serious people do silly things. Still, for Fallon to stay atop his game in this new
The Tonight Show
job, he will need to appeal to the show's middle-aged Middle America audience, while maintaining his viral fascination. After all, the argument for Conan O'Brien to step down in 2010 so soon after beginning his tenure was that he had terminally narrow appeal, failing to please the older demographic. Still, in just four years, our entire culture has become much more YouTube-centric, and perhaps Fallon's internet-friendly strategy will be enough to keep him afloat.