Conan O'Brien's "Conan" Coming to New York City
Conan O'brien is bringing his TBS show Conan to New York's Apollo Theatre for the first week of his seventh season from October 31, 2016 to November 3, 2016.
---
Conan Broadcasting from New York for First Time in Six Years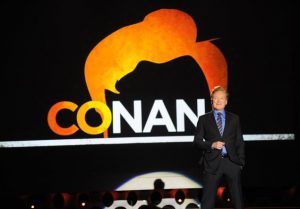 Conan O'Brien is a beloved comedian and late-night talk show host whose present show is the eponymous
Conan
, airing Monday through Thursday nights at 11:00pm Eastern time on TBS. The show normally tapes at Warner Bros. Studios in Burbank, California. The show is about to launch its seventh season, and for the first time, Conan is bringing it to New York City. The first week of the seventh season – from October 31, 2016 to November 3, 2016 – will film at the Apollo Theater in Harlem, located at 253 West 125
th
Street between Adam Clayton Powell Jr. Boulevard and Frederick Douglass Boulevard. With an estimated 1.3 million visitors each year, the Apollo has featured countless legendary comedians and music performers since it was built in 1913. While he has been based in Los Angeles for the past six years, Conan O'Brien is no stranger to New York City. From 1993 to 2009, he hosted
Late Night with Conan O'Brien
from NBC Studios at 30 Rockefeller Center (i.e., 30 Rock). At that time, he was famous for keeping an office chock full of fun artifacts, memorabilia, and weird toys and books. Then, from 2009 to 2010, Conan hosted
The Tonight Show with Conan O'Brien
, which filmed in Universal Studios, Hollywood, and from which he was famously booted by Jay Leno, who had held the position from 1992 to 2009, and then resumed it after Conan was kicked off until 2014, when he retired. Conan's last taped performance in New York City took place in 2010, when he did a show at the Beacon Theatre, with guests including Jimmy Fallon.
Taking the Show on the Road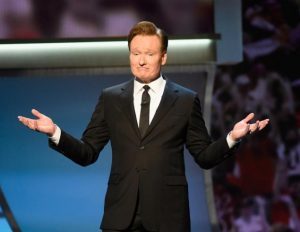 The New York segment is not the only place
Conan
has been traveling to. Presently, he is in Seoul, South Korea, where he is taping a segment to be broadcast on this upcoming Saturday, April 23, 2016 at 11:00pm Eastern time. Last year, he took another international trip to Cuba, when he was the first late-night host to broadcast from that country in half a century. The Cuba special brought in a record for his destination specials at 3.7 million viewers. Meanwhile, the highest record he has reached for any of his shows was the premiere on November 8, 2010, when 4.2 million viewers clocked in. This past November, he held another destination special in Armenia, and was the first late-night host ever to broadcast from that country. In other upcoming travels, he will be broadcasting from Comic-Con International in San Diego, California in July 2016, which will be his second consecutive year at this convention. When he traveled there last year, he was the first ever late-night host to brave the fans and appear in person to broadcast from that event. All of these episodes demonstrate that Conan is not afraid to cross boundaries and be the first to step into the unknown, which certainly has added to his appeal over the years. After his week in New York City, Conan will return to Los Angeles, where taping will resume as usual at Warner Bros. Studios.