Comedy Central Extends "The President Show" For 7 More Weeks
Comedy Central announced on July 25, 2017 at the TCA's summer press tour that The President Show will be extended 7 more weeks after its growing popularity.
---

With
The President Show's
growing popularity
,
Comedy Central announced on Tuesday July 25, 2017 at the Television Critics Association's summer press tour that they would extend
The President Show
's for another seven episodes, making the show's first season now have a total of 22 episodes. The current season would have finished sometime in August 2017 and would have only run for 15 episodes. Along with the show's extension, Comedy Central executives also announced that the show's current time slot would be moved to Thursdays at midnight right after
Opposition with Jordan Klepper
, starting on September 28, 2017. "I'm very excited to continue to chronicle the rapid decline of Western Civilization", said Atamanuik after hearing the news that his show was extended.
The President Show's Road to Comedy Central
Antony Atamanuik started his satirical presidential impression of President Donald Trump during the 2016 US presidential campaign. He and James Adomian, who played the part of Bernie Sanders, had a series called
Trump vs. Bernie
. With this series they toured the United States and made television appearances. They were featured on Comedy Central in March 2016 on
@midnight
and had an hour long special on Fusion in May 2016. Atamanuik also made solo appearances during the 2016 presidential campaign at several shows including
The View
,
@midnight
and
The Chris Gethard Show
.
The Show Turns In Better Ratings Than Anticipated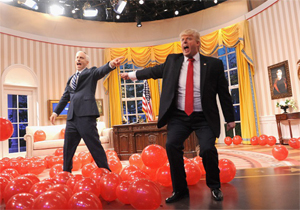 The President Show
premiered Thursday April 27, 2017 at 11:30 pm and was expected to only get meager ratings. The new half-hour show features Anthony Atamanuik as President elect Donald Trump and is co-starred by Peter Grosz as Vice-President Mike Pence. The TV ratings following the show's premiere had over 1 million viewers and each episode averaged about 870,000 viewers, which sounds poor, but is pretty good for Comedy Central, which is a TV channel that is now so hard to find on the TV dial.
The President Show
also increased comedy central's total viewership for the time slot of Thursday at 11:30 pm by 25% compared to last year. This is the network's best series premiere since the debut of
Broad City
in 2014, which is pretty sad state of affairs for the Comedy Central team that misses the halcyon days of
The Colbert Report
and
The Daily Show
.
The President Show's Format
The President Show
is presented in a late night talk show format. The show is based on a fictional version of the Commander in Chief where he decides to bypass all media and host a talk show from the Oval Office with his trusty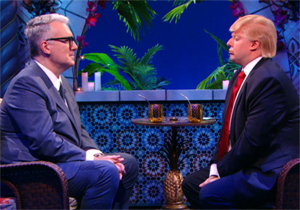 sidekick Mike Pence. The show itself has all the elements that a late night talk show has, including guest stars, all interpreted from the unique perspective of Anthony Atamanuik's Donald Trump. Kent Alterman, Comedy Central's president, is an avid fan of the show and commented: "When POTUS himself gets so direct and simplistic it's hard to understand what he means, it's valuable to have Anthony there to translate the nuances for us." Many critics have complained that the show panders to bitter Hillary Clinton voters, but Comedy Central would do anything to get ratings right now, as they suffer a famine of talent, viewers and advertising revenue. Pundits joked that we should expect Comedy Central to start televising O.J. Simpson's new talk show to bring their numbers up.