Colbert Late Show Rocky Ratings May Force CBS To Act
Stephen Colbert is slipping in the ratings in his new post at Late Show with Stephen Colbert due to his liberal mindset and tough competition.
---
Late Show with Stephen Colbert Dropping to Number Three or Four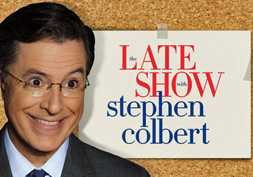 When Stephen Colbert was tapped from his post at Comedy Central's
The Colbert Report
to take over David Letterman's long time job at
Late Show with David Letterman
on CBS, it was a bold move. Colbert had made his name on portraying a faux conservative character with a biting liberal undertone, from the safety of Comedy Central's liberal viewership. Even at his highest ratings ever for
The Colbert Report
, the final night when he bid adieu to the Colbert character, Colbert brought in only 2.5 million viewers, which is small in comparison to an average night for
Late Show with Stephen Colbert
, over 3 million viewers. Nevertheless, in terms of network late night standards, Colbert is starting to fall behind. The far and away leader in late night ratings is Jimmy Fallon, who, on his NBC show
Tonight Show with Jimmy Fallon
, consistently draws the biggest audience. For a while after Colbert's debut,
Late Show
was doing quite well, especially with the media rooting him on. However, when Colbert took a brief hiatus at the end of October, Jimmy Kimmel took the opportunity to spend a now annual week broadcasting from Brooklyn, which allowed him to jump up to number 2. When Colbert returned, he seemed stuck in the number 3 position, sometimes even trailing in at number 4 behind NBC's Seth Myers with
Late Night with Seth Myers
Stephen Colbert May Be Too Liberal for Network Late Night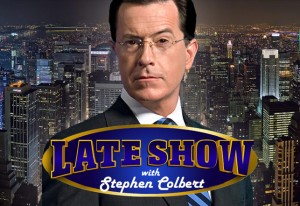 The issue with bringing a famous liberal satirist from Comedy Central over to network late night is that this late night audience has gotten used to apolitical entertainment. Jimmy Fallon, the dominant number 1 in late night ratings, is the least likely to be considered "opinionated" in the polls, whereas Colbert is the most likely. Furthermore, Fallon and Kimmel both have fairly well distributed audience demographics in the political landscape: Jimmy Fallon's audience self-report to be 36 percent Democrats, and 31 percent Republicans, while Jimmy Kimmel's audience is 34 percent Democrats and 33 percent Republicans. As for Stephen Colbert, he brings in viewers that are 47 percent Democrats and 17 percent Republicans. This 30 percent gap is significant, especially as late night audiences by no means skew liberal. When Jay Leno was in the picture, he had a stronghold on the Midwest late night audience, while David Letterman was king of the coasts. Nevertheless, Stephen Colbert is still doing better than Letterman, who he was assigned to replace. Letterman retired not just due to age, but also due to his ratings consistently slipping to dangerously low levels. So although his bar was not set very high, Colbert is at least succeeding in comparison to Letterman, but that does not say much as CBS did not get into the late night TV show game to come in third, or even fourth place.
CBS Considering Booting Colbert So Soon?
Ever since Kimmel slipped ahead of Colbert during his hiatus, Colbert has been facing an uphill battle. If the numbers do not turn around by February or so, it is possible that CBS could be regretting their bold decision to slot Colbert into
The Late Show
. In November, Colbert even fell behind Seth Meyers who comes on an hour later than him. CBS might even be considering taking Seth Myers out of NBC and step him up to the earlier time slot on CBS. Myers's contract is up in March 2016, so the timing could not be any more perfect. However, it is still soon and the landscape is still shifting and settling. Colbert has never apologized for steering liberal; although it was expected he would shift gears to appeal to a wider audience in his new post, it appears that his nature is more ingrained that network executives wanted to believe. Nevertheless, Colbert has been known to surprise us before, and he may still have a few tricks up his sleeve.
CBS To Deliver A Live Late Show Right After the Super Bowl
CBS is desperate to improve Colbert's Late Show ratings so in a last-ditch play, CBS has announced a live one-hour episode directly after the Super Bowl 50 broadcast on Feb. 7, 2016. The audience of the 2014 Super Bowl was a little over 112 million people, so Colbert cannot complain that he lacks lead-in audience for his show. Even though his lead-in number for this show will be strong, it remains to be seen if it provides any lasting effect on his mediocre viewership numbers. After Colbert, CBS will then have its other late-night host, James Corden, broadcast his own late night show live. The coveted post-Super Bowl spot has never been given to a late-night show before, which is usually a massive ratings guarantee of at least 20 million viewers, but no guarantee on long-term numbers. This slot has traditionally been provided to a guaranteed ratings show, like popular sit-coms, dramas and other staples from that broadcast channel. The Super Bowl broadcast rotates between the major networks each year, but looking back to the glory days in history, CBS's
Survivor
viewership was logged at 45 million viewers in 2001 and NBC's
Friends
was rated at an amazing 53 Million in 1995.
In a possible pre-cursor to the Colberts Late Show, ABC's Jimmy Kimmel Live! only scored 17 Million in 2003, although it ran after
Alias
, which delivered next-to-nothing for Kimmel's show. CBS Insiders have laid it out in clear terms, if Colbert cannot leverage this huge ratings boost for long term improvement, then other hosts may have a crack at
the Late Show
including the whole gamut of eager SNL alums including Seth Meyers, Amy Poehler, Kristen Wiig or Conan O Brien. Other
Late Show
replacements may also include James Corden or even Craig Ferguson. CBS did not spend $20 million dollars revamping the set at the Ed Sullivan Theater in New York to come in fourth place in the late night TV landscape.