CBS Contemplating Colbert and Corden Seismic Lineup Shift
By
Tami Hall
| Posted on February 17, 2017 2:28 PM
With Colbert's ratings falling shorter than expected, CBS may end up giving rising star James Corden the reins to the Late Show.
---
CBS Feeling Pressure to Rearrange Late-Night Pecking Order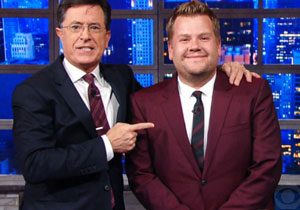 Stephen Colbert, the successor to David Letterman on
The Late Show
has attempted to fill the void left by Letterman since taking over the late-night talk show on September 8, 2015. It has been no easy task to fill the shoes of his predecessor, who hosted
The Late Show
for over 22 years (since 1993). CBS reportedly offered Colbert $4.6 million per year to court the long standing Comedy Central personality, who had hosted his own show,
The Colbert Report
, which ran from October 2005 through December 18, 2014. This period spanned a 9 year run where Colbert was one of the leading men for the Comedy Central network. Colbert rose to fame as a correspondent for
The Daily Show,
when hosted by Jon Stewart. His popularity as a correspondent subsequently led to his own program. Borrowing heavily from
The Daily Show
,
The Colbert Report
, provided a news show format, that heavily parodied politics and current events. In the show, Colbert acted through a faux ultra-conservative persona that was utilized to poke fun at the conservative establishment resulting in a hilarious show that could be enjoyed by both sides of the aisle.
Corden's Rising Star Puts CBS in a Quandary
Upon Craig Ferguson's departure from
The Late Late Show
in 2015, CBS decided to give the hosting duties to the relatively unknown British actor and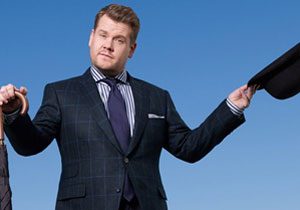 comic, James Corden. While Corden was known in Broadway circles, as he had won a Tony Award in 2012 for his amazing performance in the comedy
One Man, Two Guvnors
, he was not widely recognized. In a 2016 interview with Howard Stern, Corden revealed that, the then CBS executive Leslie Moonves, was so impressed by Corden's performance in the Broadway show that he immediately envisioned Corden as the replacement for the departing Craig Ferguson. From 2014 - 2017, Corden's popularity has significantly increased, while Colbert is still struggling to find his footing among the late-night landscape. Colbert arrived at CBS with huge expectations and the challenge of competing against the already well established late-night shows:
Jimmy Kimmel Live!
and
The Tonight Show Starring Jimmy Fallon
. Both of which, have been outperforming Colbert's show since its debut. Cordens'
The Late Late Show
, which airs at a later 12:35 AM time-slot, does not have the same viewership as
The Late Show
, but given Colbert's inability to make up ground in the ratings race with his competitors, speculation has arisen, as to whether CBS would contemplate a flip-flop of Colbert and Corden, an idea that would have seemed ludicrous two years ago. Corden is currently white-hot and is coming off a well received hosting of the 59th Annual Grammy Awards on February 12, 2017. Despite the host's late time slot, the comic has been able to create massive exposure through other mediums, such as viral videos and social media, evidenced by the success of the incredibly popular reoccurring segment "Carpool Karaoke", in which Corden drives around Los Angeles with musicians singing along to their popular hit-songs. One "Carpool Karaoke" segment in particular, featuring Adele, reached 42 million YouTube views, setting a record for the most viral video originating from a late-night program since 2013 (in which
Jimmy Kimmel Live!
debuted the trailer for the Marvel motion picture,
Captain America
), which is a bit of an apples-to-oranges comparison considering the previous record was the result of advertising material aired during Kimmel's show, and not actual content of the show.
Will a Lineup Change Be an Admission of Failure for CBS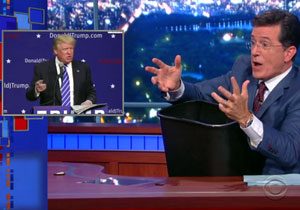 The decision for CBS to succeed Letterman with Colbert has not yielded the results the network had hoped for. Colbert was a popular figure on Comedy Central, but it was a risky choice to elevate, a person known for their political commentary, into a platform that is supposed to be non-partisan and more milk toast than Red Bull. CBS admitted that Colbert would be less politically focused on
The Late Show
, as opposed to his time on
The Colbert Report
, but compared to his late-night competitors, Colbert's show is now heavily political, and that could be a factor as to why Colbert has been transitioning between 2nd and 3rd place, and at times being bested by
Late Late Night with Seth Meyers
(another late-night show, airing at the unholy hour of 12:35 AM). Although, Colbert has actually received a bump in the ratings since President Donald Trump has taken office, this could be just a temporary gain, as the show is becoming more political, something that CBS wanted to avoid as advertisers know that political comedy is often too polarizing for this time slot, something that should be avoided for the best long-term ratings. This recent surge has increased Colbert's ratings passed Fallon for two weeks in a row (January 30th - February 10th). While Kimmel and Fallon, shy away from the political speak, it seems that Colbert's insistence on including political commentary is currently netting him decent gains. Given that this increase is the result of essentially lampooning the current administration, and capitalizing on the post-election buzz, CBS may exercise some foresight by making a switch to their lineup as the Trump material begins to get stale. Corden is on the uptick, despite being in a ratings wilderness, meanwhile Colbert is still recovering from his debacle of the election night coverage TV special that aired on Showtime (Showtime is an American premium cable and a subsidiary of the CBS Corporation), an event that was universally opined as a colossal failure when all the show's material and audience exclusively revolved on the result of Hillary Clinton winning the election, which, in hindsight, was obviously not the case. Water cooler blame was pointed at Chris Licht, the new exec producer for
The Colbert Show
, who came from
The CBS Morning Show
and his misstep may show that the new guy may be seriously out of his depth on this show,
Colbert Compared With Corden In The Late Night Time Slot
Juxtaposed with Corden's popularity and the fact that he includes significantly less political commentary, an act which inherently alienates approximately half of potential viewership, CBS does have a legitimate argument in seeing if a different face on
The Late Show
can shake up the ratings battle. A common conversation around the CBS water coolers is If Corden can get this kind of momentum in the late night wasteland, what could he do with
The Late Show?
If CBS does not give him a shot, how long will Corden hang around the network backwater?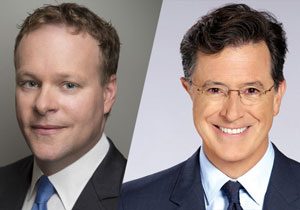 CBS Sources Deny The Allegations, But The Writing Is On The Wall The CBS Network, Corden, Colbert and their respective PR agents have all denied the allegations of a potential lineup change, but rumors have circulated of the potential switch with the spin that Colbert may welcome the later time slot due to the freedom to be slightly more risque. The later time slot will undoubtedly result in a much smaller audience, which may ultimately be Colbert's sweet spot. It will be interesting to see if CBS risks a lineup change of this magnitude, as it certainly is not a forgone conclusion that moving Corden to the 11:30 PM time slot straight will result in the show automatically besting Fallon and Kimmel. Not only does CBS have to weigh what is best for their ratings, but whether Corden's star rises to the level where they want to move mountains to ensure he stays with the network. This is a precarious scenario that CBS executives: Peter Golden (Executive Vice President, Talent & Casting), Julie Pernworth (Executive Vice President, Comedy Development) and Bridget Wiley (Executive Vice President, Current Programs) could not have anticipated when Colbert was brought aboard. However, it is clear that Colbert is not on the most stable of footing as CBS tries to justify their high priced acquisition of the comic. Corden indicated on
The Stern Show
in late 2016 that if the earlier slot becomes his, the production of the
Late Show
would move to Hollywood and Colbert could continue with
The Late Late Show
at the Ed Sullivan Theatre in New York City. CBS executives may have other ideas though. CBS staffers feel that although they have not had a good track record of getting these slots right in the past, this is an great opportunity that they could embrace, but the CBS de-facto reaction of inaction could be their ultimate curse.