Best Time Ever With Neil Patrick Harris Debuts on NBC
By
Tami Hall
| Posted on September 16, 2015 4:50 PM
Neil Patrick Harris' new variety show debuts on September 15th at 10 PM on NBC
---
At 10PM EST on September 15, 2015,
Best Time Ever with Neil Patrick Harris
debuted on NBC.
Best Time Ever
is a live variety television show developed in the style of
Ant & Dec's Saturday Night Takeaway
, a British TV show that has been airing on the British channel ITV since 2002 where it achieved high very high ratings throughout its broadcast seasons. The new NBC show is a wacky and versatile take on the format and takes full advantage of the diverse talents of the host, Neil Patrick Harris. The show features A-list stars, performances, stunts, comedy skits, mini game shows, audience giveaways and hidden camera pranks. Not unlike SNL's first ever episode,
Best Time Ever
got off to slow start in its debut show, probably owing to tense nerves for the brand new, live, network TV show, but it wasn't long before Neil Patrick Harris got everyone settled in and the show began ratcheting up the laughs. From this point forward, we will refer to Neil Patrick Harris as NPH and
Best Time Ever
as
BTE,
because without the acronyms, things can get a little wild, just like the show.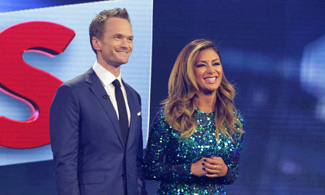 Guest Announcer Reese Witherspoon and Show Co-Host Nicole Scherzinger Reese Witherspoon was the guest announcer for the debut show. Although it seemed that she wasn't fully utilized, she still added some great fun moments to the show. Her announcing was hysterical and her involvement with the segments on the show were quite amusing. Unfortunately, in one segment, Witherspoon chose to do some rather lame comedy repartee bits with NPH that portrayed her as the "dumb blonde," which seemed dated and totally missed the comedy mark. But she made up for it in her go-girl attitude when climbing up the massive
American Ninja
climbing frame, despite being visibly shaken by its height. Witherspoon missed many opportunites to be humorous on the show, but she is, after all, an accomplished actor and producer, not a comedian. NPH's official co-host was former Pussycat Doll, recording artist and dancer, Nicole Scherzinger. Nicole was dazzlingly gorgeous but her co-hosting ability took a back seat because the two-host format developed by Ant and Dec for the UK show did not take into account the powerhouse entertainer that is NPH. Harris has so much stage talent, such that he doesn't really need anyone else to ad-lib or fill-in for him. When he can do everything on the show so well already, why divide the responsibility?
Neil Patrick Harris Provides Lots Of Entertaining Segments
In a segment called
The Best Days of Your Life
Neil brought up a couple from the audience as a segue from flirting with some audience members and asked some random questions (a play-off of the original British show
Ant and Dec's Saturday Night Takeaway
). He showed clips of stalking them across the country, even at their wedding! Because he's the fun-loving Neil Patrick Harris, he gets away with it, with many great laughs. Carson Daly was brought on as a guest to promote NBC's
The Voice
and to talk about a hilarious skit where Neil went undercover on the TV show as an Austrian host of the Austrian version of
The Voice
. The hosts Gwen Stefani, Pharrell Williams, Blake Shelton and Adam Levine had no idea this awkward foreign guy was actually Neil Patrick Harris in the flesh. Neil made his reveal on
The Voice
stage as he sang Dreamgirls' "And I am Telling You," in a flat, thick German accent. Hilariously, no judge turned around for him.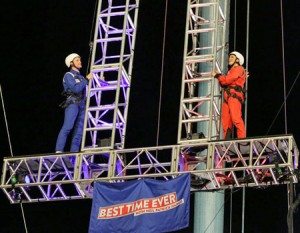 The surprise live karaoke segment, "Sing-Along Live" was clearly a total shock to the contestants, who at each reveal gave a deer-in-the-headlights look at their TV, not understanding what was going on, creating comedy gold. Kudos to the BTE production team, which managed to keep the contestants in the dark until the reveal. It's a risky gambit for NBC to broadcast this show without a tape delay, but boy is it entertaining for the in-studio and TV audiences. The fear during the stunt Reese and Neil pulled off together was felt both in the studio and throughout the nation. Everyone held their breaths until they both zip-lined down from that terrifying lattice, the in-studio audience cheered loudly for the champ, Neil, but were scared for the visibly shaken Witherspoon.
Gloria Gaynor Shines As First "Sing-Along Live" Surprise Guest
On BTE's premiere night, 70's disco queen, Gloria Gaynor was the singing star that appeared in the "Sing-Along Live" segment where some surprised viewers at home had to finish the song, where she left off. Gaynor belted out her female empowerment anthem "I Will Survive" to a raucous reception. Gaynor showed that she is still a powerhouse singer and can hit the high notes. Ricky Martin is anticipated to appear in the show's first season.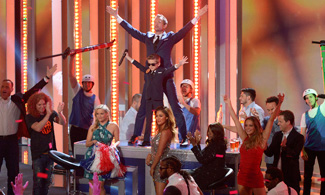 The End-of-The-Show, Show The intense stunt wasn't the only moment where Harris showed off his brave talents. NPH ended the show with a bang, with a segment named
The End-of-the-Show show.
The stage was set up with Little NPH and Gloria Gaynor sitting at a bar. There were bartenders juggling bottles, then Neil popped up and started juggling along with them. Ant and Dec were also hanging out and having a beer. To up the ante, Neil brought out extreme pogo-stick riders and joined them and back flipped off his pogo-stick as Reese came downstage to join the party to the tune of Pitbull's "Don't Stop The Party." But it wasn't over! There was a huge blast of confetti while Little NPH got up on the bar and lip-synced, doing a little dance. After a parade of trumpets and drums. Scherzinger strut her stuff with dancers! This big finale was just a big giant party and had the audience on their feet dancing and screaming for more of everything! This is sure to be a very exciting season of
Best Time Ever
and will be a front-runner for ratings this fall, assuming that NPH can keep the momentum building.
Off Camera Hi-Jinks
Off-camera, NPH made the audience feel very comfortable, joked and often took the mic away from the warm-up comedian RC Smith who was trying his best to interact with the audience.
After the show ended, Neil hugged his husband, David Burtka in celebration and quickly chatted to Perez Hilton, who was also in the audience. For full disclosure, not every moment was live last night. There were a few pre-recorded portions of the show, but both the in-studio and at-home audience felt the exciting and spontaneous elements of the entire hour, which ripped through at a rapid pace.
In Studio Audience Experience Different From TV
During the taping (can you say that when it is live?), the show pace appeared to be just-too-much for the director, Glenn Weiss, to handle. Weiss has previous live TV experience with
Peter Pan Live
and the
67th Annual Tony Awards,
but on this show he missed many on-camera jokes that the live studio audience laughed at and the at-home TV audience missed - and were then left scratching their heads wondering what was going on. This happened with all three live Karoake contests, where the cut-away was too soon. Weiss also missed NPH's zipline crash through the finish line banner. All these scenes were missed by the at-home viewers but seen by the studio audience who reacted accordingly with laughs and clapping. When Gloria Gaynor belted out "I Will Survive" with the background dancers and a roller-skating couple, key elements of the segment were also missed. It is anticipated that adjustments will be made to the production that allows for these comedy-gold moments to be captured more appropriately. It would have also been nice to see an unannounced audio cut to Reese Witherspoon actually singing the Gloria Gaynor song, "I Will Survive" (she sounded great to the in-studio audience, but her was audio cut) or incorporating her into the quiz show segment, where she could have mimed the answers to the contestant, which could have been hilarious.
Show Broadcast Live From Kaufman Astoria Studios i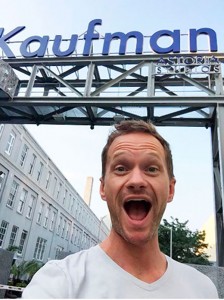 n Queens, New York
Best Time Ever with NPH
is taped at Kaufman Astoria Studios in Astoria, NY. This area is a strange location for a TV show of this magnitude, but it works! If the in-studio audience is driving to the show, parking is easy to find and if they use public transportation, the subway is just a couple blocks away. The audience seemed at home in this neighborhood and after the show, although late at night, the streets were still safe. Aside from this, restaurants like UNO bar, Beer Garden and the locals' favorite: Mama's Empanadas are near and open, so after the show, the audience and crew found some good late night eats! Harris recently starred on Broadway in
Hedwig and the Angry Inch
, for which he won the Tony Award for Best Actor in a Leading Role in a Musical. He is also very well known for his television starring roles in such shows as
How I Met Your Mother
from 2005 to 2014, and
Doogie Howser, M.D.
from 1989 to 1993. He has won 5 Emmy Awards for his work hosting the Tony Awards, and for his work on "Glee." He has also been nominated for his role on "How I Met Your Mother. In
Best Time Ever
, one of the many aspects of the show is song and dance, allowing Harris to demonstrate his charm in a musical fashion. Furthermore, the segments include game show bits, character impersonations, A-list celebrity appearances, stunts, performances, pranks, and audience giveaways.
Show Ratings and Demographic
For BTE's debut episode, the preliminary ratings showed that 6.8 million viewers of adults aged 18 to 49 tuned in to see Harris' premiere. The studio audience demographic skewed older than the at-home viewers and the curve for 18-45 years old was bottom heavy, which is a positive for advertisers.
Promotion Of NBC's Other Shows on BTE
NBC Executives must have pushed the producers to promote other NBC shows in the debut of NPH's BTE.
The Voice
featured heavily in the undercover segment featuring a fake Austrian
The Voice
host, Jurgen Vollmer (actually NPH) and the American Ninja host Matt Iseman. The American Ninja apparatus into which NPH and Witherspoon so courageously climbed in the second segment promoted NBC's
American Ninja
TV Show. The demographic of these other shows skew quite differently to BTE, as does the lead-in to the show,
America's Got Talent,
whose demographic is wildly different. NBC's current stable of shows seem to be all over the shop, in terms of demographic.
Comparison To Fox's Knock Knock Live:
Best Time Ever
is the live TV show format that the upstart-challenger on the Fox channel, in the form of Ryan Seacrest's
Knock Knock Live
, tried to achieve in July 2015. In a bid to steal the format from NBC, Seacrest's show failed miserably and was cancelled after only two shows due to low ratings, even with the endorsement and participation of big celebrities and large amounts of money being given away. The problem with that format was that there was no real entertainment value, other than rather boring back-stories, that Seacrest gambled on and lost. BTE, on the other hand, was entertaining from start to finish. No need for back-stories here, this is fun!
Tuesday Live Shows For The Next 8 weeks
Neil Patrick Harris'
Best Time Ever
is scheduled to broadcast on NBC for the next seven weeks and they will try to raise the ante on each show. The out-of-the-gate momentum is strong, and the show will move to an earlier time slot at 8PM beginning on 9/29. The new time slot will change the viewer demographic considerably and may mean an increase in the market penetration, for this funny and irreverent vehicle for Neil Patrick Harris' talents.