Barbara Walters Says Farewell to "The View"
Barbara Walters retires from The View and her other television appearances after an extraordinary journalism career. She leaves a lasting legacy for other young women in the industry, and it is not yet clear who her successor will be.
---
Barbara Walters Winds Down Her Television Career
On May 13, 2013, Barbara Walters announced that she would be retiring from appearing on television in approximately one year. As promised, her final appearance as co-host on
The View
occurred on May 16, 2014. Her retirement comes after a long and successful career as a television journalist, and her decision to retire, she said, was purely her own. She remains on a co-executive producer of
The View
along with Bill Geddie, and will continue to do so as long as the show is on the air. Presently, the remaining hosts of
The View
are Whoopi Goldberg, Sherri Shepherd, and Jenny McCarthy. In total, there have been eleven co-hosts of the show since its inception in 1997, and all of them appeared to celebrate Barbara Walters on the show the day before her retirement.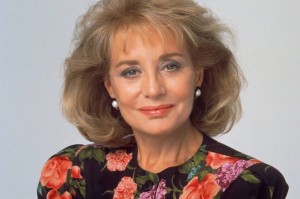 Walters' Career Trajectory Walters has been a co-host and contributor to ABC News since 1976. Prior to that, she had worked as a writer and research for NBC's
The Today Show
since 1961, soon becoming that show's regular "Today Girl." She effectively became co-host of
The Today Show
within a year after that, but the show's male host Frank McGee refused to allow her equal responsibilities. She was finally named co-host in 1974, but soon left for ABC. At ABC, she first served as an anchor for
ABC Evening News
for two years, and she became a co-host of the ABC newsmagazine
20/20
in 1979. She became known for her "personality journalism" and "scoop interviews," and her access to public figures soon became unparalleled. She crossed the Bay of Pigs with Fidel Castro, and she asked Vladimir Putin outright if he had ever ordered anyone to be killed; his answer was no.
Her Health and Personal Life
At age 84, Barbara Walters is in admirable health. In May 2010, she took a leave from
The View
to undergo open heart surgery, but she returned to work in September. As for her personal life, she has been married four times to three different men, because she divorced and then remarried her most recent husband, Merv Adelson. Her first marriage was annulled in under a year, and her second marriage – to theatre producer and theatre own Lee Guber – resulted in her only child, an adopted daughter named Jacqueline Dena Guber (born 1968). Upon her retirement, she does not plan to climb another mountain or appear on another program; rather, she said, she wants to sit on a sunny field and admire the gifted women who will be taking her place.
Walters' Legacy
Walters leaves an extraordinary legacy, particularly for young women aspiring to work in the television field. She was inducted
into the Television Hall of Fame in 1989, and she received a star on the Hollywood Walk of Fame in 2007. She has also received numerous awards, including several Daytime and Prime Time Emmy Awards, as well as the Lifetime Achievement Award from the New York Women's Agenda. She also received the Lifetime Achievement Award at the 30
th
Annual News and Documentary Emmy Awards, presented at Lincoln Center. Amongst her honors, many have been awarded for
The View
, including the 2003 Daytime Emmy Award for Best Talk Show, as well as the 2009 Daytime Emmy Award for Outstanding Talk Show Host.
The View
will perhaps be her most lasting and personal legacy.
Extraordinary Final Ratings
Her retirement may have been spurred by a lack of recognition of her achievements by young people, who no longer know who she is. Like anyone getting on in age, eventually her relevance will fade, as will the advertisers' interest in her programs. However, the ratings for her final on-air week on
The View
reached a three year high. 4.1 million viewers tuned in to see Barbara Walters in her final week, and for the demographic of 18 to 49 year-old women, the week earned a one and a half year high, reaching 648,000 viewers in that group. Still, the crowd did skew older, with 830,000 women aged 25-54 but only 204,000 of them aged 18-34; nevertheless, those numbers both reached one year highs.
Who Will Her Successor Be?
It is not yet certain who will replace Walters on
The View
. Five ideas that have circulated in the press include Robin Roberts, Rachel Maddow, Megyn Kelly, Ellen DeGeneres, or Katie Couric. Some even suggest that the seat could be filled by a man. After all, no one could really take her place.