America's Got Talent Returns to Film in the NYC Area
AGT announces its second round of competition will be filmed in front of a live audience at The Theatre at Madison Square Garden
---
America's Got Talent,
NBC's #1 summertime smash hit, broke big news and new ground yesterday, announcing that the show's exciting second round of competition will film in front of a live TV audience at The Theatre at Madison Square Garden from April 3 through April 6, 2014.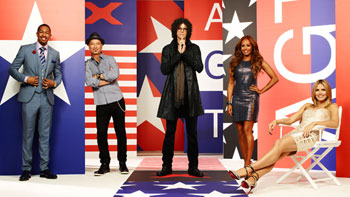 Complimentary VIP and regular tickets are still available in limited quantities to the general public via NBC's website. These tickets are expected to go pretty quickly, however, as metro area AGT fans are eager to bear historical witness as the remaining contestants audition live, right before their very eyes and those of the make-or-break 'em celebrity judges, in order to secure the highly-coveted final spots in the upcoming season. The ninth summer incarnation of this blockbuster variety show is expected to be even more riveting than ever before. From October last through February, our great country was crisscrossed and fine-tooth combed for dynamic personalities and wholly unique skill sets. Contestants were talent-scouted during open call auditions in 11 U.S. cities as big, small and diverse as Atlanta, Baltimore, Denver, Greensboro, Houston, Indianapolis, L.A. Miami, Nashville, New York and Providence, which only strengthens the stance that AGT truly is an equal-opportunity opportunity-provider, open to anyone of "any age" with "any talent" and "any dream" from
anywhere.
This democratic philosophy prophetically proved true in 2012, when AGT co-creator, the nefarious Simon Cowell of American Idol notoriety, in conjunction with top NBC execs, made the big, bold decision to relocate his six-year-old show from its left coast locale in Burbank, CA to the greater NY metropolitan area. The big wigs believed that in addition to doing season seven's newly acquired judge and shock jock extraordinaire, Howard Stern, a large logistical favor, the move would favor the show, as well, infusing it with an inevitably edgy New York feel and attitude, and rewarding its long-standing East Coast fans with their rightful piece of the live action. And they were correct on all accounts. Last summer's broadcast from New York's Radio City Music Hall proved a rousing ratings success. And Howard Stern, who has since vocalized his appreciation for the geographical accommodations, decided in an on-air radio announcement last November, to return to the show for "one more season" and keep the fab five, which includes handsome host Nick Cannon, ever-affable Howie Mandell of Deal or No Deal fame, supermodel Heidi Klum of Victoria's Secret reverence, and newest cool kid in the clubhouse, former Spice Girl, Mel B., alive for another round of spectacular theatricality. The two-hour season premiere of NBC's
America's Got Talent
is scheduled for Tuesday, May 27, 2014 at 8/7c and will feature scenes from the shows shot at the show dates listed above.