ABC's The View in Slow Motion Crash
The View is in slow motion crash, with Whoopi Goldberg remaining the lone incumbent after Barbara Walters stepped down last May. Rosie Perez and Nicolle Wallace will leave the show, and Michelle Collins and Raven Symoné will join, with the remaining co-hosts to be seen.
---
Rosie Perez and Nicolle Wallace to Step Down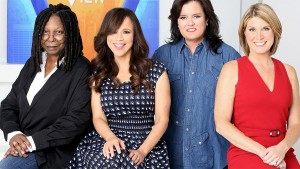 In the eighteenth season of
The View
on ABC, the original creator and co-host Barbara Walters had stepped down, and it was new territory to test whether the remaining co-hosts would bring in as high ratings and overall support from audiences and the network. Along with Walters' departure, her co executive producer and co-creator Bill Geddie also stepped down, and he was replaced with Bill Wolff, the former executive producer of
The Rachel Maddow Show
and vice president of primetime programming at MSNBC. In addition, Season 18 had a new filming location, now taking place at the former studios of the now cancelled talk show
Katie
, which is located in the ABC Broadcast Center in New York City. As for the most interesting personnel on the show for the majority of audiences, the co-host positions also underwent significant transitions in the eighteenth season. The lone incumbent was Whoopi Goldberg, who was joined by former co-host Rosie O'Donnell. In addition, actress Rosie Perez and former Republic correspondent Nicolle Wallace were the remaining co-hosts. However, O'Donnell cited health reasons in announcing she would not return for the 19
th
season of
The View
. In addition, both Perez and Wallace will be stepping down. Therefore, for the 19
th
season, which will commence in mid-September 2015, Whoopi Goldberg will be joined by an additional group of co-hosts.
Wallace Asked to Resign, Raven-Symoné and Michelle Collins Will Join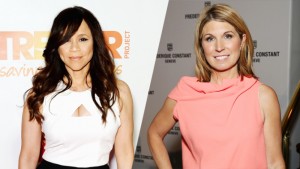 For the 19
th
Season of
The View
, Rosie Perez chose to step down in order to pursue acting opportunities. Nicolle Wallace, on the other hand, was asked to step down. She was offered the position of rotating co-host for a contributor slot, and she is currently thinking that over. However, she was reportedly offended to be refused the permanent co-host slot on the new season. As for the new co-hosts, it has been announced that former child star Raven-Symoné (from the Disney Channel's
That's So Raven
) will be joining the panel. This is sure to rile up the discussion topics, as Raven has already caused some controversy. During a guest host appearance, Raven contributed to a discussion on politicians feeling obliged to take selfies by saying that she gets a cramp in her hand now when she tries to sign autographs. Nicolle Wallace responded with a rare burst of aggressiveness by quickly asking if she was
that
famous. However, the ratings must have shown more of an appreciation for Raven's self interested-ness than with Wallace's witty instincts because Wallace has been axed, whereas Raven has been offered a permanent position. In addition, comedian Michelle Collins has been offered a co-hosting position for the 19
th
season. Collins has appeared as a guest host on several occasions, and is excited to join the permanent panel.
"The View" in Slow Motion Crash
Since Barbara Walters retired from
The View
in May 2014, the ratings have taken a significant dip. In the second quarter of 2015, the ratings were down 16% from last year, reaching 2.48 million viewers. As for the key demographic of women aged 18 to 49, the ratings were down 18% to only 386,000 women viewers. With the relative failure of the 18
th
season, the producers are aiming for a five co-host format again in the 19
th
season. This will include Whoopi Goldberg, Raven-Symoné, Michelle Collins, and two co-hosts to be announced. One of these will possibly be a rotating co-host slot, and it remains to be seen whether Nicolle Wallace will accept the offer to be an occasional rotating co-host in this slot. The show cannot seem to decide whether if it wants to focus on news-worthy items or just cover the frivolous pieces, like who has the best looking pooch. Without Walters and Geddie, the show now appears rudderless, but instead of running in small circles,
The View
is running like a full speed, out of control, speedboat with an imminent
crash in sight as soon as it hits land. Expect more firings to come until they can turn it around.