Wendy Williams Goes from New York City Shock Jock to TV's Anti-Oprah
Wendy Williams transitions out of radio with the debut of her new TV show The Wendy Williams Show on July 13.
---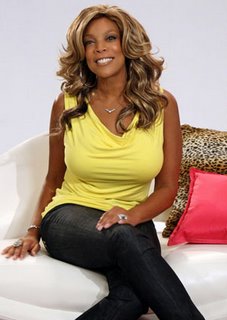 Taking the leap from radio to TV, popular longtime New York City DJ and urban radio shock jock Wendy Williams debuted her new nationally syndicated daytime talk show The Wendy Williams Show on July 13. It airs on FOX 5, My 13 and FOX 11 channels all across the country. BET Networks have also picked up the cable rights to the show and added it to their lineup, airing weeknights at 11 p.m. starting July 13 as well. The Wendy Williams Show test ran for six weeks last summer in New York, Dallas, Detroit, and Los Angeles before syndication company Debmar-Mercury signed a deal with FOX Broadcasting Company to broadcast the show beginning in July 2009. The preview shows included a fan-fave interview with Omarosa Manigault-Stallworth (of Celebrity Apprentice fame) to promote her book "The Bitch Switch". In the interview Omarosa demonstrated that she couldn't actually switch "The Bitch" off and all hell broke loose on the set, making the show an instant classic. Like her radio show the Wendy Williams Experience, Williams will continue to cover a mix of hot topics like celebrity gossip, fashion, entertainment, advice, and interviews with a wide range of guests on her one-hour TV show. Williams has branded herself as the anti-Oprah and hopes to appeal to a more mainstream audience, just at a time when Oprah is experiencing her lowest ratings since 1992. The show will be seen on 95 percent of U.S. households with televisions.