"The President Show" Debuts on Comedy Central
Anthony Atamanuik hosts a new late night series on Comedy Central called The President Show, in which he plays President Donald J. Trump.
---
Anthony Atamanuik Hosts as Donald J. Trump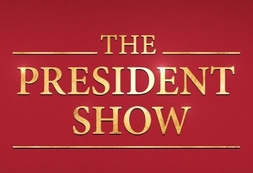 On Thursday, April 27, 2017, a new late night show is coming to Comedy Central. Immediately following
The Daily Show with Trevor Noah
, Anthony Atamanuik's new late night series
The President Show
will air weekly at 11:30pm ET/PT. Anthony Atamanuik has become renowned for his pitch perfect Donald Trump impression over the course of the last two years, receiving praise far and wide for his hilarious off-the-cuff remarks, absurdist premise and studied physicality. The show is sandwiched in between
Trevor Noah
and
South Park
and promises to deliver both high ratings and hilarity at Comedy Central. While other comedians have reached a larger public with their impressions to date, such as Alec Baldwin and formerly Darrell Hammond on NBC's
Saturday Night Live
, Anthony Atamanuik has been building grassroots support for his completely unique and hilarious impersonation. The first time Atamanuik put on the Trump wig was for a show at the Upright Citizens Brigade (UCB) in New York City, a now bi-coastal comedy theatre and school co-founded by Amy Poehler. Atamanuik's show there was called "Trump Dump," which he has since performed multiple times at UCB, as well as at the SXSW Festival, Moontower Comedy Festival, and the Just for Laughs Comedy Festival in Montreal.
Atamanuik Cut His Teeth at the Uprights Citizens Brigade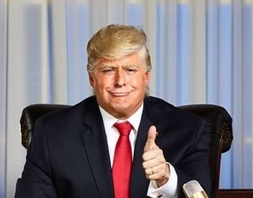 Atamanuik is a veteran member of UCB, where he has not only amassed a large following for his performances in such improv shows as Asssscat 3000, but he has also taught improv to students for many years. Some of his students include Ilana Glazer and Abby Jacobson, the duo who went on to fame for their Comedy Central show
Broad City
. In fact, Atamanuik appeared on an episode of
Broad City
as a sex toy salesman, and was also a writer on Ilana Glazer's 4/20 comedy special
Time Traveling Bong
. In addition, he perfected his Trump impression on a 40-city tour of the comedic debate "Trump v. Bernie," where he appeared opposite comedian James Adomian, who played Bernie Sanders. "Trump v. Bernie" also brought the duo to Fusion, where they produced a debate special and a sketch special, as well as to Comedy Central where they had a week-long takeover on
@midnight with Chris Hardwick
. While Atamanuik never expected to still be doing his Trump impression after the election, Comedy Central offered him an opportunity he could not refuse: his own late night television show.
Throwing Out the Rulebook of Late Night Television
According to the press release for
The President Show
, the comedy series is following in the footsteps of a certain chief executive in the White House by throwing out the rulebook of his predecessors. While
The President Show
will incorporate certain staples of late night television such as the news desk, guest interviews, and field pieces, it will also be more sketch focused. In that way, it appears to be a blend of
Saturday Night Live
and
The Colbert Report
. In fact, Atamanuik had a guest appearance on Colbert's new show
The Late Show with Stephen Colbert
, where Colbert alluded to the similarity between
The President Show
and Colbert's renowned series
The Colbert Report
, where he was in character the entire time. On
The Colbert Report
, Colbert played a character named Stephen Colbert, who was a conservative individual, unlike the actor portraying him. Similarly, Atamanuik is playing the conservative politician Donald Trump, but unlike Colbert, this man is all too real. In riffing off the line between reality and fiction that Trump himself has been known to play with in his tweets and PR maneuvers, Atamanuik has rich material from which to pull for his impersonation. The set for
The President Show
will include the Oval Office, Air Force One, and Mar-a-Lago, among other venues to be revealed as the show goes on. Also in the press release, Atamanuik stated that he wanted to thank Comedy Central for this opportunity for activism through comedy, and if he's lucky, to end up in prison! Tune in Thursdays starting this week to see how far Atamanuik will go.