Stephen Colbert Takes The Late Show to Russia
Stephen Colbert takes on Russia and announces his Presidential candidacy bid on Russian late-night talk show "Evening Urgan".
---

On June 23, 2017 Stephen Colbert guest starred on "Evening Urgant", a late-night Russian talk show hosted by Ivan Urgant, the top talk show host in Russia. During the interview Stephen Colbert spoke English (which was poorly translated into Russian by a comedian translator) with Ivan Urgant, who spoke Russian during the bit, making snide barbs along the way. During the show, despite the language barrier, the duo played a "dangerous" game of Russian roulette with vodka shots and pickles. As they played the game, Stephen Colbert stood up to give a toast and momentarily paused to confirm that the show is not broadcasted in the United States, so he could get away with anything, including being somewhat tipsy after a few shots. He then proceeded to announce his candidacy to run for office in 2020. "I am here to announce that I am considering a run for president in 2020. And I thought it would be better to cut out the middleman and just tell the Russians myself." It was unclear if he was referring to the Russian or US Presidency, but as 2020 has been a much hyped date with Kanye West announcing his candidacy for that election, viewers expected it to be the American Presidential run. Stephen Colbert is well known for pandering to his ultra-liberal audience and taking every moment to attack President Trump on his nightly talk show. Aside from appearing on "Evening Urgant" Colbert shot secret footage all around Russian, including places like Saint Basil's Cathedral and Moscow's Kremlin. It is expected that all of his Russian footage will be used on Colbert's US based show, so the large part of the trip will probably be viewed more as a boondoggle than an actual funny bit for his
Late Show
.
Stephen Colbert's Second Chance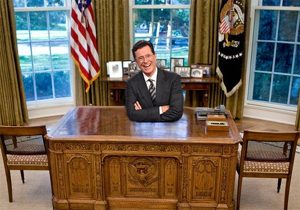 This is hardly the first time Stephen Colbert has announced a run for Presidency. In 2007 in guise of his
Colbert Report
character, Colbert did the same thing and kept it going seriously for about a month. Colbert balked once he found out that it would cost him $35,000 to file in South Carolina, his home state, for the Republican primary ballot slot. He decided to move on and attempt to land a spot on the Democratic ballot instead, which was only $2500. Carol Fowler, chairman of South Carolina's Democratic Party, announced that the party's executive board voted 13 to 3 against certifying Stephen Colbert's candidacy because he did not meet some basic requirements. That was the end of his political career until recently when he decided he wanted to give it another go. This time Colbert is being paid million of dollars a year as host on
The Late Show
, so it should be no problem at all for him to put his money where his mouth is, even entering both races.
Celebrities Jump on the Presidential Bandwagon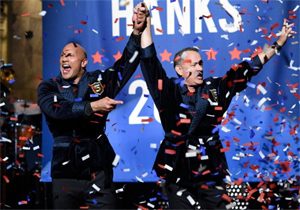 As a result of President Donald Trump's unprecedented win in the 2016 Presidential election many celebrities with no political background have also shown interest in running for President in the near future. Most of these announcements were made jokingly after Trump's win, specifically Chris Rock's Twitter post where he wrote "I'm gonna run in 2020 wish me luck" along with an edited picture of his 2003 movie poster
Head of State
. Will Smith and Kanye West also toyed with the idea of running for the Oval office's highest position. Out of all the celebrities that have jumped and the Presidential bandwagon the only one that can be taken semi-seriously is Dwayne "The Rock" Johnson who announced his Presidential bid alongside his running mate, Tom Hanks, on SNL. Dwayne Johnson is by far the most likely to actually run since he is the only one who has shown political interest in the past. Many have speculated that the only way for anyone to beat President Donald Trump, if he decides to run for office again in 2020, is to put him up against a well-liked celebrity. We can expect to see a celebrity filled Presidential election in 2020, Oprah being the democratic party's number one choice and who knows, we might have Mark Cuban as our next Republican President.