SNL's Weekend Update Subleases a Primetime Slot
By
Tami Hall
| Posted on August 08, 2017 5:00 PM
Saturday Night Live's popular segment Weekend Update will be airing for a limited four week episode run on NBC beginning Thursday August 10, 2017.
---

NBC's executives are taking advantage of
Saturday Night Live's
recent ratings resurgence and are bringing
Saturday Night Live
's extremely popular segment
Weekend Update
to primetime television. Beginning Thursday August 10, 2017
Weekend Update
, featuring hosts Colin Jost and Michael Che, will be airing live on NBC at 9 pm for four weekly episodes. "
SNL
is having its best season in a quarter of a century — how many shows can say that?! — so we didn't want them to take the summer off," said NBC Entertainment's Chairman Robert Greenblatt. Although
Saturday Night Live
will be taking a short summer break, executives want to keep the
SNL
train running by giving one of the show's staple segments its own 30 minute show. They also don't want to miss out on the "Get Trump" train.
SNL's Viewership Numbers Increase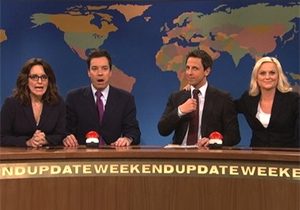 Weekend Update,
is
Saturday Night Live
's longest running and most popular segment. It has been around since
SNL's
first broadcast and is typically shown right after the first musical performance of the night. In its 42 years
Weekend Update
has seen many hosts including: Chevy Chase, Dennis Miller, Jimmy Fallon, Dan Aykroyd, Tina Fey, Jane Curtin, Norm MacDonald, Amy Poehler and Seth Meyers.
Saturday Night Live
's parody news sketch helped pave the way for similar shows like
The Colbert Report
and
The Daily Show
. Since the election of President Donald Trump
Saturday Night Live
, along with the previously mentioned shows, have seen their ratings grow tremendously. So much so that
SNL
had its most watched season in 24 years, increasing its viewership by 26% compared to last year giving them an average total of 11.02 million viewers weekly.
Weekend Update's Past Primetime Appearances
In the past NBC has brought
Weekend Update
to primetime for limited runs. During the weeks leading up to Barack Obama and John McCain's 2008 Presidential election
Saturday Night Live Weekend Update Thursday
was hosted by Seth Meyer and Amy Poehler. The following year it returned for an added six episodes and it was brought back once again in September 2012. This time around the show's name will simply be
Weekend Update
and will follow the same structure it has in the past. It will have its two co hosts Colin Jost and Michael Che with guest appearances from
SNL
cast members and possibly other special star appearances. Having the show live will help with last minute changes, additions and breaking news that the hosts and NBC executives want to address.
Weekend Update Will Fill Gap Until SNL is Back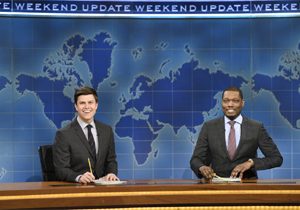 Although it has been only a couple of months since
SNL's
season finale, with today's political climate it has felt like years. Many political events happened that neither Colin Jost nor Michael Che were not able to report with their particular anti-Trump slant. James Comey's Congressional testimony, Jared Kushner and Donald Trump Jr's secret meeting with a Russian lawyer, Anthony Scaramucci's rise and fall, OJ Simpson's parole, and the failed attempted to repeal Obamacare. "Missing Scaramucci was sort of like missing Christmas," commented host Colin Jost on the former White House communications director. The summer run of
Weekend Update
will be hosted in order to close that void and help keep the people of America informed with its hard hitting journalism, that is also known as liberal bias jokes designed to attack Trump.