Regis Philbin Begins New TV Season With Crowd Goes Wild
Regis Philbin confirms a new season of his sports news and analysis show, Crowd Goes Wild
---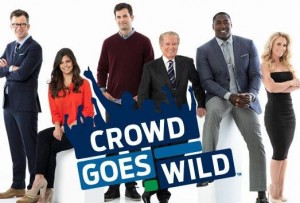 Regis Philbin continues his illustrious career with a new show on Fox Sports 1
Crowd Goes Wild.
The show is shot out of the Chelsea Piers Studios with a studio audience and is produced by Embassy Row Productions. Chelsea Pier Studios are on the far West side of Manhattan, but fans are still eager to take the trip all the way west to get to see Regis and his team discuss today's sports news in a less-in-your-face way than all the other sports shows on TV. The show is a free-flowing format that can go pretty much anywhere on topics as wide as hockey to golf, Olympics to X Games. Philbin's team includes:
Wall Street Journal
columnist Jason Ga, retired tennis player Michael Kost, football star Trevor Pryce, and TV anchor Georgie Thompson. So the show doesn't become a boys club, they added in Katie Nolan who serves on the team as the youth opinion and promotes the social interaction part, something many of the live New York Shows now do to pep up the show. When the show is on live, their Twitter and Facebook accounts light up with viewer interest and opinion.The show is dubbed as a lively and conversational sports show, but it plans on being much more. The show is an hour long and the audience is asked to be there early, so if you are thinking about attending, plan on being there at least two hours (not including the time it takes to get to the far west side.) They have an audience maximum of 40 people per day and they can provide group tickets. Refreshments and bathrooms are provided, but no food is provided. The show brings in guests from time-to-time and will often feature opinions from fans, bloggers, and journalists. Even members of the audience get to have their say by voting and being part of the show by talking to the hosts. One of the problems that producers face is that Regis's demographic skews woefully older and advertisers for this show aren't too happy if they fill the seats with older folks, so the show tries to keep the age down - but often, this older demographic is the only group interested in going all the way out to the west side to see the show - it is Regis after all. This isn't the first time that this production company has had a sports show: in 2003 Embassy brought us
Cold Pizza
on ESPN, which was an ill-fated show shot in the bottom of the New Yorker hotel without a studio audience. The show lasted a season before ESPN execs figured out that they got more TV audience by re-running SuperBowl XLII (42) from 2007 featuring the New York Giants and the New England Patriots. Regis Philbin has had an illustrious career. He started way back in 1962 as the announcer on
The Tonight Show
under Jack Paar and then transferred Johnny Carson, who switched Philbin out for Ed McMahon. (Even stranger is that no documentation exists supporting this accolade, even Wikipedia). Regis worked on over 45 TV shows since with highlights including
Who Wants To Be A Millionaire
and
Regis and Kathie Lee
. His partner, Kelly Ripa on
Regis and Kelly
(a replacement for Kathie Lee) went on to host
Kelly and Michael
, which still runs today on ABC Television. His biggest success to date was as the host on
America's Got Talent
in 2006, but he was cut by producers at the end of that season who felt that he was woefully out-of-touch with the audience they were trying to build.
Crowd Goes Wild
is an hour-long show that airs live weekdays 5:00pm-6:00pm ET on FOX Sports 1, which is channel 513 on New York Verizon and 487 on New York Time Warner. Audience tickets for this show are available from Embassy Row Productions at 212.507.9700