"Peter Pan Live" Airs on NBC
By
Tami Hall
| Posted on December 06, 2014 2:17 PM
Allison Williams played Peter Pan on NBC's Peter Pan Live, which aired on December 5, 2014. Reviews were mixed, but the special can be considered a success.
---
Allison Williams and Christopher Walken Star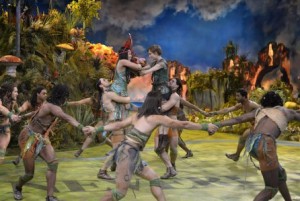 On December 4, 2014, NBC continued its now annual tradition of airing a theatrical production filmed exclusively for television. Last year, NBC had a stupendous success with their airing of a live production of
The Sound of Music
, amassing 22 million viewers for the special, which was produced by Craig Zadan and Neil Meron (the producers of the Oscars as well as many musical films such as
Chicago
and
Hairspray
). This year, the same producing team mounted a production of
Peter Pan
, adapting the version first produced in 1954. Following in a tradition led by Mary Martin and Cathy Rigby of a female portraying the young boy, Allison Williams (
Girls
) was cast as Peter Pan. In addition, Christopher Walken (
A Behanding in Spokane
,
Hurlyburly
) portrayed Captain Hook, Christian Borle (
Peter and the Starcatcher
) played Smee, Kelli O'Hara (
The Bridges of Madison County
) played Mrs. Darling, and Minnie Driver played the adult Wendy and the narrator. The broadcast, though not as successful as last year's
The Sound of Music
, brought in 9.129 million viewers.
Sometimes Growing Up Is Not So Bad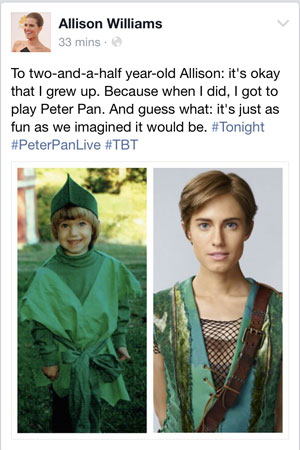 Allison Williams is a star who has recently skyrocketed to national recognition, and this performance certainly took her notoriety one step further than the already immense fame she has garnered for her supporting role on Lena Dunham's
Girls
on HBO. It's not an accident that her father is Brian Williams, managing editor and anchor of NBC nightly news for over 20 years. Still, it's hard to resent the nepotism involved here, because both father and daughter are so sweetly earnest. This photo is a screen shot of a recent facebook post Allison Williams made on her personal profile, showing how she has yearned to play this role since the age of 2 and a half. And her father was the first to announce the casting on his news show, adorably citing how this is a role she has always longed to play, and he should know, as he's her father. This was an interesting way for Williams to foray into professional stage performance, as the broadcast had elements of both stage and screen performance. Whereas the musical was written and principally staged for the full-scale live stage performance, there were also elements that were only possible due to the filmed format, such as a larger set and cast and more diverse camera angles. Walken was cited to express ambivalence about this duality of performance methods, as he wasn't thrilled about having a stage show broadcast to millions without the usual weeks of rehearsals and previews given to a Broadway show, and also that he's never quite sure when the camera was even on him.
Firmly Mixed Reviews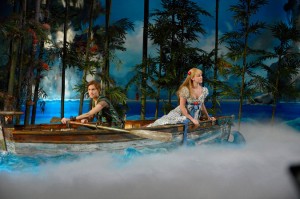 Even prior to the airing on Thursday evening, Williams conducted several interviews in which she predicted that many people would "hate-watch" the special, but also expecting that once they sat down to view it, it would be difficult to realize the "hate" part of the equation. Perhaps her self-aware semi-cynicism stems from her friendship with fellow millennial stars such as Lena Dunham and Jemima Kirke, who would never be caught dead performing in such a classically un-ironical role such as this one (though Dunham probably wishes she could be a musical star, but she cannot sing and her comedy stems from a very different place; Kirke honestly would never wish this upon herself). Anyway, Williams was thrust amongst these fellow girls, and does offer a nice juxtaposition to their sentiment on the HBO show, but in this case, she proves herself to be paving the way to a very different career. As for actual reviews, some people loved it, and some people genuinely despised it, but most were somewhere in between. Alessandra Stanley in The New York Times said that Allison "ruined hate-watching," because she convincingly pulled off the role after all. The Hollywood Reporter lauded Williams' performance, and considered the entire special a success. Still, musical theatre lover Adam Feldman in Time Out New York came out with perhaps the most objectively accurate response, critiquing the entire show of
Peter Pan
for not being a first-rate show in the first place, but also critiquing Zadan and Meron for minimizing the inherent theatricality of the piece. Still, he expressed a sincere wish that NBC try again with the live television musical theatre concept next year, which the network has already expressed their intent to do.