NBC's The Tonight Show Returns To New York With Jimmy Fallon At The Helm
By
Tami Hall
| Posted on January 28, 2014 3:32 PM
Jimmy Fallon brings The Tonight Show back to New York City after a 50 year hiatus in Hollywood
---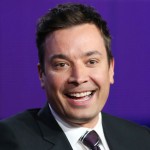 Known for his madcap skits on
SNL
with Justin Timberlake and his youthful stand-up style, Jimmy Fallon has been tasked with bringing
The Tonight Show
back to New York City after a 50 year hiatus. The show has lived for over five decades in Los Angeles, with Jay Leno most recently at the helm. It all started with the
The Tonight Show
with Steve Allen in New York back in 1954. Jack Paar took the show over a few years later and and then Johnny Carson moved the show from New York to Hollywood in 1962. It hasn't been back to New York City since. Jay Leno and David Letterman had their famed "Late Night Wars" where they fought over the show (Johnny Carson wanted to give it to Letterman, but NBC execs decided otherwise) and now Jay Leno ends his tenure with his two-decade run on
The Tonight Show
February 6, 2014 with his final guests Billy Crystal and Garth Brooks. Just a few days later on February 17, Jimmy Fallon begins his version of
The Tonight Show
at midnight. (It's been placed after NBC's coverage of the Winter Olympics for that week, returning to a regular time slot of 11pm the following week). Jimmy Fallon is lucky enough to have a great lead-in with the Olympics coverage and is anticipated to include some wonderful guests including Sean Connery, Ringo Starr, Madonna, Aaron Paul, and George Clooney. (It's hoped that NBC's coverage of the Olympics is better than it has been over the last few years, because this apparent benefit of lead-in ratings could well become a negative if NBC screws it up again. For example, showing events that took place over 24 hours ago, inexplicably cutting away from the highly anticipated Opening Ceremonies to a Ryan Seacrest interview instead, and so on and so forth.)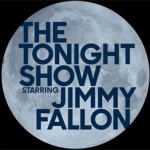 As for the void that that Jimmy Fallon leaves at his show,
Late Night with Jimmy Fallon
, Seth Meyers takes Jimmy's old slot and so begins yet another round of late show musical chairs. The very first time NBC executives tried to replace Leno was back in June 2009, and it was a complete disaster. They replaced Leno with Conan O'Brien - but with Conan's lack of mainstream appeal and the NBC executives lack of stomach... (were these really the same NBC executives that were responsible for green-lighting the sleeper-hit
Seinfeld
? they must have just gotten lucky) NBC gave it an early bath and landed Conan with a reported $12 Million settlement deal and his own a show on TBS a year later when his NBC non-compete contract expired. This time around, NBC executives think they can do a better job and Jimmy Fallon gets a try at the brass ring. No word yet on what the backup plan is this time if Fallon fails to garner market share; perhaps Jay Leno is still under contract if Jimmy's viewer numbers don't pan out? Tickets to
The Tonight Show
with host Jimmy Fallon, which is being shot at the NBC Studios at 30 Rockefeller Plaza in New York, are available at the NBC ticket desk by calling (212) 664-3056. Generally, tickets are booked about 4-6 weeks in advance from the actual taping. Please call Monday-Friday (9am-5pm ET) for availability. Standby tickets are always fair game for these kinds of shows in New York City, but anticipate higher than normal demand at the start of the run, giving way to a reasonable ticket demand as the show settles in.