Megyn Kelly Announces Timing and Format of Her Two New NBC Shows
Megyn Kelly will now be at the 9 AM time slot for NBC's TODAY show. Her announcement was made at the NBC Upfront Presentation.
---
It seems like an eternity since Megyn Kelly graced our TV screens with her stoic presence, but she recently made an appearance at NBC Universal's Upfront presentation at Radio City Music Hall to announce the timing and format of her upcoming NBC TV shows in the Summer and Fall of 2017.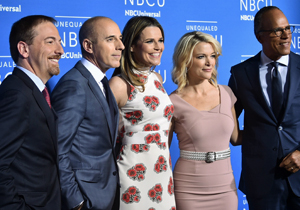 The notoriously cutthroat NBC News division appears to have made Kelly welcome, albeit temporarily, and created a 9 AM live show broadcast slot for her on NBC that starts in the Fall 2017 and a 7 PM slot for a more newsy show on Sunday night which starts in June 2017. Kelly's new morning show will replace "Today's Take" which featured Al Roker and Tamron Hall. Kathie Lee and Hoda are staying at the 10 AM slot. Megyn will also host a Sunday evening news magazine, entitled "Sunday Night with Megyn Kelly," premiering June of this year. Which is going up against CBS' 60 Minutes at 7 PM.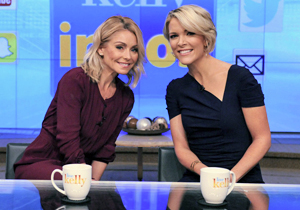 The Megyn Kelly Show
will be broadcast live at 9 AM with a studio audience at NBC Studios in NYC. The show is going up against ABC's Live with Kelly and Ryan at 9 AM.
The Today show
will continue to be broadcast from the 7 AM to 9 AM period, with hosts Matt Lauer and Savannah Guthrie. Hoda and Kathie Lee will still be at 10 AM. This appears to bring the NBC morning show format from a light news theme to a somewhat trivial ham sandwich, with a slice of inspiration tucked in the middle for good measure. The Megyn Kelly 9 AM slot is designed to be light and inspiring, not at all like her Sunday prime time news show. The daytime show will be more like Oprah, and less like Brian Williams, which seems to be a big mismatch for Kelly and the network. The Sunday night show will allow Kelly to maintain some degree of news integrity and credibility, just in case NBC ditches her and she heads to another network.


Describing the 9 AM morning show, "Kelly said she wants to give viewers an uplifting experience in the morning, promising that her show will "entertain them, inspire them, and empower them, we hope, to take on new challenges and help them settle for more in their lives," which is a clear reference to her book
Settle For More,
that deals with the same subject matter. The Megyn Kelly Sunday night prime-time show will start in June 2017 and will take a hiatus from September through December 2017, as NBC has paid the NFL huge amounts of money for the rights to air Sunday Night Football during that time. It's starting to feel that NBC may have purchased Megyn Kelly to just control her runaway success on Fox News and are not really interested in helping develop her career, certainly not yet. In an ironic twist, we expect Kelly to tire of this TV show charade at NBC and head back to Fox as the head of the network in 2018, replacing the beleaguered network's management that still has the ghosts of Bill O'Reilly and Roger Ailes walking the studio halls at night.