"Late Show with Stephen Colbert" Post-Super Bowl Ratings Surge
By
Tami Hall
| Posted on February 11, 2016 7:31 PM
Late Show with Stephen Colbert had record ratings after the Super Bowl, which may not last.
---
21.1 Million Viewers More Than Seven Times Average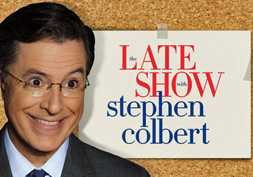 This past Sunday night, the Super Bowl 50 aired on CBS, with the Denver Broncos beating the Carolina Panthers 24 to 10. As far as ratings go, Super Bowl 50 was the third most watched Super Bowl in history, bringing in almost 112 million viewers. As advertised throughout the frequent commercial breaks during the game, immediately following the football aired an episode of
The Late Show with Stephen Colbert
. In addition to an enviable time slot, this episode was blessed with a pre-taped segment with President Barack Obama, along with a host of hot guest appearances including actors Will Ferrell (
Anchorman
), Tina Fey (
30 Rock
), Margot Robbie (
The Wolf of Wall Street
), and Fox news anchor Megyn Kelly, who was recently thrown into the spotlight for hosting the Republican national debate of which Donald Trump refused to a part, due to her participation. That airing of Colbert's new gig attracted a record 21.1 million viewers, according to Nielsen ratings. In contrast, Colbert has been playing to an average of 3 million viewers. In addition,
The Late Late Show with James Corden
attracted an all-time high of 5 million viewers. Nevertheless, history shows that the post-Super Bowl shows often show a big bump in viewership, which does not last beyond the one-time incidence.
Network's Noble Effort to Resurrect Colbert's "Late Show" Ratings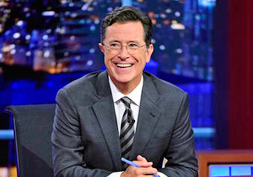 Colbert has recently taken over a post long held by David Letterman, whose ratings were starting to slow as his retirement was due after a highly successful career. Stephen Colbert was meanwhile gathering a huge following of fans from his Comedy Central show "The Colbert Report," in which he played a satirical conservative character of his same name. There have therefore been some growing pains with Colbert settling into playing the straightforward, left-leaning character of himself in the chair long sat in by David Letterman, especially when the late night scene thrives on apolitical personalities such as Jimmy Fallon and Jimmy Kimmel. While the debut of
The Late Show with Stephen Colbert
was highly anticipated, bringing in 6.55 million viewers, the average ratings soon fell to levels that are surely a disappointment to the network that had fought to bring him over. As for the success of the post-Super Bowl episode, critics were mixed about how well Colbert fared. Daniel D'Addario of
Time
called him "stiff and uncomfortable" in his chair, particularly regarding his attempt to tie in the show to football.
Super Bowl Follow-Ups Often Spike, Then Dwindle Back to Normal
After last year's Super Bowl 49, NBC played an episode of
The Blacklist
, which brought in even more than Colbert's show did, with around 26 million viewers. In 2010, CBS also opted for a drama with an episode of
Undercover Boss
, wrangling 38 million post-Super Bowl viewers. The honor for highest record for Super Bowl follow-up ratings, however, goes to
Friends
, of which NBC produced a special hour-long episode for the occasion in 1996, bringing in 53 million viewers. In any case, almost all incidences of ratings spikes in post-Super Bowl programming have dwindled, returning to normal figures within 1 to 2 weeks. Therefore, CBS' strategy of using the post-Super Bowl slot to retain some Colbert followers may prove in vain, or it may turn out to break the mold as its schedule has it airing every single weekday, unlike previous shows which were weekly events.