Late Show with Stephen Colbert Announces First Week Line Up
The first episode of Late Night with Stephen Colbert will air on Tuesday, September 8, 2015. His first week of guests line up has been announced, including George Clooney, Elon Musk, Amy Schumer, Jeb Bush, Stephen King, and the CEO of Uber.
---
George Clooney and Jeb Bush Joined By Great List of Guests
On Tuesday, September 8, 2015,
Late Show with Stephen Colbert
will have its premiere broadcast episode on CBS. Stephen Colbert took over from David Letterman, who retired after hosting the
Late Show
since 1992; Letterman's final episode aired on May 20, 2015.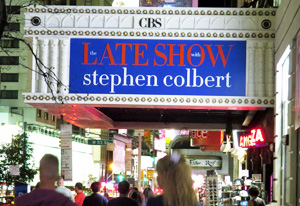 Continuing the franchise, Colbert takes over after completing his highly successful run on Comedy Central with
The Colbert Report
, which ran from 2005 to his final episode on December 18, 2014. In the time since completing
The Colbert Report
, Stephen Colbert grew a beard, appeared in some television shows such as
House of Cards
and
The Mindy Project
, and has been preparing for his
Late Night
debut. The first episode of
Late Night with Stephen Colbert
has thus been anticipated by his wide array of fans for a long time. The first week of guests has just been announced. On the first episode on September 8, 2015, it was previously announced that Colbert's guests will include the presidential Republican candidate Jeb Bush, who is offering his supporters a chance to win an all-expenses paid trip to New York City to view the premiere taping; the winner will be chosen from those who contribute at least $3 on the campaign's website, but presumably higher donations have a higher probability of being chosen. In addition, the first episode guests will include the movie star George Clooney. Clooney may talk about his recent film projects, but he is just as likely to discuss his liberal causes, such as Darfur, the 10 year anniversary of Hurricane Katrina, or his political views.
An Excellent Week of Guests to Follow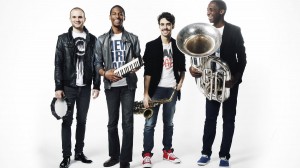 On the first episode on Tuesday, Colbert will also introduce his bandleader and
Late Show
band, Jon Batiste and his band Stay Human. A group of young musicians who recently graduated from Juilliard, Stay Human is modern day New Orleans big band soul music, with a tuba, drums, saxophone and Jon Batiste with his magic fingers on keys. The music is sure to also include some special guests throughout the week. On the second episode, Wednesday September 9, 2015, the guests will include the actress Scarlett Johansson, whose recent films credits include
Lucy
,
Avengers: Age of Ultron
,
Under the Skin
, and the voice in
Her
. In addition, that episode will feature Elon Musk, the business magnate and entrepreneur who invented Tesla Motors and has envisioned the high speed form of transport known as the Hyperloop. There will also be an interview and performance by Kendrick Lamar, the rapper and hip hop artist from California. On Wednesday, September 10, 2015, another transportation business leader will take the stage, this time the CEO of Uber, Travis Kalanick. Uber is the car-sharing service that has been disrupting the taxi industry all over the world, allowing customers to request a car to their doorstep with the tap of an iPhone, and to pay seamlessly with the use of technology. That episode will also feature a performance by Toby Keith, the country music singer and songwriter.
Final Announced Guests So Far on Thursday, September 11th
Thus far, the last day of announced guests is for the third episode: Thursday, September 11, 2015. One guest will be the comedienne Amy Schumer,
Inside Amy Schumer
, whose own show airs on Comedy Central, where
The Colbert Report
aired until recently. Schumer also has a wide release movie out now in theatres,
Trainwreck
, and is reportedly co-writing and co-starring in another feature film with her good friend Jennifer Lawrence. After Schumer, Colbert will be joined by Stephen King, the famous author of horror and suspense novels, whose books have sold over 350 million copies. In total he has published 54 novels, which includes seven under his pseudonym Richard Bachman as well as six non-ficiton books, in addition to almost 200 short stories. There will also be an interview and performance by Troubled Waters. As for the Friday show, the guests have not yet been announced, but some fantasy casting reports suggest that Bill Cosby may be among the guests. Overall, this is an exciting first week of episodes, with many more sure to come.