Jimmy Fallon's "Lip Sync Battle" Becomes Spin-Off TV Show
By
Tami Hall
| Posted on January 24, 2015 12:17 AM
Jimmy Fallon's Lip Sync Battle gets its own spin-off show on Spike TV hosted by LL Cool J.
---
Jimmy Fallon and the History of the Lip Sync Battle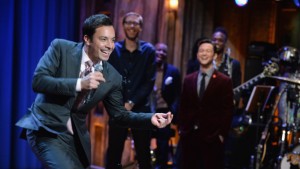 Jimmy Fallon has been the host of NBC's
The Tonight Show Starring Jimmy Fallon
since he took over the post from Jay Leno in February 2014. He had earned his beloved stature through his tenure hosting
Late Night with Jimmy Fallon
also on NBC from March 2009, when he took over from talk show legend Conan O'Brien. Prior to that, he gained acclaim from his tenure as a cast member on
Saturday Night Live
, which occurred from 1999 to 2004, when he left to pursue a film career. He appeared in a quite a few movies including
Fever Pitch
,
Almost Famous
,
Factory Girl
, and
The Year of Getting to Know Us
, but ultimately his home was the talk show circuit, and he was roped back in by NBC. Since seamlessly taking over from Leno almost a year ago, Fallon has proved his insurmountable stature by remaining a huge success with fans and celebrities alike. One of his most beloved shticks in
The Tonight Show
has been a "Lip Sync Battle," whereby he competes against his guests, who are often huge stars such as Emma Stone and Paul Rudd, to see who is better at lip syncing. In addition to being hilarious and entertaining, this battle is said to prove the winner in terms of charisma, talent, individuality, and guts.
The Pilot Will Be Shot This Month; Premieres On TV April 2nd, 2015
While Fallon continues on as the successful host of
The Tonight Show
, he will also serve as a producer of a new spin-off show on Spike TV. Two other producers include John Krasinski and Stephen Merchant, who were the creators of this segment on Fallon's show, along with Krasinski's wife Emily Blunt. Krasinski and Merchant are also sometime performers in the lip sync battles. Memorable episodes include performances by Emma Stone and Paul Rudd, as well as a three-way battle between Jimmy Fallon, Stephen Merchant, and Joseph Gordon-Levitt. Now, this new pilot will be shot in January in front of a live studio audience. It is set to premiere on Spike TV on April 2, 2015. It is unclear how this mini-segment will be able to expand into an entire episode, not to mention a 10 episode series. Still, the show has a lot to work with, given the allure for celebrity guests. Thus time can inevitably be spent in celebrity banter if not interviews, although the set-up will ultimately need to differentiate itself from the usual talk show format and focus in on the lip sync battle first and foremost.
LL Cool J Announced to Serve as the Show's Host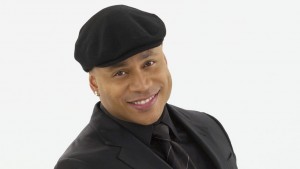 The rapper-musician LL Cool J has signed on to host this new show on Spike TV, as announced this month. He will also join as a producer on the show. He has expressed great excitement about being involved with the show. This will be his second recurring gig on television, in addition to his role as a regular cast member on the hit show
NCIS: Los Angeles
. He announced that this show was going to bring the concept of the lip sync battle to a whole new level – as it must in order to fill in the longer timeslot. Still, hopes are high that the combination of a winning battle concept, celebrity guests, and LL Cool J as host will allow the new show to thrive on Spike TV. Click here for Tickets to the show
Lip Sync Battle Tickets