"Grease: Live" Television Special to Air January 31st on Fox
Grease Live will debut on Fox on January 31, 2016 in an all-new live version for television.
---
Beloved Teenage Musical Set in 1959 to Have One-Night TV Special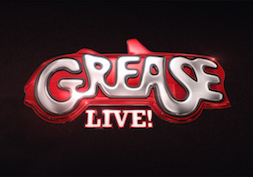 Grease
the musical first premiered on Broadway in 1971, depicting the life of American high school students in 1959 on the brink of entering adulthood. The protagonist, Sandy Dumbrowski, is a beautiful but naïve young woman who transfers to Rydell High School, as has trouble fitting in with the cool kids – namely, the Pink Ladies and the Burger Palace Boys. However, she is fresh off a hot summer romance with one of these popular boys, Danny Zuko, which becomes the subject of teasing and fascination for the teenagers. Since its premiere in 1971,
Grease
has become a timeless classic that hits the heart of multiple generations, and its endurance was made resolute with the success of the 1978 film adaptation, starring John Travolta and Olivia Newton John. The musical was since revived on Broadway in 1994 and again in 2007, in addition to being a popular favorite for regional, amateur, and school productions. Therefore, it is fitting that Fox has chosen
Grease
for their January 31st march into the market of live musical on television, a format that has proven successful with NBC's recent productions of
The Wiz
,
Peter Pan
, and
The Sound of Music
.
Julianne Hough, Vanessa Hudgens, Carly Rae Jepsen, and Aaron Tveit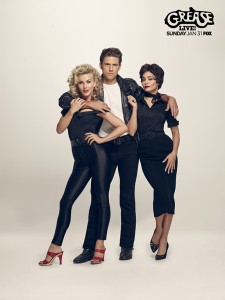 The cast for
Grease: Live
is a very exciting selection of big names from pop music to Broadway and beyond. The lead part of Sandy, aka Sandra Dee, is played by Julianne Hough, who rose to fame as a two-time champion of
Dancing with the Stars
on ABC, and has served as a judge on the show since September 2014. Meanwhile, she also starred in the big budget film adaptation of
Rock of Ages
, in addition to other films such as
Footloose
and
Burlesque
. The role of Danny Zuko will be played by Aaron Tveit, who is well known for his Broadway lead roles as the original Gabe in
Next to Normal
and Frank Abagnale, Jr. in the Broadway rendition of
Catch Me If You Can
. He also had a part on the CW's
Gossip Girl
, USA's
Graceland
, and the 2012 film version of
Les Misérables
(he played Enjolras). The saucy part of Rizzo is played by Vanessa Hudgens, who became first known through the
High School Musical
series, but has also starred on Broadway in the recent revival of
Gigi
and in films such as
Spring Breakers
. A big star from the music scene, Carly Rae Jepsen, will be playing Frenchy; she is famous for her songs such as "Call Me Maybe" and "I Really Like You," and has sold more than 20 million records globally. There are also rumored to be some famous adults in the show, such as Martin Short as Coach Calhoun, Ana Gasteyer as the school principal, and Mario Lopez as Vince Fontaine. Finally, the pop star part of Teen Angel is rumored to be played by Nick Jonas.
Pushed from Originally Planned Summer 2015 Premiere
When first announced, the Fox airing of
Grease: Live
was slated to play in summer 2015. However, the official word was that the roles were difficult to cast, and thus the premiere was pushed until January 31, 2016. The cast is rounding out to look excellently chosen after all, with further roles played by Keke Palmer as Marty, Carlos Penavega as Kenickie, Kether Donohue as Jan, and David Del Rio as Putzie. The show is slated to be a "re-imagining" of the classic, with star power bolstered this show to which you just can't help singing along.
Grease
has a book, music, and lyrics by Jim Jacobs and Warren Casey.