Carrie Underwood To Star in TV Remake of The Sound of Music
By
Tami Hall
| Posted on December 02, 2012 2:26 AM
Grammy Award winning artist Carrie Underwood cast as Maria von Trapp in upcoming live broadcast of The Sound of Music
---
Maria von Trapp, the real-life woman first made famous onstage by Mary Martin and later made legendary by Julie Andrews on film, is now going to be played by Grammy Award-winner pop/country star and former
American Idol
winner Carrie Underwood. As previously announced, NBC will be airing a television version of the beloved Rodgers & Hammerstein musical
The Sound of Music
, and it has been announced that Underwood will star in the new movie musical.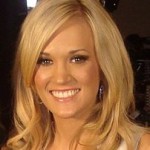 Producers Craig Zadan and Neil Meron (NBC's Broadway-themed drama
Smash
) said, "We're thrilled to be presenting the Broadway version of
The Sound of Music
live, and having Carrie Underwood as the star brings it to a new generation who will fall in love with it for the first time as many millions of people already have." The exact air date for
The Sound of Music
, which will be broadcast live, has not yet been set, but it is likely to be scheduled for the holidays in 2013.