Broadway's Anna Kendrick to Host SNL on April 5
Tune into SNL on April 5th to see Anna Kendrick host the show with musical guest Pharrell Williams
---
Anna Kendrick, the multi-talented actress and singer, has been tapped to host Saturday Night Live on April 5, 2014. This will be her SNL hosting debut. The telecast will also feature Pharrell, the seven-time Grammy Award winner known for his recent hit "Happy" from the animated film
Despicable Me 2
. Created and executive produced by Lorne Michaels, SNL is filmed in front of a live studio audience at 30 Rockefeller Plaza in New York City.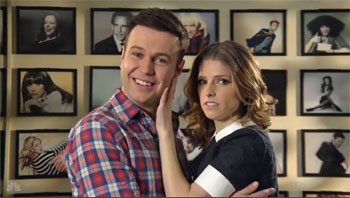 Anna Kendrick made her Broadway debut at the age of 12, when she played Dinah Lord in the 1998 production of
High Society
. She was nominated for a Tony Award for this performance, but she has not appeared on Broadway since. Subsequently, her career has mostly been focused on film, yet she has not forgotten her musical roots. Her screen debut was 2003's
Camp
, where she played nerd turned surprise diva Fritzi Wagner. More recently, her fame skyrocketed due to her role in the a cappella themed film
Pitch Perfect
, as her performance of the song "Cups (When I'm Gone)" became the number 2 hit on Billboard's Adult Pop Song Chart. Furthermore, she has just finishing filming two musical screen roles: Cathy Hyatt in
The Last Five Years
and Cinderella in
Into the Woods
, both of which will be released later this year.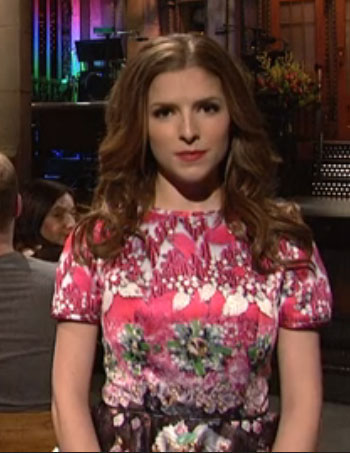 Since its original airing in 1975, NBC's weekly late night variety and sketch comedy show has often been a place for celebrities to let loose and stretch their versatility. As such, there has often been an overlap between Broadway actors and SNL hosts. The record for having hosted SNL the most number of times is held by Alec Baldwin (he hosted 16 times since 1990), who has been on Broadway 5 times. His Broadway debut was
Loot
in 1986, and he was recently seen on stage in the 2013 production of
Orphans
. Furthermore, many individuals who have hosted the Tony Awards over the years have also served as SNL hosts. These include Hugh Jackman, Neil Patrick Harris, Sean Hayes, Bernadette Peters, and Rosie O'Donnell, to name a few. Even Seth MacFarlane, who hosted last year's musical themed Academy Awards show, has also hosted SNL.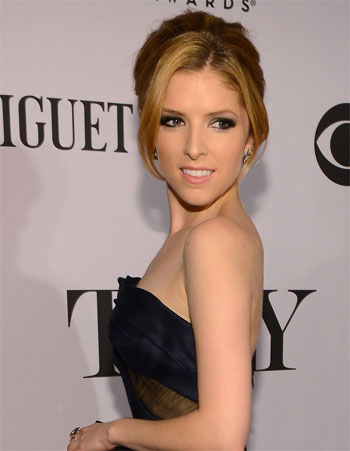 The list of Broadway performers who have hosted SNL does not end there. Many A-list actors have been featured both in Broadway shows and also as the host of SNL. For example, the stars of
The Producers
, Nathan Lane and Matthew Broderick, have both served as SNL hosts. So have Martin Short and Jason Alexander, who played those same roles in the Los Angeles production and US National Tour. The stars of the film version of
Chicago
, Renee Zellweger and Catherine Zeta-Jones, have both hosted SNL. Furthermore, there are several famous Hollywood actors who are presently appearing on Broadway, who have also served as SNL hosts. These include James Franco, Alan Cumming, Daniel Radcliffe, and Bryan Cranston, among many more in recent years. Anna Kendrick may not have been on Broadway since she was 12 years old, but she is nonetheless a beloved star of stage and screen, whose singing chops make her memorable as a musical theatre star. After she makes her SNL hosting debut, and then appears back-to-back in two major musical film releases, we may see her on the Great White Way once again before too long.