"Late Show with Stephen Colbert" Debuts Podcast
Stephen Colbert is gearing up for his debut of Late Show with Stephen Colbert. In the summer hiatus, he has begun to air a podcast of comedy dealing with the process of the show.
---
Gearing Up for September 8th Premiere on CBS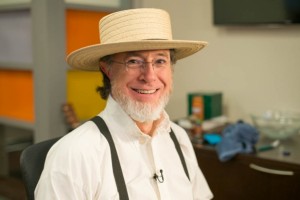 When Comedy Central's
The Colbert Report
aired its last show on December 18, 2014, Stephen Colbert had played his conservative Colbert character for 1,447 episodes. On Wednesday, May 20, 2015, David Letterman said goodbye to late night television, airing his last episode of
Late Show with David Letterman
. Over the summer before the Late Show with Stephen Colbert's September 8th premiere, CBS has filled the vacant slot with reruns of a range of CBS dramas, awaiting the moment when Stephen Colbert steps into Letterman's very worthy shoes. Meanwhile, Stephen Colbert has also been preparing. Since he took a leave from television at the end of 2014, he has been doing many things, one of which was growing a beard. Since being discovered by fans, the beard has fondly been called "the Colbeard." However, CBS made Colbert shave the beard prior to appearing back on television. Rather than doing this quietly, Colbert took the opportunity to make a funny video, shaving his salt and pepper facial hair in segments, mocking the various stages of unconventional facial hair that he could choose to rock. However, he inevitably ends up with a clean shaven face, but he gives us lots of laughs in the meantime. This video debuted on his new website ColbertLateShow.com, and he also launched an app called Colbr and a podcast, all meant to whet fans' appetites during the summer break.
The Late Show Podcast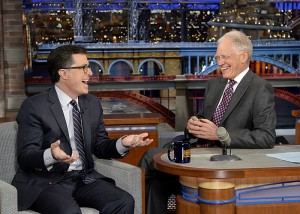 In taking over Letterman's slot, Colbert is doing more than sitting in the seat where Letterman once sat. The Ed Sullivan Theatre is getting a complete makeover, including widening the seats for "American asses" as Colbert jokes. Beyond this, the Late Show team is embracing online outlets more than ever before. Colbert now has a new website, ColbertLateShow.com, where fans can catch videos, podcasts, photos, and news. The podcast is a particularly fun addition to his slate. He reported that the internet is overrun with many comedy podcasts, so his podcast is in part an effort to curate these podcasts. The first few episodes of the podcast have dealt with the process of writing the comedy show. This is a way for the show's writers and producers, many of whom Colbert brought over from
The Colbert Report
, to keep on top of their game during the summer hiatus. It is also a way for Colbert to shine a spotlight on some of comedy's greatest talents, allowing a greater pool of fans to access their brilliance. Still, the podcast is not the only way the show's writers are staying active. Colbert reports that they are writing all summer, even if the news on which they are reporting will not be relevant three months from now. In this way, they are shouting jokes into a sock, but Colbert deems this necessary for his writers to stay sharp.
Colbert without the Colbert Character?
As the first few episodes of the Late Show with Colbert podcast are making clear, Colbert is a comedic genius, with or without the shroud of his mock-conservative Colbert character made famous on
The Colbert Report
. Many devotees of the now retired Comedy Central show are skeptical that Colbert will be as hilarious without this device, but Colbert is determined to prove them wrong. His team of writers is figuring out how this will work as much as his fans are waiting to see how it will work. Still, one thing that is becoming clear is that Colbert's "character" had many qualities such as bone dry irony and surreal humor that will transfer to the more "straight" Colbert himself, just without the layer of conservative pretending. In this way, America will get to know the "real" Colbert, and CBS is resolute to demonstrate that this Colbert is the same man we have grown to love.