Colbert Late Show To Do Battle With Fallon's Tonight Show
Stephen Colbert and Jimmy Fallon are vying for audience in the same 11:30pm timeslot now that Colbert has taken over from David Letterman.
---
Both Air in Same Time Slot: Weeknights at 11:30pm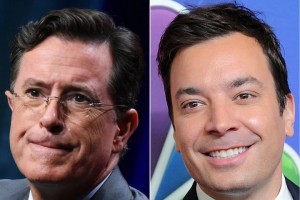 With Stephen Colbert having taken over David Letterman's longtime tenure as host of the
Late Show
on CBS, he is now is the same time slot as one of his colleagues and competitors: Jimmy Fallon's
Tonight Show
on NBC. Whereas David Letterman traditionally catered to an older demographic than Jimmy Fallon, Stephen Colbert stepping into the
Late Show
shoes mean that he and Jimmy Fallon are now competing for the same younger demographic. Though Colbert is 51, which is significantly older than Fallon at age 40, he generally caters to the same younger demographic, at least to a younger demographic than Letterman did in his time. This is the first time that the two late night shows are very different in both style and content; whereas Colbert presents a funny look at serious subject matter, Fallon has taken his show more to irreverent interviews along with hilarious Saturday Night Live style sketches. Though there are no clear ratings comparisons at this time, as Colbert has only just begun his new tenure, it is clear that the competition will be fierce and the networks will need to consider the matter from a different angle than they are used to. The format of the traditional late night hosts such as David Letterman and Jay Leno now seems so long ago, and we have entered a new era of late night television
The Battle for Viral Videos as Much as Traditional Ratings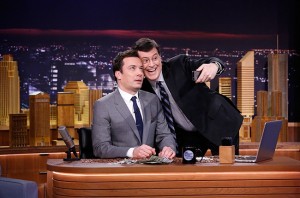 When Stephen Colbert led his Comedy Central show
The Colbert Report
, 43 percent of his regular audience was under age 30 (according to a survey by Pew). However, in having abandoned his conservation character Stephen Colbert from
The Colbert Report
, he will need to work to hold onto his younger fan base. On the other hand, he has a much stronger hold on that demographic than his predecessor, David Letterman. Both Stephen Colbert and Jimmy Fallon are renowned not only for captivating audiences in their traditional television time slots, but also for cultivating a strong following from people watching recap videos online, on sites such as youtube as well as the networks' own websites. Therefore, the battle between Colbert and Fallon to captivate viewers will not only depend on the simultaneity of their television airings, but also on their ability to retain viewership on the viral video channels. When Fallon got his start in 2009, he significantly lowered the average age for late night viewers as a whole, and a great part of his strategy was focusing on viral videos. To this point, Colbert has already begun to capitalize on that strategy as well, through creating a podcast and website in anticipation of the launch of his reign on the
Late Show
, and by launching memorable moments such as shaving his "Colbeard" that he grew during his time off from appearing on television.
The Implications for Advertiser Revenue
As of now, there is a $100 million advertising gap between Jimmy Fallon's
Tonight Show
on NBC and the
Late Show
on CBS. In taking over from David Letterman, Stephen Colbert has his work cut out for him in terms of closing that gap. In 2014, of the $412.1 million that advertisers spent on the 11:30pm timeslot on the networks CBS, NBC, and ABC, Jimmy Fallon's show snagged 47.6 percent of that, at $196.3 million. Furthermore, that number increased throughout the four quarters of 2014, with Fallon earning 46.4 percent in the 2nd quarter, 51.5 percent in the 3rd quarter, and the finishing out the year with 55 percent in the final quarter. On the other hand, David Letterman's numbers decreased each quarter, culminating in just 22.5 percent in the final quarter of 2014. Of course, these numbers do not take into account the viral video viewership. Nevertheless, Stephen Colbert will need to work hard to cultivate viewership that will warrant competitive advertising revenue for the network, which from a business perspective, is exactly what he was hired to do.