Biography of David Letterman
Posted on November 29, 2019
From weatherman to late night legend, 'The Late Show With David Letterman' host has come a long way from his Indiana roots
---
The Late Show With David Letterman on CBS
Every weeknight at 11:30pm, The Late Show with David Letterman airs on CBS. The fiercely popular talk show is an hour long and tapes at the Ed Sullivan Theater in New York City's Times Square. The host, known to fans simply as "Dave," has been a mainstay in the late night world since the early '80s. His house band is called the CBS Orchestra and is led by longtime Letterman bandleader Paul Shaffer. Alan Kalter serves as the show's announcer.
TV critic Ken Tucker once said that David Letterman is "probably the best talk-show host ever … He feels a real connection to people. You get the sense he knows things about life far beyond showbiz." It is this "regular guy" persona that he has always projected that's helped earn Letterman his many fans, constant critical accolades, everything from the George Foster Peabody Award to the People's Choice Award, and a prominent spot in the pantheon of great and beloved television personalities.

Letterman Biography
David Letterman was born in Indiana in 1947. He got his start as a weatherman in Indianapolis, where his sense of humor soon began to shine. (Letterman famously got himself a lot of attention when he congratulated a tropical storm for being upgraded to a hurricane.) Subsequently Letterman had jobs as a TV announcer and a radio show host. He began pursuing comedy in earnest by working as a stand-up comic, then going on to write for television, as well as appearing on several TV variety and game shows. The increased exposure led to appearances on The Tonight Show with Johnny Carson, and soon enough Letterman had earned status as "permanent guest host".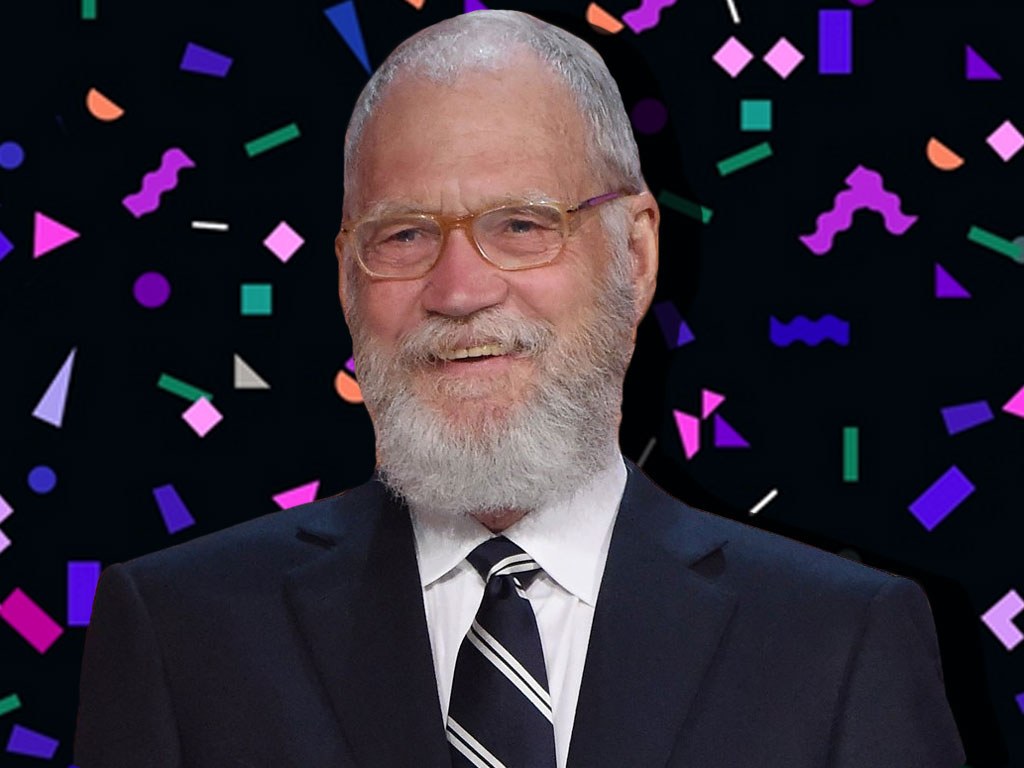 From Guest To Host
Given his success with The Tonight Show audience, NBC awarded the young comedian with his own show in 1980, but The David Letterman Show quickly tanked. Fortunately, the peacock network didn't give up on him, and two years later Late Night with David
Letterman was born.
With the multiple Emmy Award-winning Late Night, Letterman literally reinvented the talk show. An edgy alternative to the traditional Johnny Carson, Letterman's sense of humor was at once wry, playful, and absurd. His interview style had a different tone, but it was in the opening segment of the show that Letterman truly distinguished himself. His monologue was more biting and political, and he incorporated bizarre and creative segments like the infamous "Stupid Pet Tricks" and the Top Ten List.
At his side from the very beginning has been bandleader Paul Shaffer, who often participates in the mayhem, occasionally even writing silly little ditties to accompany the host's strange gags. With his unconventional approach to the talk show format, Letterman paved the way for other intelligent goofballs, most notably Conan O'Brien.

Late Night Wars
After 10 years of building up a solid fan base (a large portion of them college students) and redefining the late night talk show, Letterman found himself in the midst of what became known as the "Late Night Wars" when in 1992 Tonight Show legend Johnny Carson announced his imminent retirement. Everyone, Dave included, expected he was the natural choice to take over The Tonight Show, but NBC wanted to keep Letterman in his high-rated 12:30 spot and instead give Carson's job to frequent Tonight Show guest host Jay Leno.
But Letterman was having none of it, and months of speculation and negotiations ensued (inspiring numerous articles, a book, and even a TV movie about the controversy). When all was said and done, Jay Leno got the prime seat, a relatively unknown comedy writer named Conan O'Brien took over Late Night, and Dave negotiated a blockbuster deal with CBS that got him his own slot against the show he had once hoped to helm.

The Late Show
The Late Show with David Letterman debuted on CBS on August 30, 1993. There were a few challenges at the beginning, with NBC trying to claim intellectual property ownership of such favorite Letterman bits as "Viewer Mail" and characters like Larry "Bud" Melman (aka Calvert DeForest), but Dave immediately took to his new home at the Ed Sullivan Theater. He quickly established a rapport with the neighborhood, making nearby Hello Deli proprietor Rupert Jee and gift shop owners Sirajul and Mujibar regulars on the program. The Late Show received lots of critical acclaim and, for its first couple years, the program consistently won the ratings battle against The Tonight Show.
Nowadays, the more affable Jay Leno dominates the ratings, but with the Late Show, David Letterman's very unique brand of comedy has won him loyal viewers and several Emmys. Dave is known for his unpredictability, being sarcastic and prickly one moment, then warm and generous the next. He brings an intelligence and genuine curiosity to his interviews, and has frequent bouts of silliness that he displays in little actions like adjusting his tie and flipping pencils at the camera. One thing that Dave Letterman fans can always count on is his spontaneity.
With thousands of episodes under his belt, we can expect to see David Letterman on the late night scene for years to come. After over 30 years in the late night business, Dave is finally earning the right to be considered the equal to his idol Johnny Carson.